The Loop
Jake Owen, Peyton Manning, and Phil Mickelson honored by Golf Digest for charitable work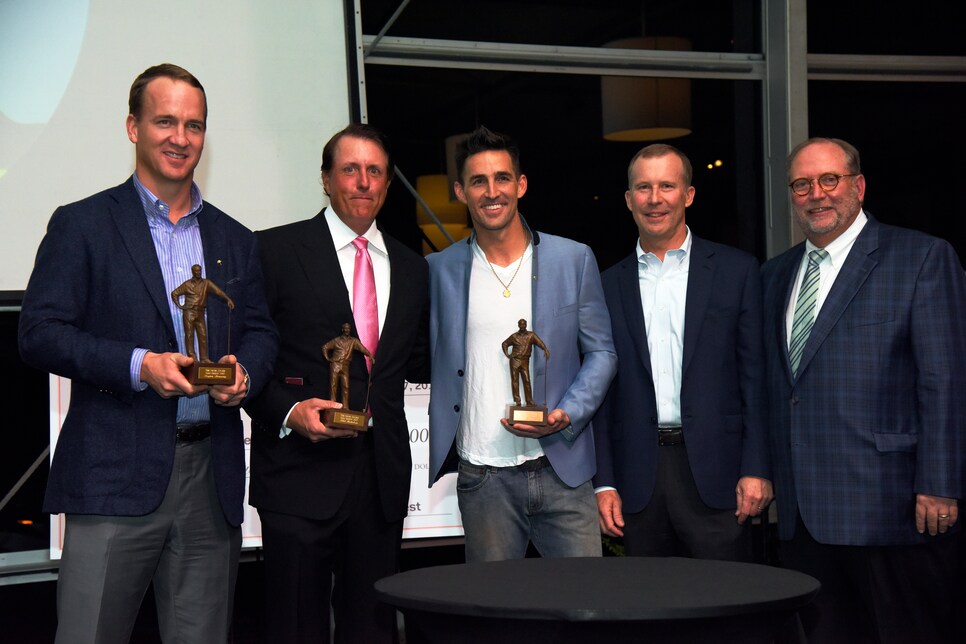 PEBBLE BEACH, Calif. — An emotional Jake Owen could hardly believe on Tuesday night that he was being honored for his charitable work alongside two sports legends he's admired for many years — Peyton Manning and Phil Mickelson.
"I don't do things for awards," said Owen, a country music star whose mom and dad were among the few hundred PGA Tour players, celebrity golfers, CEOs, business leaders and guests in attendance, "but this is, by far, the most humbling thing I could ever achieve."
"There's no athlete who took better care of his fans than Arnold Palmer, and that's always had a tremendous impact on me," said Manning. "This is very special to be honored with Jake and Phil."
Since 2012, Golf Digest has been recognizing philanthropic golfers of all kinds. Some of the bigger names — Stephen Curry, Michael Phelps, Morgan Freeman and Michael J. Fox — have been featured for their commitment to giving back on covers and features in the magazine.
This year, Golf Digest partnered with the Monterey Peninsula Foundation and the AT&T Pebble Beach Pro-Am to honor three golfers who exemplify the charitable mission of the tournament they'll be playing in this week.
As part of the Golfers Who Give Back program, Golf Digest is donating a total of $100,000 to Monterey Peninsula Foundation, Arnie¹s Army Charitable Foundation and the individual charities designated by the Golfers Who Give Back honorees.