It wasn't an accident that the 2016 WGC-Cadillac Championship produced a great tournament filled with spectacular shots and down-to-the-wire tension, culminating in Adam Scott's one-stroke triumph. Which is another way of saying it would be a mistake for the PGA Tour to leave Trump National Doral.
Doral, which has held a tour event since 1962, is special in the way it challenges professional golfers and brings out their exciting best. The Blue Monster is not the most aesthetically pleasing layout—hampered like all of South Florida by flat topography. Among tournament courses, however, it possesses a magical blend of qualities evocative of Augusta National and precious few others.
The possibility that the tournament/the tour will abandon Doral is in the air. All indications are that a new sponsor is coming in to replace Cadillac, which was in the last year of its contract and has not renewed. Although the PGA Tour has a contract with Trump National Doral (owned by Republican presidential candidate Donald Trump) to host a WGC event through 2023, a new sponsor would have the option to void that deal and move to another location.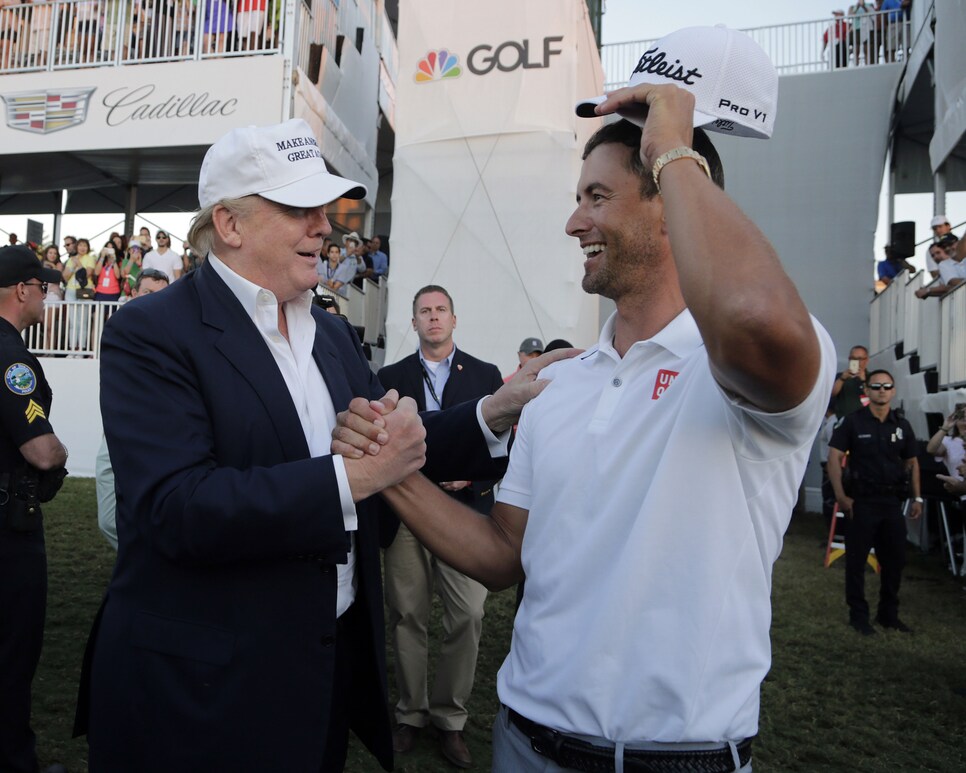 Trump, perhaps inadvertently, gave credence to the tournament leaving when he recently said that if it did, it would allow him to make more money on the resort. It seemed like another instance of Trumpian triumphalism—no matter what, never be perceived as a loser.
Presumably, a sponsor's incentive to take the event elsewhere would be to avoid negative blowback from past and potential future public comments by Trump, who this time next year could also be the President of the United States. Last year, golf's ruling bodies issued a joint statement condemning Trump's inflammatory comments about Mexican immigrants and Muslims. In December, the PGA Tour reiterated its position that Trump's comments "are inconsistent to our strong commitment to an inclusive and welcoming environment in the game of golf," adding that "we will explore all options regarding the event's future."
All that said, for reasons that put a high value on a superior arena for golf for the world's best, the tour needs to find a way to stay at the Miami-area resort.
The place has always had an unmistakable big-time feel, even when the resort was looking rundown before Trump began a massive renovation in 2012. Tradition, and holding a date at the beginning of the Florida swing, help, but the major reason has been the kind of golf the course rewards.
Doral encourages a style of play that is crowd-pleasing, and which wasn't lost when Gil Hanse's redesign, completed in 2014, added length (stretching the course to 7,543 yards) and difficulty. There is room off the tee that encourages the use of the driver. There are eminently birdie-able par 5s, along with several very difficult holes that punish poor ball-striking. Throughout, there are high-risk, high-reward options that encourage heroic shots, including a drivable par 4 (the 16th) that comes at just the right time in the round.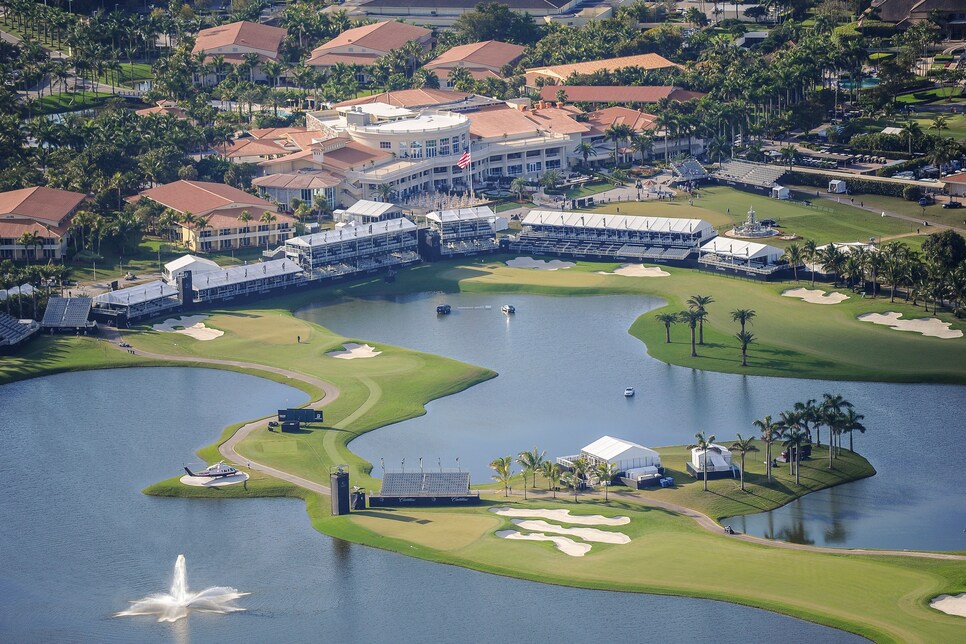 Most of all, Doral has the greatest claim to that hoariest of labels: the finest finishing hole in golf. Particularly for a contender on Sunday, the 476-yard 18th presents perhaps the hardest drive on the PGA Tour, often followed by the most nervous approach. The way Adam Scott teetered on a tightrope between a winning par and losing double bogey exemplified the tension of this challenging 72nd hole.
Doral is often criticized for disproportionately favoring long hitters, which it probably does. But so does Augusta National and St. Andrews. A main indicator of talent in golf is clubhead speed, which allows the possibility of power and creativity when combined with skill. Doral has most rewarded those players who drive the ball long and straight, and who also can use power to produce fast-stopping approach shots and curve the ball out of trouble. It's the special kind of golf that is the most fun to watch.
Accordingly, Doral produces leader boards loaded with big names and heavyweight showdowns. Jack Nicklaus, Greg Norman, Raymond Floyd and Tiger Woods have all won at Doral multiples times. Along with Scott on Sunday, the final groups included power players Rory McIlroy, Bubba Watson, Phil Mickelson and Dustin Johnson. Crowd pleasers all.
Doral isn't perfect. The tour has listened to the complaints of medium to short hitters and made landing areas off the tee more equitable. The greens are still a bit too firm, but will soften with age. There is no doubt the WGC event at Doral has never approached the crowd energy that was always evident when it was a regular tour event. Two suggested solutions: reduce ticket prices to a level that is more grass-roots and less corporate, and install a 36-hole cut. The whiff of free money that emanates from WGC stroke-play events is a buzz killer.
Regardless, Doral is special. Excellent, interesting, entertaining golf is the tour's most important product, and it shouldn't allow the WGC to go somewhere else.
Editor's Note: This story first appeared in the March 7 issue of Golf World.