For Rory McIlroy, true historical greatness goes through Augusta.
A victory at this year's Masters would give the Northern Irishman the career grand slam at age 26. It would also most likely reclaim the No. 1 world ranking from Jordan Spieth. And it would prove that McIlroy—whose four majors so far have all come on damp, slow-running setups—can win a big one on a fiery course requiring supreme touch and management. In his seven Masters, McIlroy's solo fourth last year has been his best finish.
The journey began in earnest last week at Riviera. An enthusiastic McIlroy was there for the first time; the Northern Trust Open was the first West Coast Swing event of McIlroy's career. For three days, the two seemed a great pairing, the game's most dynamic player matching his skills against an old-school classic on the big stage of a major market. McIlroy opened 67-69-67, getting himself on a leader board filled with star power.
When McIlroy eagled the par-5 first hole Sunday to tie for the lead, he looked to be off on one of his tournament-dominating flights. But a silly three-putt on the par-3 fourth put him in reverse. Before the round was over, he would make seven bogeys over 13 holes to post 75, the highest last-day score (by three strokes) among the first 25 finishers. It was also McIlroy's worst final round as a professional in a non-major. His T-20 finish was far less than what noted Riviera member Larry David would call "pretty, pretty good."
The performance was representative of the super-fit McIlroy's figuratively soft underbelly, one that ultimately may leave him short of golf's all-time pantheon. In the sense that his best golf is better than anyone else's best among his current contemporaries, McIlroy has a rightful claim to being the most talented player in the game. But the nature of competitive golf is that even the best players are seldom at their best. And it is in that shadowy middle ground that requires what Jack Nicklaus calls "playing badly well," that McIlroy falls short of that most efficient of players, current No. 1 Jordan Spieth. Very simply, what separates the two is that McIlroy makes more mistakes.
Oddly, last week was perhaps the most mistake-laden of Spieth's pro career, as he played "badly badly" in an opening-round 79 that assured he would miss the cut. It must have been encouraging to McIlroy, No. 3 in the world behind Spieth and Jason Day, to see that his rival can't always turn lemons into lemonade. All the more so because McIlroy had fallen in love with the George Thomas masterpiece after only 27 practice holes, and seemed primed for a great performance. "We don't play golf courses like this very often anymore on tour," he said, "where it's not overly long, you don't have to really bomb it off the tee, but it's real strategic."
McIlroy also noted that the L.A. atmosphere had flipped a motivational switch in his mind. "This is the start of the road to the Masters," he said. "I'm very positive and optimistic going back to Augusta this year, because the last few years, I've improved my performance there."
Winning majors, and particularly the Masters, seems to be consuming McIlroy far more than returning to No. 1. "Especially this day and age," he said, "where the margins are so small, and it's become increasingly more difficult to separate yourself from your peers with technology, with guys getting better, coaching getting better, the knowledge that's out there, the way they set the golf courses up these days."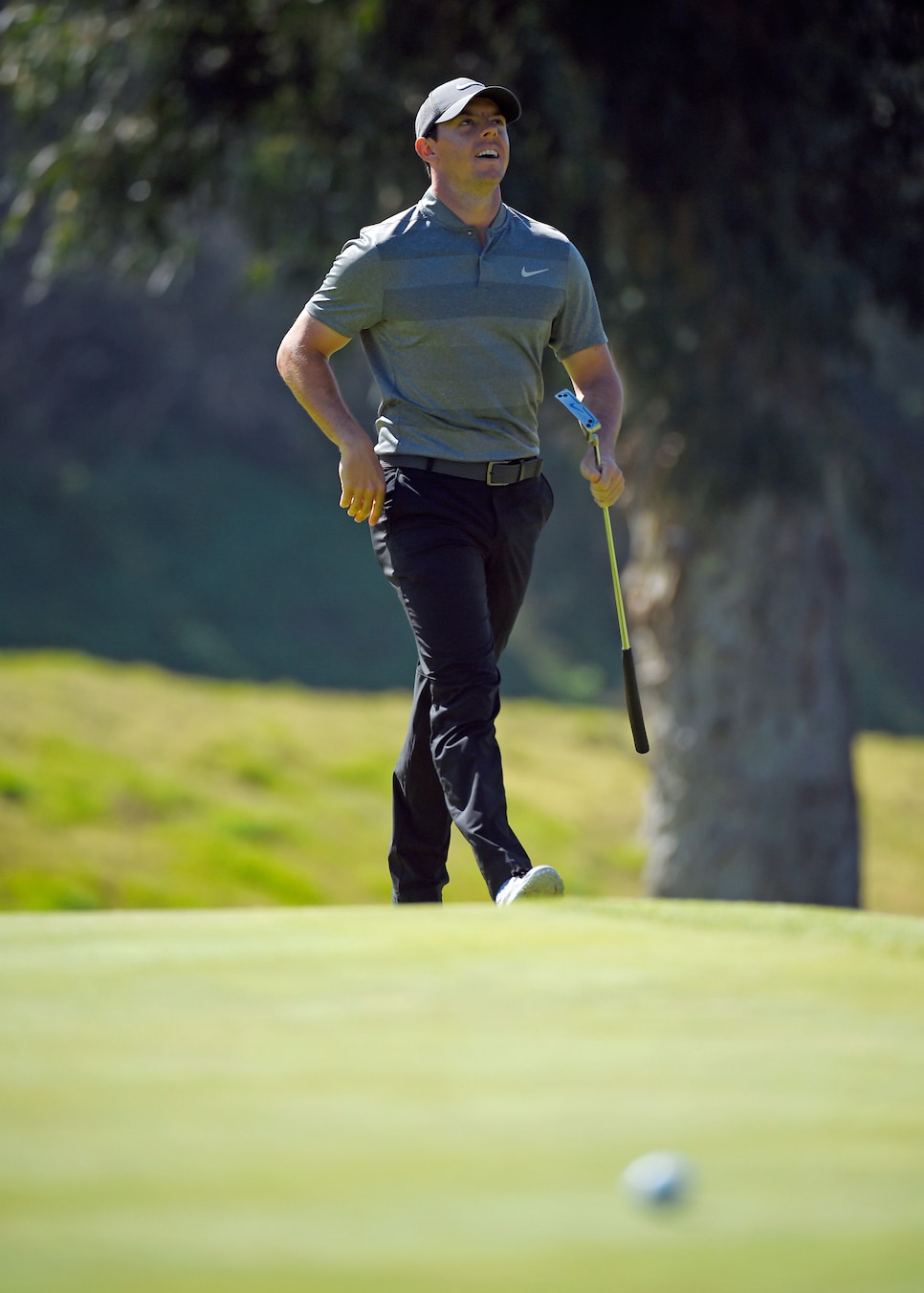 But it's also becoming increasingly evident in the current game that for all the attention paid to long hitting—and McIlroy in full flight is the best driver in the world—the real separator among the very best players are proficiency with the short shots. The ones Spieth is usually the master of, and the ones McIlroy pulled off on Saturday in scrambling to a 67 that ended with a dramatic 25-footer for par on the 18th.
But on Sunday, McIlroy regressed to the loose, mistake-maker that sometimes marked his early years as a pro. He poured in that 18-footer for eagle and stayed flawless tee to green after hitting a gorgeous 4-iron to 15 feet on the par-3 fourth. Then he gunned his uphill first putt five feet by and lipped out the comebacker.
After a rueful smile, a bogey train ensued, as McIlroy's short game crumbled. On the sixth, he found the bunker in the center of the green and tried a risky recovery that went 25 feet long. On the seventh, he three-putted from 45 feet. On the par-5 11th, desperately needing a birdie to stay in the game, a fluffed eagle chip started a chain reaction of sloppy shots that required him to make a five-footer for bogey. Mediocre bunker shots on the 12th and 16th holes led to two more bogeys. He closed with a birdie from 22 feet on the 72nd, and another rueful smile.
"One of those days," said McIlroy, his voice trailing off. "Mistakes you shouldn't make."
It could have been a better first step on the road to—and hopefully through—Augusta.
Editor's Note: This story first appeared in the Feb. 22 issue of Golf World.