Come on, it's undeniable. Besides skill, handling the heat is the most important factor for a golfer to win on the PGA Tour. As much as players seem to object to the mere suggestion, Johnny Miller has been right all along.
Sunday at the Honda Classic, pressure was more palpable because the two leading players in the final group have had a history of being fragile when in contention down the stretch. Adam Scott has won some big ones, most notably the 2013 Masters, but some of his losses, particularly a couple of British Opens, have been so painful that the overall ledger of his career was more in the underachiever column. Moreover, his putting woes for more than a year have been so acute as to be considered career-threatening, and his forced switch from anchored putting since Jan. 1 seemed fraught.
Then there was Sergio Garcia. Although he seemed fearless when he emerged in the late 1990s as the teenage prodigy, El Niño, and has responded well in Ryder Cups, Garcia has become a nervous, uncertain player when in contention late. The vulnerabilities were first on display at the 2002 U.S. Open at Bethpage, where he contracted a bad case of extended waggles and didn't distinguish himself in a Sunday pairing with Tiger Woods. In subsequent years, there were more meltdowns in the high-tension presence of his nemesis. And of course, two very painful losses at the 2007 British Open and the 2008 PGA Championship to Padraig Harrington, with whom there is no love lost.
The repeated spankings seemed to scar Garcia. Even with Woods largely absent from leader boards the last four seasons (though not at the 2013 Players Championship, where Tiger won while Garcia finished quadruple-bogey, bogey in their Sunday pairing), Garcia has been winless and almost automatic in playing poorly with the lead on the final day, shooting over par five consecutive times.
The most recent example was last year at Riviera. Holding the lead on the 71st tee, Garcia hit consecutive ugly pull hooks (the opposite of his customary ball flight) with his driver, giving victory away to James Hahn. One of Miller's tenets is that the best indicator of choking is when a player starts missing in a way he hasn't all tournament.
So Scott and Garcia remained question marks as they started the final round at PGA National tied for the lead, and four clear of the nearest challenger. No one was thinking Nicklaus and Watson straddling the field at Turnberry 1977. More like Carnoustie 1999, where Paul Lawrie came from 10 strokes back in the last round to win in a bloodbath.
To his great credit, Scott, 35, handled what had to be a difficult day internally with admirable poise. He hit 15 of 18 greens (and led the field in GIR with 55 out of 72) to shoot a controlled, 32-putt 70. His Honda win might go down, with the exception of the Masters, as the most important victory of the Australian's career. He now has 12 PGA Tour titles, the most of any player younger than 40.
The big thing that Scott proved is that his putting would not predictably go haywire under pressure. That was never more in doubt than last year when he again challenged for the British Open by tying for the lead on the final nine (for the fourth year in a row) but missed a two-foot tap-in for par on the par-5 14th to throw him into a tailspin.
At Honda, using a claw-style grip he learned from short-game magician and countryman Brett Rumford, Scott led the field in approach-putting proximity. On Sunday he was stellar from distance, except for the 70th hole, where he three-putted from 35 feet after leaving the first putt short. That lapse was worrying, especially when Scott had to hole out from a little more than two feet on the final hole. When he brushed it in, he puffed up both cheeks before releasing a large exhalation of relief.
Of course, Scott wasn't in the final group with Woods of yore, or for that matter, Jordan Spieth. It was Garcia, which had to be comforting. The Spaniard was at best slightly off all day, and credit must be given to his improved putting with the claw grip for keeping him close to Scott.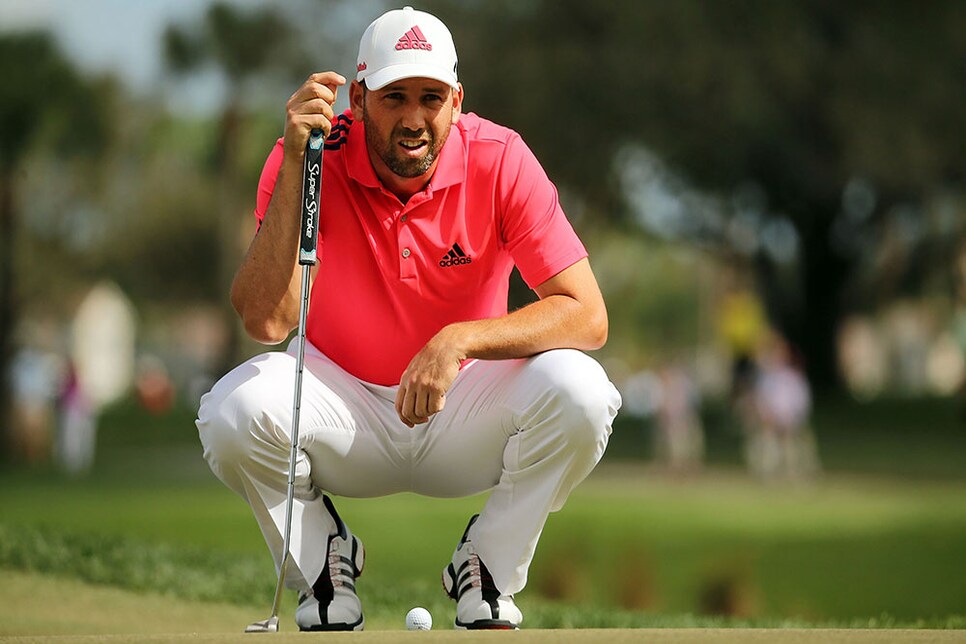 Still, on the 16th hole, a stroke behind Scott, the 36-year-old Spaniard began to repeat his pattern. He mishit an 8-iron approach from the fairway, the ball landing short and left. The sand-wedge chip from the rough was even worse, hit high on the club and carrying 10 feet too far. And the 15-footer for par was the worst of all, wide of the cup by nearly three feet.
Garcia hit another horrid 8-iron on the 17th, an extreme pull hook. A weak pitch led to a bogey that gave Scott some breathing room. Garcia claimed to be satisfied with his week because his swing never felt good, but as Miller said—more reluctantly than he used to but with full conviction—"Sergio just didn't have it. The pressure got him, let's face it. That's what it was."
Garcia's third to the 18th from greenside rough when he needed eagle to tie came up feebly short, but his 15-foot putt leaked in for an excuse-me birdie that forced Scott to suck it up one more time.
That Scott did is so important to his ability to win more majors in the future. He had come back from what could have been a psychologically devastating quadruple-bogey 7 on the par-3 15th Saturday, which took him from a three-stroke lead to a one-stroke deficit. Skill had a lot to do with that—he still shot 66 in what was otherwise a ball-striking masterpiece—but so did grit, and he validated that on Sunday, when he wasn't as sharp.
"Today, it did, it felt like a battle," Scott said in victory. "At the end, there was definitely a sense of relief and just satisfaction, and quite happy that that was over and I managed to hang on. It could have gone any way. You know, playing the last hole like that was mentally challenging for me … and then have to watch Sergio make a birdie just to make me make a two-footer. Not that that's the biggest deal … "
Editor's Note: This story first appeared in the Feb. 29 issue of Golf World.