The Loop
Don't worry, it's OK to be bullish about golf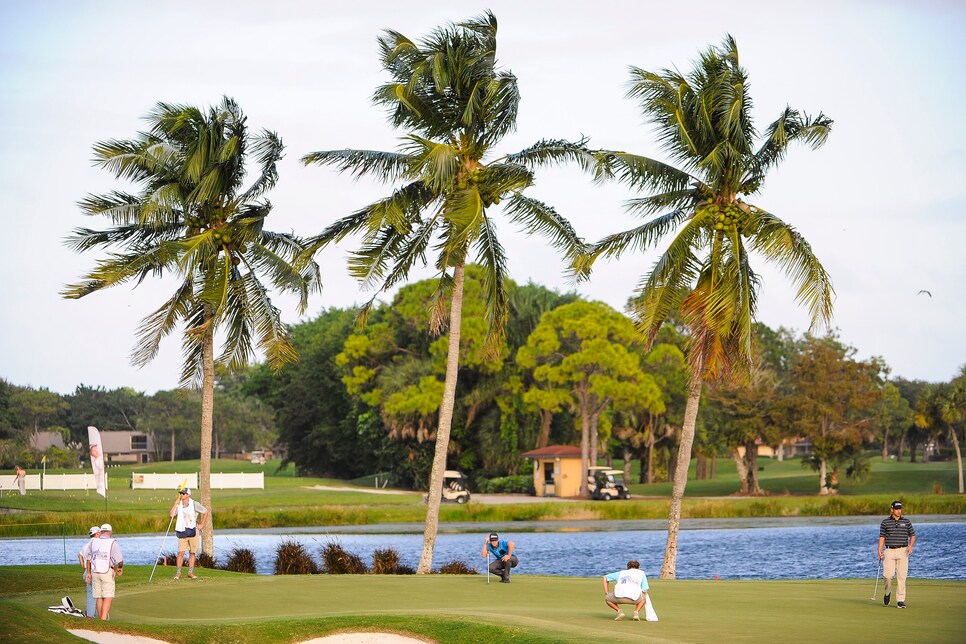 Where's golf? It's a question that, especially at the start of a new year, repeats in the mind.
Growing up, I knew that while golf was important to me, it wasn't that big a deal to most other people. Which was fine—it was rewarding having a little-known world dense with riches as a welcoming refuge. After I became a golf writer, I never worried about my obsessions having a small but reciprocal audience. Basically, I had faith in the intrinsic perfection of the game.
That was confirmed in the 1990s, when golf suddenly got discovered by a larger populace. Tiger Woods helped turn many on to the game, but it was more about a confluence of people having sufficient time and money to try it for themselves, along with the desire for an antidote to the increasing speed of modern living. The game's powers of renewal—known to golfers for centuries—crossed over.
With the popularity came the American capitalistic drive for growth, a bubble and a backlash. All during which the world changed at a faster rate than it ever has.
The last decade has been a tough one for golf, and it goes well beyond the fortunes of Tiger. Crucially, less of the game's oxygen—money and time—has been available. Cultural changes, like the alterations in parenting and the tyranny of the smartphone (on which you might be reading this), haven't helped. As entertainment activities increasing must be packaged for hand-held consumption, golf seems more arcane.
Recently, though, I've noted some optimism surrounding the state of game. In particular, the professional tours and their players are more appealing than ever, as if everyone has taken lessons from Arnold Palmer (highly recommended, by the way). The economy seems to be improving, and the unseasonably warm winter has extended the playing season. In a bit of over exuberance that betrays how bad things got, there's been commentary positing that 2015 was the best golf year ever.
Honestly, I'm not exactly sure where golf is. I know that my prism reveals both bleakness and hope. I don't play nearly enough, though I probably make more air swings in elevators, hit more wedge shots in the back yard and putt at more table legs. But what used to be time for rounds of golf has been overtaken by other stuff. I feel undeserving of leisure when so much seems undone.
Still, some of my happiest moments continue to happen when I do play. A 2014 trip to Bandon Dunes continues to get a lot of mental replay, as does a recent company tournament. Spending 20 minutes with my 86-year-old father whose bad back doesn't allow him to stand for much longer, on the same practice putting green where we battled for decades, was poignant. Just walking four holes in the North Carolina twilight at Mid Pines C.C. can be as well.
I love the game. From the privilege of being able to talk to the best players in the world, to simply watching the ball fly through the air, the joy continues.
A lot of people feel much the same way, and like me, are resolved to retrofit golf back into their lives. But it's an effort that needs bolstering. Martin Slumbers, the new chief executive of the R&A, fervently believes the defining challenge of his tenure will be restoring participation. That said, a leading champion of public golf, Bo Links, whose tireless legal efforts in partnership with fellow attorney Richard Harris has saved Sharp Park G.C. in San Francisco, sounds an ominous warning: "You know what I learned through this whole thing? That golf isn't inevitable."
We need apostles who will follow the lead of former USGA president Sandy Tatum, now 95, who last week during a phone conversation listened as I read back to him his words from a 2005 article in Golf World: "Golf is anything but trivial. As the problems in the world become more terrible, this game is more important—on a sociological basis—than it has ever been. It's a life enhancer and a life extender. It has everything you can add from a game to somebody's life." After a considerable pause, Tatum said, "I believe that's even more true now than I did then."
No doubt the game ahead will be different from that which Tatum grew up on. Golf needs a shakeout, a paring down of excess and a return to essence. Ideas like "brown is beautiful," more affordable green fees, nine-hole rounds and more walking have been only slightly ahead of their time. While oversize holes and FootGolf were necessary experiments to explore new boundaries, it's heartening to see the game recalibrate again toward its center. I believe the right balance is being struck by Youth On Course, a Northern California initiative in which donated money is used to buy blocks of off-peak starting times from public courses, then sold back to juniors at no more than $5 a round for 18 holes. The best way to create lifetime golfers? Start them young.
My faith in golf endures. It might not be the perfect game—what could be anymore? But the pastime that has always carried the power of renewal can itself be renewed. The craving for analog–age alternatives to modern life that facilitate eye contact, conversation and being out in nature won't end. The pendulum will swing back.
Where's golf? Well, 2015 felt like the beginning of a turning point. Let's hope 2016 solidifies that feeling.