Yes, Arnold Palmer is history's most important golfer. But what truly speaks to the power of his legacy is that he's getting more important all the time.
Last week at Bay Hill was an occasion of sadness and profound appreciation. Palmer, 86, didn't hold a press conference at the Arnold Palmer Invitational, the tournament he has hosted since 1979. He also announced he won't join Jack Nicklaus and Gary Player in hitting the ceremonial opening tee shot at the Masters next month.
The too-swift movement of time left a hollow feeling, but also the realization that Palmer is timeless. His example of how players should represent golf—always vital but especially so in the challenging environment the sport faces—has gained increased relevance.
Why are Jordan Spieth, Jason Day, Rory McIlroy and Rickie Fowler all considered so refreshing? Though only Day was born before Palmer's last victory (the 1988 Crestar Classic on the then Senior PGA Tour), all four are reprising their version of the King's behavior, becoming willing heirs to his legacy. Why did their more immediate mentor, Phil Mickelson, start his post-round ritual of fulfilling nearly every autograph request? Seeing Palmer at the 1994 U.S. Open at Oakmont go to the volunteer tent and stay for more than an hour, inscribing his perfect signature for countless numbers of people.
Asked last week to define Palmer's gift, Tim Finchem considered the moment at hand and came up big. "He draws energy from the reaction he gets from people, and he takes great pride in his diligence in reaching out to people and reacting to people," the PGA Tour commissioner said. "He has this other dimension that you can't articulate. It's just that people see him and they love everything about him. He does things that reinforce that for people, and he is so open and so engaging, and he never says no, but he just has that something, and it just sets him apart from anything I've ever seen in sports."
As Michael Bamberger succinctly put it in his recent book, Men in Green, "He let us in."
Palmer's magnetism is such that every golfer who ever saw him in person vividly remembers the first time. Mine was as an 8-year-old at the 1962 Lucky International in San Francisco. My uncle took me, and we quickly joined Arnie's Army. On the sixth hole at Harding Park, after Palmer's drive kicked up dust and left a broken tee, my uncle ran out and got the splintered remnants for me to keep.
After the round, my uncle prodded me to ask for Palmer's autograph amid a crowd of people. Palmer stayed long enough to get to me, but after looking down kindly pointed out that I hadn't given anything to sign. As Arnold waited, my uncle quickly searched his pockets, came up with his checkbook and tore away a sheet. "Oh, oh, a blank check," Arnold said with feigned concern before chuckling. Then he signed the back and handed it to me with a smile.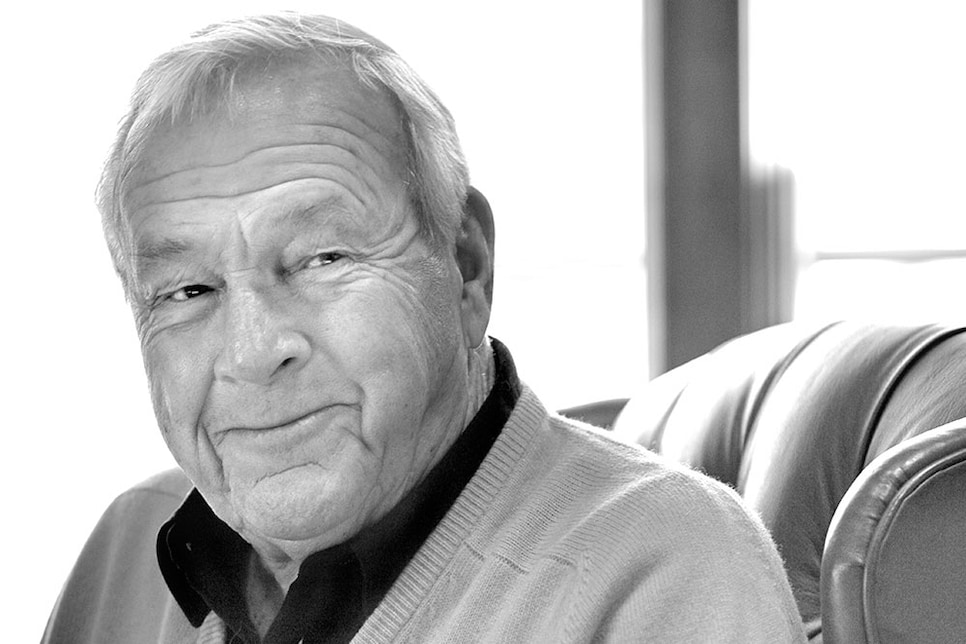 Great as it was, Palmer's legacy is larger than just his gift for people. He has had an underrated wisdom. His "swing your swing" commercial for Dick's Sporting Goods was a reminder that for all the new influence of science-based teaching, even the best players have to incorporate and value their repetitive idiosyncrasies. Perhaps surprisingly, it's also the ultra-wonky amateur Bryson DeChambeau's mantra. With a battle-tested truism, Palmer sharpened the game's new cutting edge.
When Charlie Rose in 2011 asked Palmer if he thought Tiger Woods would re-ascend, Palmer looked deeply into his experience and confronted the game's mystery with a soulfulness that exceeded Haultain's (golf's only other notable Arnold). "Not sure about that," he said. "Once you vary, and you lose that thing … What is it? Sometimes it's hard to put in place. What is it? I'm not sure I know. I'm not sure Jack knows. … When you have a disturbance in your life that's major, can you get it back, can you get that thing you can't put your finger on and get hold of it and choke it and keep it? Boy, that's a tough deal. … It could be a psychological thing. You say, 'Well, I've done it.' Then you say, 'I want to do it again.' But it isn't there. You can't find it. You can't grasp it. You can't hold on to it."
Words every golfer who aspires to No. 1 should remember.
As much as his triumphs continue to be celebrated and his losses still mourned, and as much as 63 PGA Tour victories and seven majors are all-time stuff, Palmer is far bigger than his record. That in his prime he was one of those perfect specimens, whether on television or in person, is beyond doubt. But what triggered the connection—and gave golf a more seductive lure—was the force of a gifted man doing what he so loved, so well. Although the ferocious competitor in him would disagree, whether he was winning or losing major championships (or even playing in the weekday "Bay Hill Shootout," where for years he joined his buddies in putting 50 bucks in the pot on the first tee), with Palmer it was more about how than how many.
My favorite sentences about golf are the final ones in my favorite book about golf, The Dogged Victims of Inexorable Fate. Dan Jenkins, who is three months younger than Palmer, wrote this as they both turned 40:
"This is true, I think. He is the most immeasurable of all golf champions. But this is not entirely true because of all that he has won, or because of that mysterious fury with which he has managed to rally himself. It is partly because of the nobility he has brought to losing. And more than anything, it is true because of the pure, unmixed joy he has brought to trying. He has been, after all, the doggedest victim of us all."
Arnold Palmer will always matter. What's beautiful is that with the passing years, he matters even more.