The Loop
Jack on Tiger: 'The talent is there. That's not going to leave'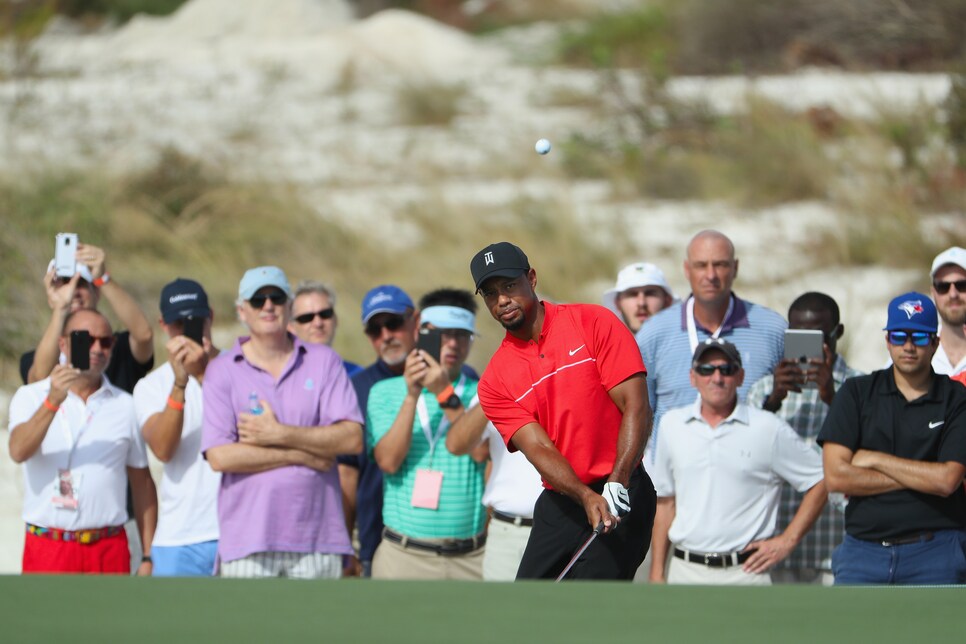 ORLANDO -- Jack Nicklaus watched a few of Tiger Woods' swings last week from the Hero World Challenge. His assessment?
"I thought he swung the golf club fairly decently," Nicklaus said Friday from the Father-Son Challenge. "He didn't really play very well as it relates to what he was trying to do, but it was nice to see him back. I think he was pleased to be back."
It was Woods' first action in more than 15 months after multiple back surgeries. Nicklaus never had a break that long in his career. He also never underwent such drastic swing changes as Woods, or endured as many injuries. Those might be among the least of Woods' obstacles, however, in the Golden Bear's eyes.
"There is a lot of depth out there," he said. "While Tiger was going through his problems a lot of young guys came along and developed. All those guys came along and learned how to win. When Tiger is coming back he's got that to contend with. That will be tough for him."
Then there's the matter of how badly Woods, who finished 15th out of 17th in the event, wants to put in the work needed to return to a high level. It's something even Nicklaus, whose last victory on the PGA Tour came at the 1986 Masters at the age of 46 and his last Senior Tour victory a decade later at the Tradition, had to deal with toward the end of his career.
"The most difficult thing for me was keeping yourself focused on what you're doing," Nicklaus said. "As you go play [and] try to keep your focus, the desire to work at it that's tough. You don't have a reason why, even though you like to make yourself you don't see why ... If you want to win you have to play, work at it, be on top of game, the whole thing week after week. It's a tough deal."
Still, he was mostly positive about Woods' comeback.
"He's got to figure out what he wants to do and how he wants to do it and go play," Nicklaus said. "The talent is there. That's not going to leave."