The Loop
Jack Nicklaus to design nine additional holes for disabled veterans' course
Having built hundreds of notable courses around the world, Jack Nicklaus has made plenty of money in golf architecture since the end of his playing career. But a special project -- one Jack claims to hold closest to his heart -- has the Golden Bear and his design team working for free.
Nicklaus will add nine holes to the American Lake Veterans GC in Lakewood, Wash., which, according to its website, is the only course in America completely accessible to disabled veterans.
Built in 1955, the 377-acre nine-hole course caters mainly to patients of the Veterans Affairs Puget Sound Health Care System, and has been supported entirely by annual pass and daily green fees since government funding was eliminated in 1995. The course is also fully managed and maintained by a staff of 150 volunteers.
"It is the greatest place to heal," Staff Sgt. Leroy Petry told reporters in Washington. "People with no purpose and direction who think it's the end of the world come out here and realize there's a lot to do." Sgt. Leroy lost his arm in Afghanistan in 2008 and was awarded the Medal of Honor in 2011.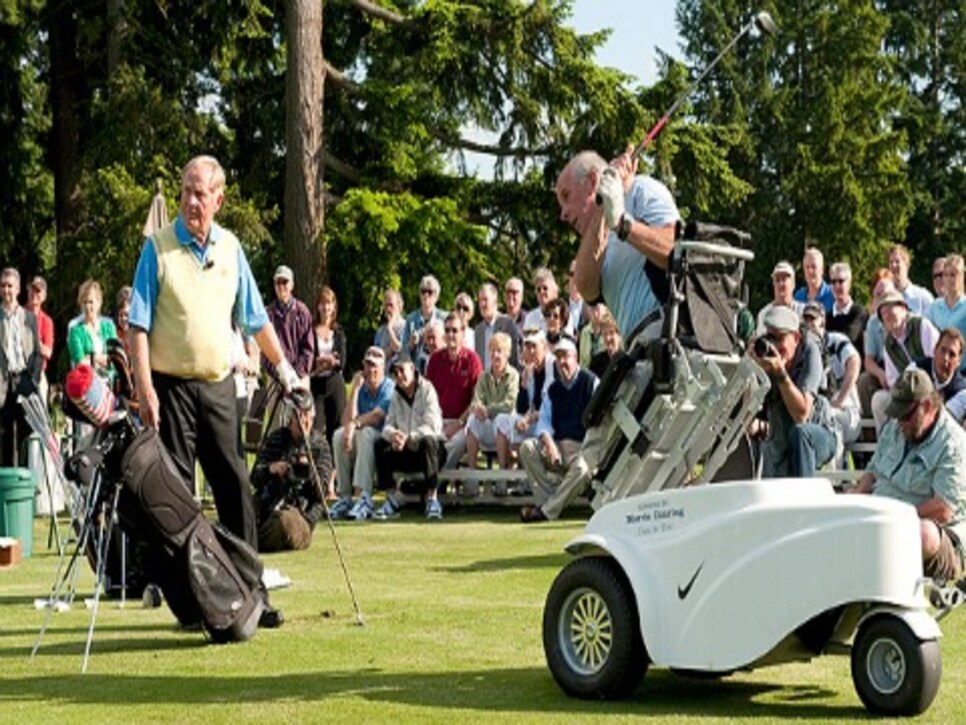 Last Friday, ground was broken for the nine-hole addition -- dubbed the "Nicklaus Nine" -- that will double the course's capacity and help meet growing demand. In 2012, over 33,000 rounds were played at American Lake Veterans GC, where first priority is given to hospital in-patients and their guests. The course is also open to veterans, Veterans Affairs employees and volunteers, active duty and retired military personnel as well as guests over the age of seven accompanied by their sponsors. Each authorized player is allowed to bring three guests at a time.
Korean War veteran Pepper Roberts, founder of American Lake Veterans GC, said that $2.5 million has been raised, but that the project will require another $2.5 million for proper equipment and additional changes Nicklaus hopes to make to the existing nine. The Nicklaus Nine, like the existing nine, will include tee boxes and bunkers specifically modified for easy navigation by those with severe disabilities.
"I didn't have the pleasure of serving my country back in our time," Nicklaus told a local TV station. "But I'm having a lot of fun being part of it today."
Construction of the Nicklaus Nine will begin this fall, but a formal opening date has yet to be announced. With the addition, Nicklaus hopes to promote and make more accessible the rehabilitative effects of golf.
"We would love to see this happen across the country," said Nicklaus, who has designed over 300 courses, "but we have to start somewhere."