Instruction
Jack Nicklaus: Ryder Cup Strategy My Way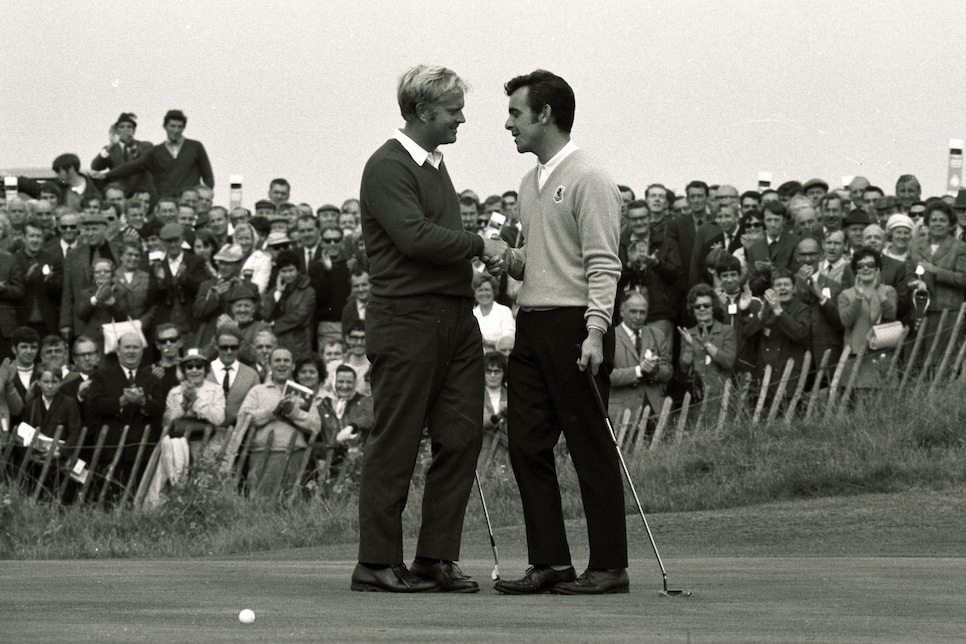 As a captain of two Ryder Cup teams and a player on six others, I've learned from hard and happy experience some of the finer points of match-play strategy. Team play is fascinating on two distinct levels. The captain is charged with formulating two-man teams in the foursomes (alternate-shot) and four-balls (best-ball) competitions, and sending out players in just the right order in the singles matches. The challenge is an art as much as a science, and the captain relies on intuition, input from the team and observation of his players.
Then there is the tactical side, which rests mostly with the players during the course of the matches. Who hits first in the foursomes matches? Who putts first? Do you let your partner go for a dangerous par 5 in two or insist that he lay up? Which putts do you concede, and which partner concedes them? These are questions no captain or player has mastered completely and never will, because every match, every player and every situation is a bit different.
The following quiz reflects the subjective nature of team play. Some of the answers are hard and fast, others are arbitrary. If you answer more than half of them correctly -- and there are a couple you won't miss even if you disagree with me -- you might make a good captain. Or at least a heck of a partner in your next weekend match.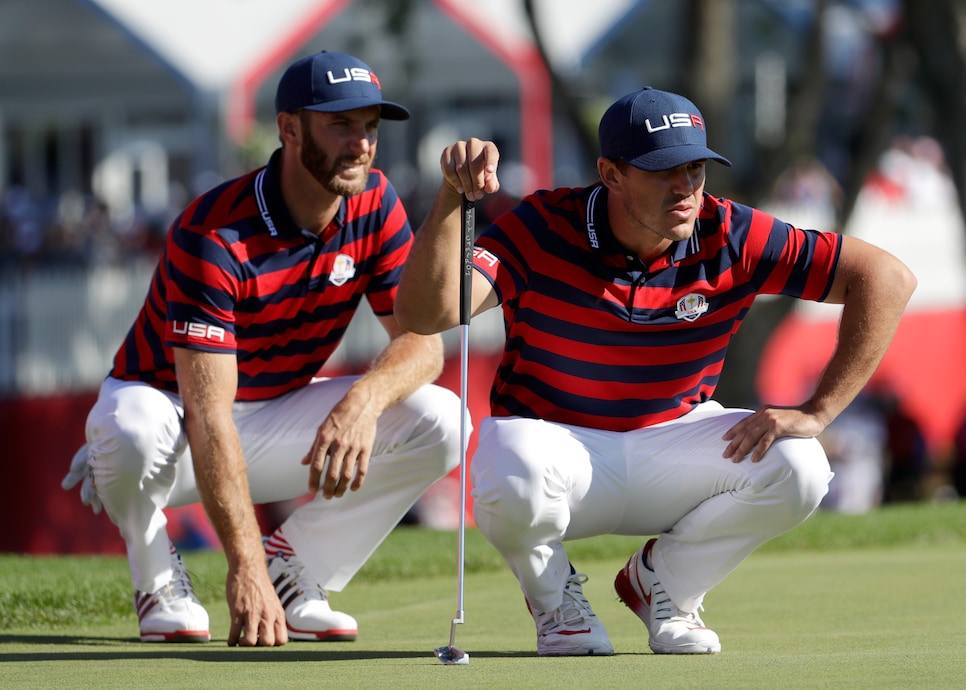 1.) One player has a 20-foot putt for birdie, his partner a six-footer for par. Who putts first?
If the 20-footer is downhill and fast, or otherwise difficult to lay stone dead to the hole, that's the putt I want to see first. If the player runs the 20-foot putt for birdie three feet past the hole, the team at least has two cracks at par.
On the other hand, if the 20-footer is uphill with not much break, he may want his partner to get the six-footer in the hole so he can go for the birdie more aggressively than he might try otherwise.
If the 20-footer is merely routine -- not especially fast nor difficult -- go with your intuition. If the 20-footer were mine, I prefer to putt first. But that's just me.
2.) In the afternoon four-balls, one of your players is a Ryder Cup rookie and has never played the course in competition. He's high-strung by nature, isn't playing particularly well, and is visibly nervous. You've paired him with a veteran at the peak of his game. The first hole is a par 4 with fairway bunkers left and right. Which player do you suggest should hit first?
When I played in the Office Depot Father/Son Challenge with one of my kids, I always have them tee off first. They're nervous, and if I drove first and miss the fairway, it increases the pressure on them to put the ball in play. So it's best to know they have Dad in reserve if they hit a bad shot. The same rule of thumb applies in the Ryder Cup, though you rarely have an instance where fear determines the order of play. The fact is, everybody is nervous, so you leave this up to the whim of the players.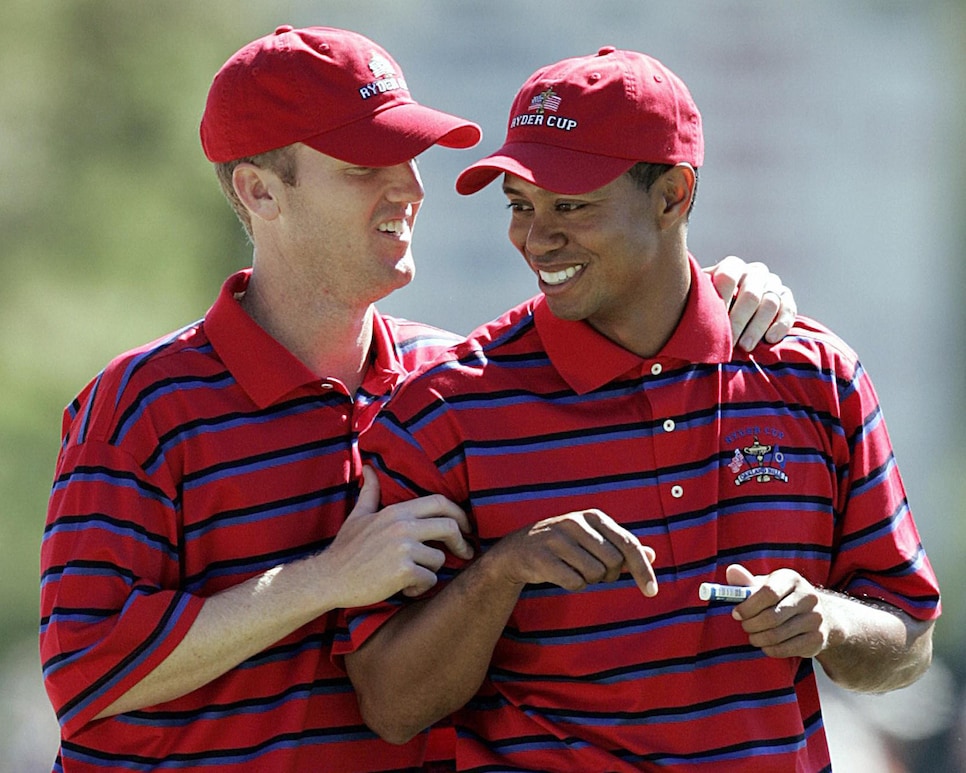 3.) Which kind of player do you lean toward as one of your two captain's picks?
(a) A Hall of Fame player with vast Ryder Cup experience who hasn't won in three years. (b) A fiery young gun who didn't qualify for the team but had three top-10s in the month of August. (c) Automatically choose No. 11 on the Ryder Cup points standing.
Whichever answer you choose, credit yourself with a correct choice. There is no pat answer, which explains what the captain's choices are all about. When I captained the Ryder Cup team in 1983 and '87, the U.S. wasn't entitled to captain's picks. However, at the Presidents Cup I've leaned toward veterans with maturity and competitive experience, which is why I chose Jay Haas and Fred Funk in 2003. I'm all for young, talented players who are running hot, but keep in mind a full month transpires between the PGA Championship (captains make their at-large picks at its conclusion) and the Ryder Cup. A lot can happen in a month.
4.) In the foursomes competition, partners tee off alternately on successive holes. As captain, you send out a two-man team with one player a very long driver but erratic putter, the other a shorter hitter but superb iron player and excellent putter. Who tees off on No. 1?
You have to examine the scorecard and see where the par 3s are. Obviously we want the better iron player hitting the tee shot on those holes. For example, if you notice the majority of par 3s are on odd-numbered holes, that'll also put the longer hitter on the tee for the even-numbered holes, including the two par 5s so you'd want to lead with your stronger iron player. I've never been a fan of teaming guys with opposite styles, especially in the foursomes. In the 1971 Ryder Cup I teamed with Dave Stockton, a much shorter hitter than I was, in a foursomes match against Tony Jacklin and Brian Huggett. We weren't accustomed to playing our second shots from where the other guy drove the ball -- Dave didn't play short irons out of the rough very well, and I wasn't used to playing long irons from the fairway. The result? We got drummed, 3 and 2.
5.) The matches are tied going into the last day. In composing your lineup, which strategy is best?
(a) Send your best players out early, except for your toughest competitor, whom you put in the anchor position. (b) For insurance, place all of your strength at the end of the lineup. (c) Sprinkle your best players evenly throughout the lineup.
We've heard a lot about "front-loading," or putting the best players out first to establish early momentum. That's what European captain Sam Torrance did on the final day at The Belfry in 2002, and it worked very well. But Sam's strategy would have been too big a gamble for me. I like to spread my six best players fairly evenly in two-player parcels. I want two excellent players at the beginning, two in the middle and two at the end. Good players in the middle of the lineup are crucial. First, it helps prevent too many losses in succession, which has an immense effect on the other team's momentum. Second, they have the comfort of knowing there are two more lions there to pick up the slack if they don't happen to play well. It also works well for the weaker players in your lineup, as they go out knowing they're sandwiched between great players. So the best answer is (c).
6.) It's the last day of competition, and you're playing one of 12 singles matches. In which situation(s) do you concede a straight, level two-foot putt?
(a) Last hole, last match, your opponent needs to hole the putt for a tie in the overall competition. Your team holds the Cup and will retain it if you concede the putt. (b) To halve the fifth hole and maintain a tie in the first singles match. (c) After you just blew a three-footer that would have won the 14th hole. (d) Last hole, last singles match, your opponent needs to hole the putt to win the Ryder Cup.
I would only concede the putt for sure in situation (a). That scenario played out exactly in my 1969 match against Tony Jacklin. My decision to give Tony a two-foot putt didn't sit well with a couple of my teammates, but the concession was the right call. The Ryder Cup and Presidents Cup certainly are about winning, but more important is the emphasis on sportsmanship. Remember, my concession to Tony meant we kept the Cup. If Tony had been putting for his team to win, I'm afraid I would have made him earn it. The same goes for the other three situations -- I'd let my opponent have a go at the two-footer. This is a competition, after all, and they keep score for a reason.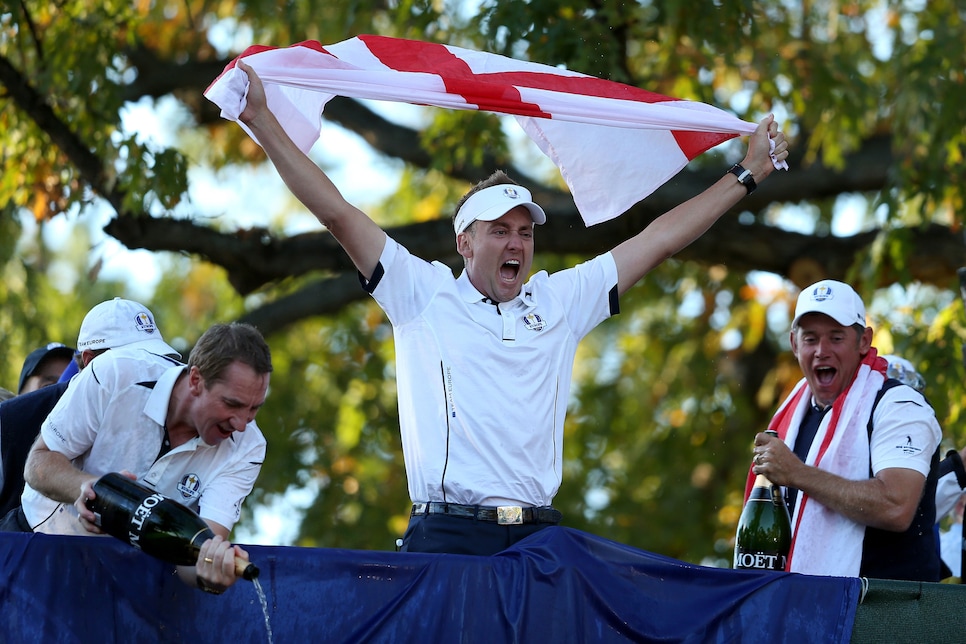 7.) At a par-3 early in the round, the hole is cut on the back-left part of the green, over a dangerous bunker. You play a conservative shot pin-high and 20 feet to the right of the hole. Your partner says, "Because you're safe, I feel like taking it right over the bunkers and knocking it stiff. Is that OK with you?" Your reply:
(a) "Let's be smart. Aim right at my ball." (b) "It's your call." (c) "That's fine, but be careful." (d) "Leave me out of this."
The correct answer is (b). You have to let your partner play the game he likes to play and allow him to hit the shot he feels compelled to hit. That doesn't mean I won't interject a bit of advice on club selection or point out there's a bit of headwind, but as far as letting him hit the type of shot he sees in his mind, you don't want to disrupt his thinking. If you demand that your partner back off from an aggressive shot and play it safe, you'd be surprised at how often he proceeds to play the safe shot poorly. This happens because it's difficult for him to approach it with the same level of comfort and commitment.
8.) Two of your players' games are suited well for four-balls competition. However, they've made it known they don't like each other. Do you pair them anyway?
No, never. In every experience as captain I've asked the players to feel free to request a specific player to play with -- or to request players that they not be paired with. I've honored it every time (and kept it confidential), because personal compatibility is almost as important as playing styles. Conversely, I've had players request a partner specifically. Tiger Woods loves to play with Charles Howell III. David Toms will play with anybody, but he and Phil Mickelson get along well and are particularly good together. If you have the opportunity to take advantage of a positive chemistry -- or avoid a negative one -- take it.
9.) You've announced your foursomes pairings the night before the Ryder Cup begins. You hear one fellow suggest to his partner that they go off somewhere and plot strategy. Another player says that putting together a firm game plan may not be a good idea, that it's best to fly by the seat of your pants. Who's right?
I'm all for players charting a bit of strategy, so long as they keep it simple. It isn't wise to form a detailed game plan, because there's an ebb and flow to match play that demands flexibility. There's one issue, though, that every team should discuss beforehand: Will we adopt a gambling style or a conservative style? It's an important decision, because there will be instances where one player has the option of going for broke, and you don't want the partners to be at odds with each other on which way to proceed. The players should always be able to revert to the strategy they had agreed upon before they walked to the first tee.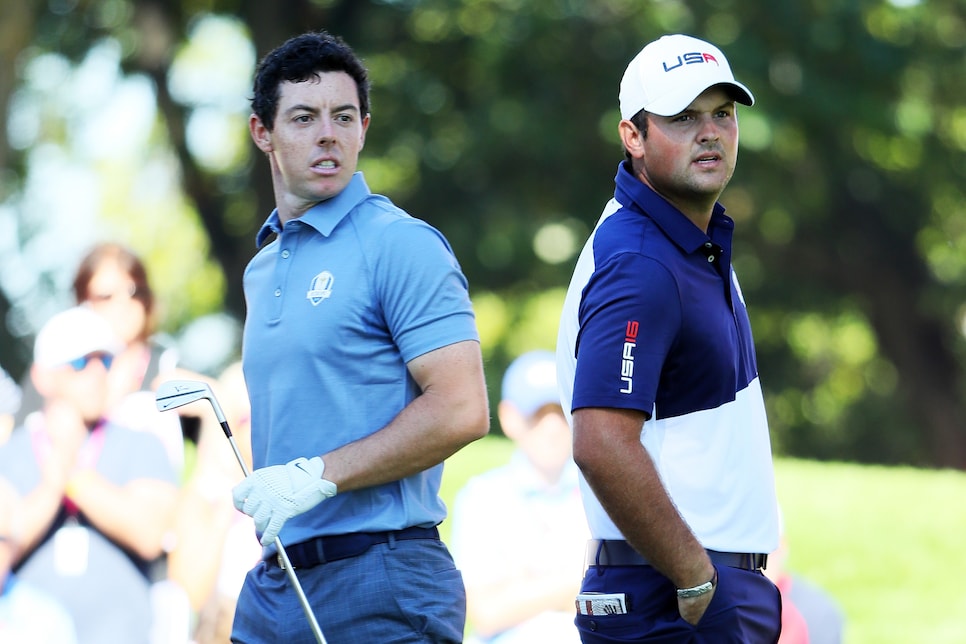 10.) You're the captain. One of your best players tells you his allergies are bothering him terribly and that he could play all the matches if necessary but would rather you play him in the last day's singles matches only. Your reply:
(a) "Fine. Get some rest and we'll see you on Sunday." (b) "This is the Ryder Cup. Suck it up and get out there." (c) "Let's get your teammates' thoughts on this."
When I captained the 2003 Presidents Cup team, Davis Love III approached me before I made the pairings for the second day's foursomes matches. He said he wasn't feeling well. "I can go if you want me to, but I'd rather have the rest so I'm ready to go on Sunday." I didn't hesitate to tell Davis to go ahead and get the rest. Look, players in these competitions are so fired up that if they're sick or slightly injured and ask for a rest, they truly must need it. If I shamed them into playing anyway, I might get their best effort, but I might not get their best performance. And I'll be darned if I'm going to put their health at risk. So the correct answer is (a).