The Loop
Nicklaus receives Congressional Gold Medal for 'excellence... philanthropy... family'
It was not the equivalent of a major championship or even 18 of them. It was more important than that. Jack Nicklaus on Tuesday received the highest honor the United States Congress can bestow on a civilian, the Congressional Gold Medal.
He received the honor in an emotional ceremony in the Capital Rotunda in Washington, D.C., that was attended by his wife Barbara, their five kids and spouses, their 22 grandchildren, and Arnold Palmer, who similarly was honored in 2009.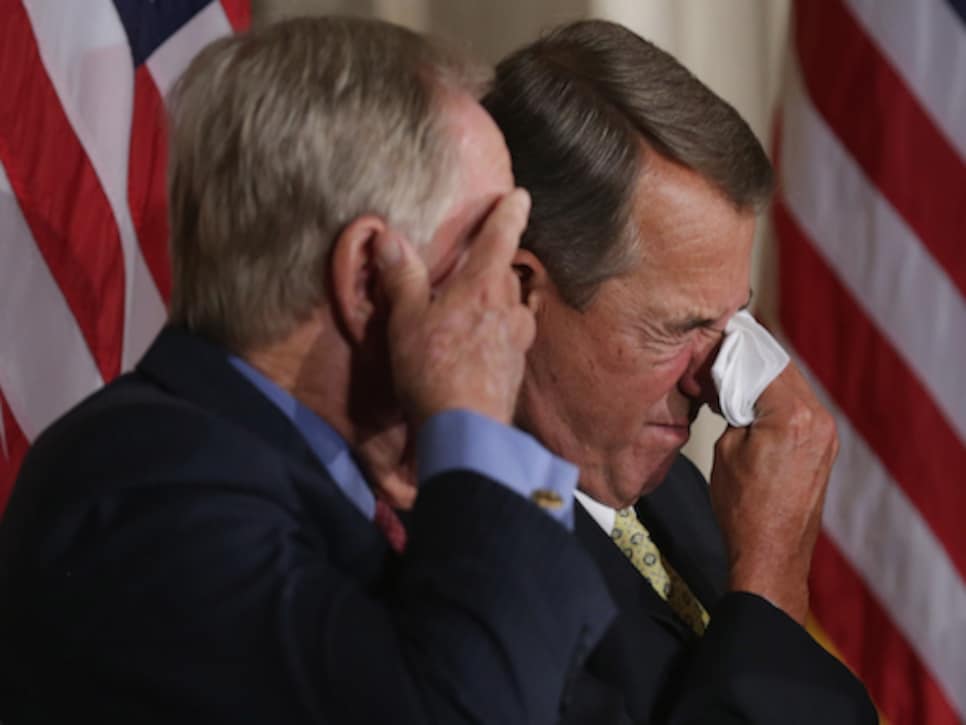 Jack Nicklaus, Speaker of the House John Boehner, wiping away tears (Getty Images)
One side of the gold medal featured six stars, representing his five children and his wife. The inscription read: "Excellence in sport, promoting integrity and sportsmanship, and dedication to philanthropy and children's healthcare, with a lifelong commitment to family."
Common themes of the day were his wife and her importance to Nicklaus' career and his charitable contributions.
"I'm very proud of what I've been able to accomplish in my career and in my life," Nicklaus said. "Were it not for Barbara, I would have been just another golfer. People have asked me to quantify Barbara's importance in my career. I'd have to say she's responsible for at least 15 major championships. I'll give myself credit for three."
CBS' Jim Nantz, the first to speak at the ceremony, said, "thank you, Jack, for being the most prolific winner in the history of the greatest sport of all time, and for showing us what it looks like when one dedicates a lifetime to service to others and a lifetime to devotion to family. You've let us all see it right up close."
House Speaker John Boehner, an avid golfer and an Ohio native, said, "few transcend their sport to achieve that kind of moment, or this kind of honor. With Arnie (Palmer), it was how he brought an audience to the game, an army. With Jack, it's how he gave the game a gold standard, a ladder to climb."
Nicklaus, 75, became only the seventh athlete in history to be so honored joining Arnold Palmer and Byron Nelson from golf, Roberto Clemente and Jackie Robinson from baseball, boxer Joe Louis and track star Jesse Owens.