News
Jack Nicklaus on Tiger Woods' comeback: He's interested, but 'not interested in watching him...I don't watch much golf'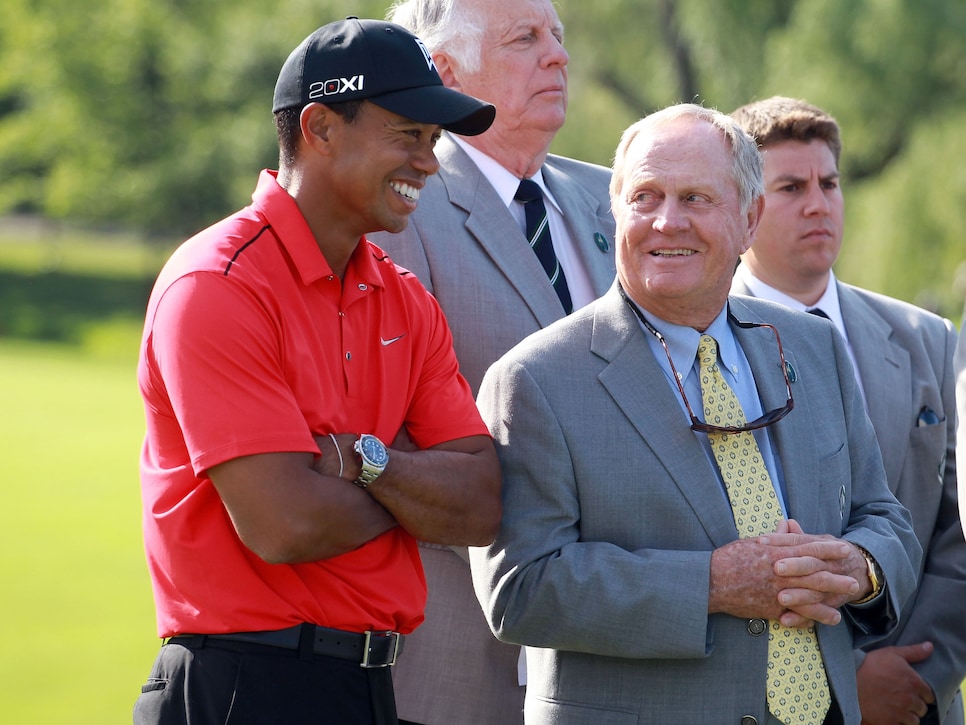 ORLANDO, Fla. – There has been plenty of buzz about Tiger Woods since he made his comeback at the Hero World Challenge in early December, and many of the players at the PNC Father-Son Challenge took notice.
One notable exception was Jack Nicklaus.
Nicklaus was in the midst of hosting a charity function that weekend and didn't see much of Woods' performance. Asked if he had an interest in watching Woods on the comeback trail, the Golden Bear replied succinctly, "I'm not interested at all."
That's not to say that Woods is a special case. Between his business and his growing commitment to charity and his large family, golf isn't the priority it once was for the 18-time major winner. He does keep in touch with the game, and he enjoys being around players at his annual Memorial Tournament or at his Bears Club in Jupiter, Fla.
"Do I wish him well? Yeah, but I'm not interested in watching him," Nicklaus said Friday afternoon at the Ritz-Carlton Golf Club, where he will compete this weekend with his 15-year-old grandson, Gary Nicklaus Jr., who goes by G.T. "I don't watch golf much. The television set is always on, but I don't really watch it."
Later the Golden Bear conceded that of course he has an interest in how Woods play, "because Tiger is good for the game and has been for a long time."
The little Nicklaus did see of Woods was encouraging, he said.
"Tiger seemed to hit the ball pretty well over there and seemed to enjoy it, seemed to be pain-free," said the Bear, who turns 78 in January. "I didn't see enough of his swing. I saw him [as I was] walking by the television set and saw him hit a shot or two. The swing as I saw, looked good. It looked like a swing of somebody who did not want to hurt his back."
Other players admitted making a point to see what the 14-time major winner could do in his first competitive rounds in more than 300 days.
"I'll tell you, he looked ready," said Lee Trevino. "He looked good. He looked a little more like his old self."
"Yeah, I was interested in watching him," added Tom Lehman. "There's a tremendous amount of upside for him at this stage of his career. I think there are a lot of possibilities for him going forward if he can stay healthy."
Mark O'Meara, who has been closest to Woods since Woods turned pro in 1997, said he saw a difference in his friend.
"I think all of us know what he's meant to the game and where he took this game over the last almost 20 years," O'Meara said. "Over the last three, four years we've missed him. The ups and downs he's had – and we've all had them in our lives – you know, that makes it difficult to compete at the highest level. I'm not around Tiger Woods like I used to be, but what I saw was really great, maybe above what I thought he could do. He looks happier and in a better place. And I'm happy for him that he is doing better."