Driving
Jack Nicklaus On How To Play A Drivable Par 4
The fifth hole at Quivira Golf Club in Cabo San Lucas, Mexico, is the kind of drivable par 4 I'd never seek to build. But when I saw this knob of cliff just big enough for a green, I couldn't pass. Mostly, I'm not a fan of severe downhill tee shots. It's displeasing to stand on your toes and wonder when your ball is going to stop.
The goal was to find a way to play golf here that wasn't gimmicky.
If you're in a stroke-play event on a hole like this, lay up off the tee. But if your objective is fun, maybe go for the green.
I could've built a more traditional hole away from the cliffs, but with this setting, I couldn't bear to be so sensible. That's what makes it a big tease.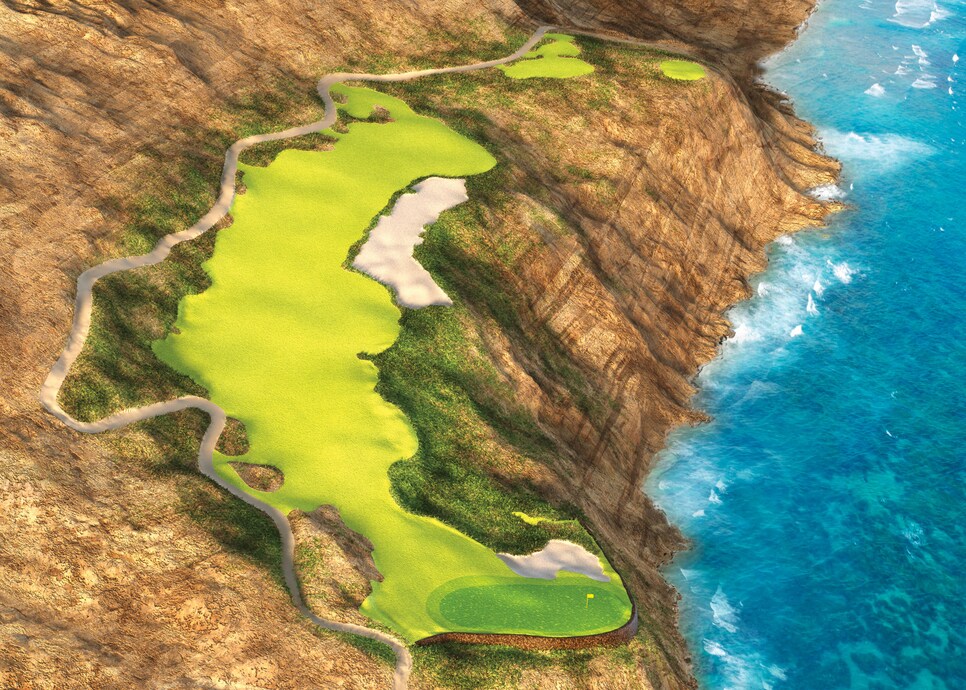 From the back tees, the vertical drop to the green is 115 feet. As a rule, every 10 feet of gradient equals about three yards, so the 262-yard carry to the front of this green is more like 230 (210 from the middle tees). If you aren't that long but want to go for it, favor the right side. Hit a draw, and the slope will kick your ball toward the green. There are three native areas on the right, but getting hung up in one isn't horrible. Go at the green, and short, long or left is bye-bye.
If you've selected a hybrid or long iron off the tee, it doesn't mean you can take a mental vacation. Play this lay-up with precision, and you'll have a better chance to hit your second shot close. Considering wind and turf speed, you need 195 to 210 yards. Short of that, and your view of the flag will be obscured by a rise in the fairway. Long, and your ball could scamper into an awkward lie. Unlike the glory shot, here the miss is left--in the bunker beats the scrub on the right.
AND IF IT'S REALLY WINDY...
The wind will howl off the Pacific Ocean. From pitching-wedge distance on the approach, I see golfers chose an 8- or 9-iron. That's not nearly enough. I might take a 5-iron, grip down to the steel of the shaft, and basically chip it. That limits the spin, so the ball won't climb and sail out of control.