Instruction
Jack Nicklaus: My Strategy For Monster Holes
The toughest hole in golf might be No. 11 at Royal Troon, which hosts its ninth Open Championship this summer. "Railway" (illustrated below) is loaded with thick gorse along both sides, and the railroad tracks on the right are out-of-bounds. It's 483 yards from the tips, with the prevailing wind against. When we played there in 1962, I made a 10 in one round and a 7 in another. Not fun.
The scorecard says it's a par 4, but if I learned anything that week, it's that sometimes that number is irrelevant. Often you hear long hitters talk about a par 5 that's easily reachable in two strokes as being a par 4½, but it's the flip side—those very difficult par 4s—that require closer attention.
I bet your course has at least one par 4 that's more like a 4½. It might play that way all the time, or only in wet or windy conditions. Once you identify the hole, consider if playing to the green in three strokes instead of forcing two shots will result in a lower average score. Since 1962, I've played Railway 4-iron-4-iron-wedge a bunch of times.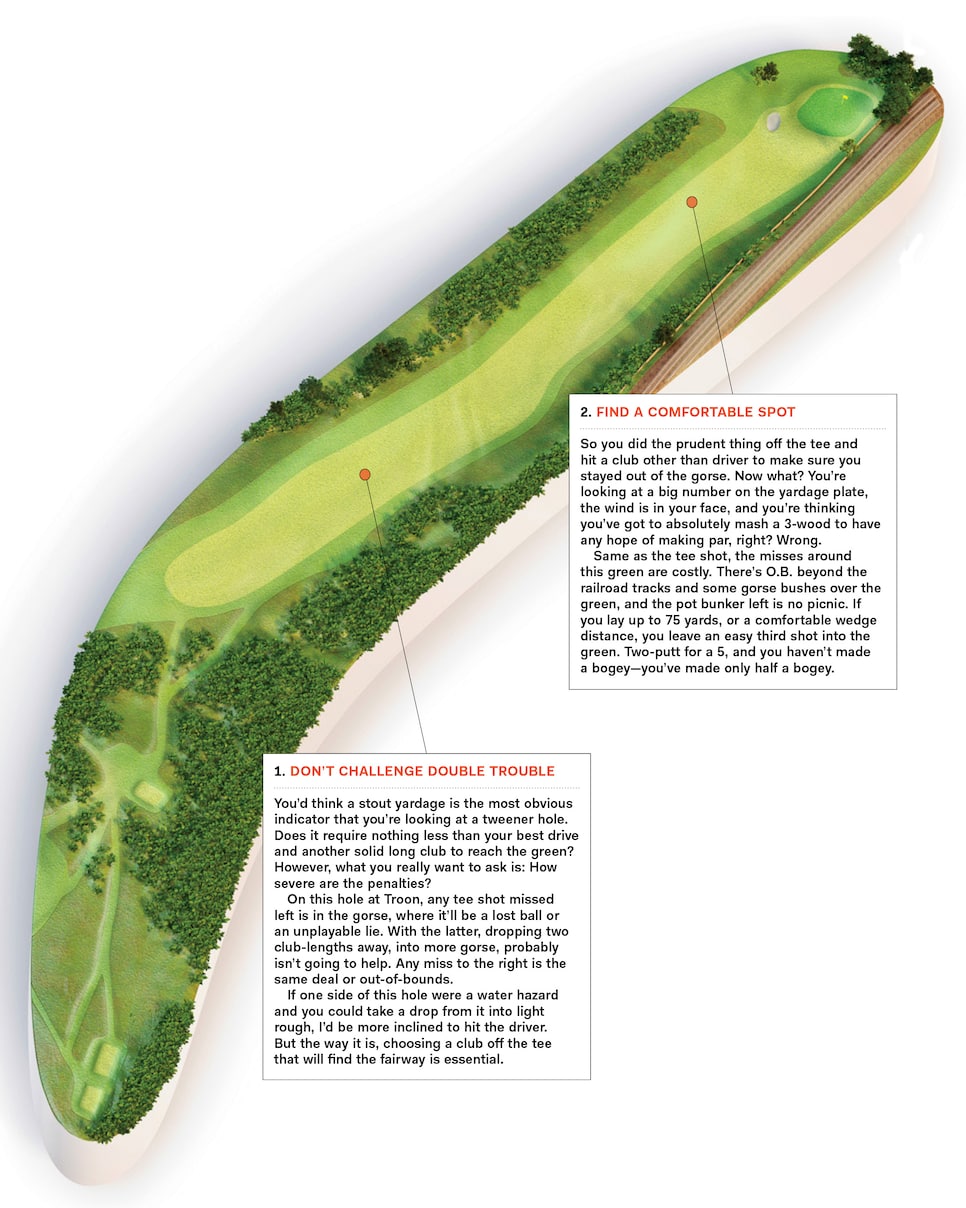 Illustration by Chris O'Riley
"There's nothing wrong with making half a bogey."
TWO BOGEYS WINS
Another notable par 4½ is the 17th at the Old Course in St. Andrews. The hotel on the right is O.B., and the rough left is soft and deep, even when the rest of the course is playing firm. I usually drove with a 3-wood or 1-iron and then laid up short of the Road Hole Bunker. If I made two 4s and two 5s in the tournament, that put me even with the field or sometimes a little better.