Memorial Tournament
Jack Nicklaus reveals the little-known financial move he made at Muirfield Village and why he did it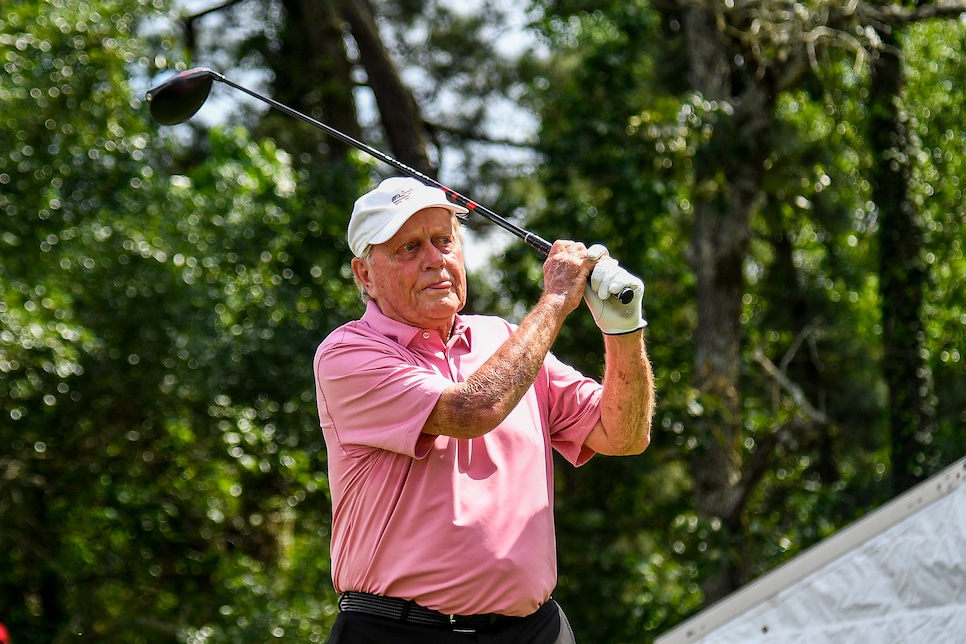 Jack Nicklaus competes on the 10th hole during the 2022 Greats of Golf competition.
Logan Riely
DUBLIN, Ohio — Jack Nicklaus appeared in good spirits Tuesday at Muirfield Village Golf Club. He had reason to be. He's starting to play a little golf again.
The 82-year-old hadn't had a chance to play the golf course he renovated two years ago until this past weekend, when he went out for a couple of rounds. He tried to shoot his age but fell short. Nevertheless, after a period of less than optimal health, primarily inflammation from arthritis, the Golden Bear is feeling well enough to enjoy the game he still loves.
In fact, two weeks ago, he took son, Jackie, and two of his grandsons, Jack III and Charlie, to Augusta National Golf Club for a few days. The six-time Masters winner wanted to try to play nine holes with them, but he felt well enough to finish 18. Then he played 18 more the next day. Good thing, otherwise, he would have missed Jack III make an albatross on the par-5 15th hole by holing an 8-iron.
"He killed a drive and played an 8-iron, hit just to the right of the pin, ball trickled down, boom, into the hole. Everybody is cheering, yelling, so forth," said Nicklaus, who had another grandson, Gary, make an ace while hitting a shot for his grandfather during the Par-3 Contest in 2018. "Went down and took our picture by the Sarazen Bridge. Has anybody made a two since Sarazen did? I'm sure somebody had to, but I don't know."
What the Golden Bear does know is that he's getting real joy out of the game again after not playing at all last year.
"I'm tired of not playing. I really love to play golf," Nicklaus, the 18-time major winner, said during his annual pre-tournament press conference at the Memorial Tournament, the event he founded in 1976. "I don't enjoy playing golf the way I've been playing, that's for sure. I had a chance to shoot my age both days, and I choked. I don't know why I'm playing. I'm going to continue to play. You've got to do something for crying out loud. I've been sitting around feeling sorry for myself because I haven't been able to do anything. It's time to get out and do something."
The 47th edition of the Memorial, which offers a $12 million purse, begins Thursday with a field of 120 players, including seven of the top 10 in the world. Workday is the new presenting sponsor, and Nicklaus said that he likes how his event is positioned and the success that it has enjoyed. "I am sitting here because I made a few four-foot putts, because it would have never happened without making a few four-foot putts, maybe a few 20-footers, too, along the way," he said jokingly.
That's not to say he's satisfied.
"Nothing ever exceeds my expectations. I've continued to try to do better. But I think the tournament has done fantastic," he said.
Nicklaus arrived at the tournament embroiled in a lawsuit in which the company that carries his name and the man who now runs it, Howard Milstein, are claiming breach of contract and fiduciary duty. Nicklaus recently said in a statement that "the claims made by Howard Milstein are untrue. Our relationship has been a difficult one, at best. I have little doubt about the outcome, but I don't intend to make this a public spectacle, if it can be avoided."
To that end, he declined to add to that statement on Tuesday, saying "let's talk about the Memorial Tournament."
Interestingly, Nicklaus, in discussing the origins of the tournament and the club that he built to host it, shared a little-known fact about its financial structure. That includes selling the club to the membership for $445,000. "That was back in the day when the Japanese were offering $100 [million] and $200 million for golf courses, and I said no thank you, this is not going anywhere, it's staying right here.'
"I structured it so Jack Nicklaus couldn't make a profit from this," he added. "That's why I sold the club for what I did and why I didn't get into the development. I didn't want all the guys who were my contemporaries coming in here and saying, 'Look, Jack is profiting off of us.' I didn't want that. So I can honestly open my mouth to the guys that I played golf against and say, Jack Nicklaus never got a penny, so that was all put together on purpose."
This revelation has relevance in light of a recent report in which Nicklaus was said to have turned down a substantial sum to assist or help promote the new LIV Golf Series that is a rival to the PGA Tour. Nicklaus explained that the offer came as an add-on to a golf course design project in Saudi Arabia. But he never seriously entertained the notion.
"I did it [took a meeting] out of courtesy to them because we're doing a golf course for them," Nicklaus said. "I've got zero interest in wanting to do something like that. I don't care what kind of money they would have thrown at me. My allegiance has been to the PGA Tour. I grew up on the PGA Tour. I helped found the PGA Tour as it is today."
Nicklaus, along with Arnold Palmer and Gardner Dickinson, led the way in 1968 in the formation of the tour that previously was run by the PGA of America. And he believes the PGA Tour is in a pretty good place, given the level of talent that comes from around the world. "Right now," he said, "I think we have more good players in the game of golf on the PGA Tour than we have ever had in the history of the game, and I think it's wonderful."