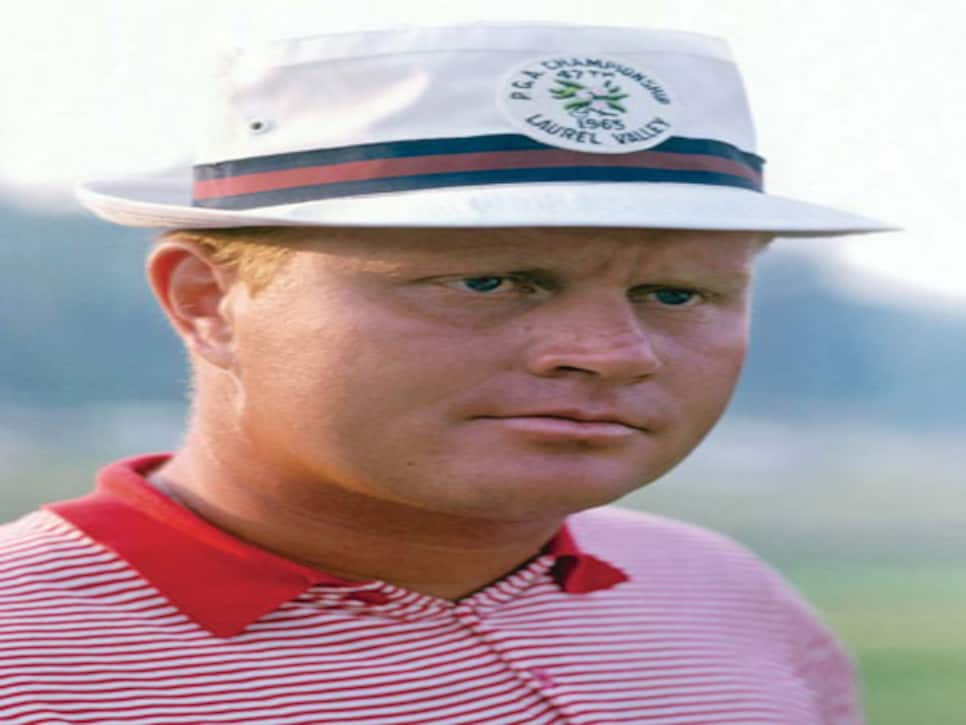 Jack Nicklaus sinks back in one of the cushy armchairs in his North Palm Beach office, dressed in what his staff refers to as his business "uniform": shorts, a golf shirt and boat shoes without socks. A few days before, he and wife Barbara had celebrated their 50th wedding anniversary, the 200 in attendance including their five children and nearly all of their 21 grandchildren. There is no golf memorabilia glinting in the bright Florida light, although all manner of wildlife art -- but no depiction of a tiger -- looms on the walls.
At 70, the Golden Bear is at peace. Still, after stretching his legs onto a coffee table, he fixes his visitor with a stare and asks in a crisp, slightly challenging voice, "What's this story about again?"
A tricky question, considering the source. The last thing Jack Nicklaus wants to do is to be perceived as piling on Tiger Woods. But Nicklaus has unwittingly been the biggest beneficiary of the most complete backlash in the history of sports. As the previously sure-footed Woods has fallen off a cliff, ending the impression that he would continue to click off major championships at a metronomic pace, there's a new appreciation for Nicklaus' body of work -- 18 victories and 46 top-three finishes in majors -- and the way he went about it. From the fuller perspective that retirement provides, with the subtext of just how problematic sustained excellence at the top of the sport really is, we wanted to ask Nicklaus to share his latest thoughts on his career.
Taking in the pitch, Nicklaus nods, refraining from the contrarian tack he often takes to hold off journalists. He has resolutely resisted commenting on Woods' problems, patiently repeating the words, "It's none of my business," and has actively dodged being positioned on the high moral ground at Woods' expense. And though Nicklaus has long demonstrated an uncanny understanding of Woods as a golfer, which surely comes from having breathed the same air, Jack knows that for the foreseeable future, anything he says about his historical challenger will be read through the prism of rivalry. Indeed, his statement in January, "If Tiger is going to pass my record, I think this is a big year for him in that regard," became, after Woods failed to win his 15th major at Pebble Beach or St. Andrews, the platform for several national columnists to make the case that Woods' great days are over.
Nicklaus and Woods have been compared every which way, from driver through putter and beyond, with the sum total long considered almost a wash. But the potential for major life mistakes that seemed moot in two people so driven and organized has suddenly become the most important element of all. Nicklaus' steady conservatism, which on the course might have begun to seem quaint and even limiting in contrast to Woods' bolder style, has become the potential off-the-course difference-maker. As Nicklaus sits in the clubhouse, an early finisher watching the recklessness that has cost Woods the lead, the score Jack posted is looking better.
"For a while, it was like, 'Yeah, Jack was great, but he's no Tiger,' " says Scott Simpson, who adds that Nicklaus remains his golf hero. "Now Jack is back in the game."
Mark Calcavecchia, who as a junior golfer in Florida was encouraged by Nicklaus and is one of the closer pros to Woods, sees both sides. "Tiger was winning majors like they were freaking club championships, making it look so easy," Calcavecchia says. "Now even he knows it isn't. It just makes you take another look at what Jack accomplished and realize, Man, that really took a lot."
Addressing a number of topics during a 90-minute conversation, Nicklaus displays a new candor. He used to say, "My record is my record. I did all I could do." Today, he casts a more analytical and sometimes critical eye on the nuances of his career, starting with a self-effacing haymaker: "If I were to look back on my work, I think I accomplished probably about 70 to 75 percent of what I could have. Maybe 60 percent. Somewhere in that area; two-thirds of what I could have accomplished. If I had been a really dedicated person, and really worked hard, I think I could have accomplished more."
It's a startling concession. For one, hindsight and the expanded timetables of modern golfers have shown Nicklaus he probably had more in the tank than he thought. He remembers 1980, when he won two majors at 40 after a dismal 1979 in which he battled apathy. "It was a devastating birthday for everybody when they hit 40," he says with a chuckle. "Life was over. Now I think, Man, what a young age. But because I had played poorly, I was really motivated to play well. I worked very hard on my game. Then I won two majors and sort of said, Well, I can do this. And then after that, I just sort of let it drop off again."
He is wistful, remembering the feeling of owning a record so complete and superior to his rivals that he lost motivation. "What was there to shoot for? I didn't have any goals. When you don't have goals, it makes it pretty difficult. I think that's why Tiger will still break my record. His goals are to play until he breaks my record. I don't expect him to play a whole lot beyond that."
Gary Player, who found much of his motivation in chasing Nicklaus, goes a step further: "If Jack had been aiming at a number of majors he would have practiced harder, and I can tell you many of those 19 seconds he had in majors definitely would have been firsts."
Nicklaus agrees, but it doesn't mean he's full of regret. "I think that what I did was probably ... OK," he says, the pause an acceptance of all the forces at work. "Because the balance that I've had with the rest of my life has been so good. And would I want to go back and change that?" In a lowered voice that conveys contentment, he utters a soft answer: "No."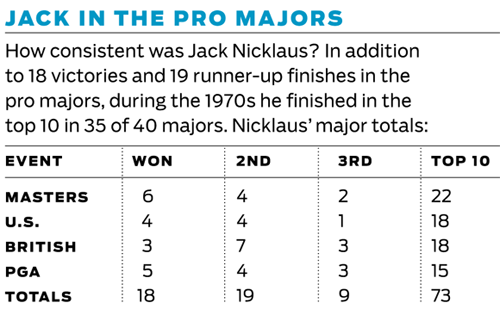 "As abnormal as Jack's success has been, it has never overpowered all the very normal things about him," longtime collaborator Ken Bowden said years ago. "He has never lost who he is." Even for the greatest, life ultimately trumps golf. Woods realized as much even in his golden season of 2000, when he was only 24. "What's so remarkable about Jack is the balance he retained in his life while staying the best for so long," Woods said, presciently adding, "I can already see how difficult that's going to be for me."
As for Nicklaus, the definitive end of his playing days seems to have brought an even more responsive attitude to students of the game who want to delve into the details of his career. He allows himself to wonder about a mulligan or two, the first in the area of the game where Woods used to save majors in ways that Nicklaus couldn't: shots around the green.
Formerly, Nicklaus' glib retort about why he didn't have a better wedge game was, "I didn't need one." But even at his best, Nicklaus lost a lot more than he won, and now he concedes what a significant difference a quality short game would have meant.
"Oh, yeah," he says, imagining the possibilities. "The only short game I ever had was the one I developed myself. I wasn't like Tiger, who was small as a boy and developed a tremendous short game. I didn't have any lessons with the short game. It was the one area Jack Grout [Nicklaus' longtime teacher] really didn't spend any time on with me. I didn't practice my short game, because I didn't know what to practice. I never learned anything. As a kid, if I had gone to see someone like Paul Runyan, my short game would have been so much different." It wasn't until 1980, when Nicklaus concedes that he had an attack of the chipping yips ("I wanted to putt it around bunkers"), that he contacted old friend Phil Rodgers for pointers. The dramatic improvement made at that late stage underscores what a difference the same kind of effort would have made earlier.
"Instead, because I didn't have a real good short game, my philosophy became, I'm going to hit 14 or 15 greens, I'm going to hit at least a couple of par 5s in two, and I'm going to make every putt inside 10 feet. That's what I thought. So it really didn't make any difference how good my short game was. As long as I could chip the ball, slop it around the hole somewhere -- six, eight, 10 feet -- I was going to probably make it anyway. But that was an accommodation. It wasn't ideal. And it was foolish for me to believe that it was good enough."
"If Jack had had a wedge, no doubt in my mind, he would have won 30 majors," says Lee Trevino, who won six -- several at Jack's expense. "I certainly would have had about three less majors; I'd maybe have gotten him only once. I mean, he was so good at everything else. I tell people all the time, 'If Jack in his prime could have played the clubs and balls these guys are playing today, he would have hit the sumbitch 400 yards.' I'm dead serious. I believe Tiger is going to catch him, but if Jack had had a short game, even Tiger wouldn't have been able to touch him."
Of course, Woods still has a long way to go. To break the record, he'll have to approach Nicklaus' unparalleled longevity in winning majors. Nicklaus won 18 over 25 years, Woods 14 in 14 years and counting.
Physically, Nicklaus was built to last. Several years ago, Rodgers called him a Clydesdale to Woods' thoroughbred, and the analogy works. Whereas Woods has been sidelined for long periods because of knee surgeries, Nicklaus overcame a case of polio at 13, cortisone shots in nine locations along his spine during his teenage years, and some two dozen more cortisone shots in his left hip during his second year as a pro. Although Nicklaus withdrew from only a handful of tournaments in his career, the injections almost certainly took a delayed toll, as he needed hip replacement in his 50s and has lost perhaps four inches in stature (down from just under six feet) because of compressed and degenerative vertebrae.
It's also arguable that no player has ever had a better ongoing support system. Nicklaus still describes his father, Charlie, who died at 56 in 1970, as his best friend. The closeness Nicklaus lost was nearly replaced by his deepening relationship with Grout. As the years went by, Nicklaus found himself practicing just because of the joy it gave his old mentor. Barbara Nicklaus is the subject of as many accolades as her husband, called "the Rock of Gibraltar" by Trevino and "the 15th club" by Deane Beman.
"No matter what I did, she was always solid," Nicklaus says. "And if I did something wrong, she would never hesitate to tell me. In a nice way. And then we'd discuss it. And I'd say, 'I think you're right.' Because I've sure as hell done a lot of things wrong."
For all his threats about early retirement, Nicklaus paced himself for a marathon. "I suppose by the way I played my career, it created longevity," he says. "Now was I saying, Gee, I'm 32 years old and I want to keep playing when I'm 45 years old? Of course not. But I would take periods where I would get away from it, recharge the batteries, and then try to climb the mountain again. Basically, it was how I could prepare best for the next major. I always wanted to be climbing the mountain. That was a management thing."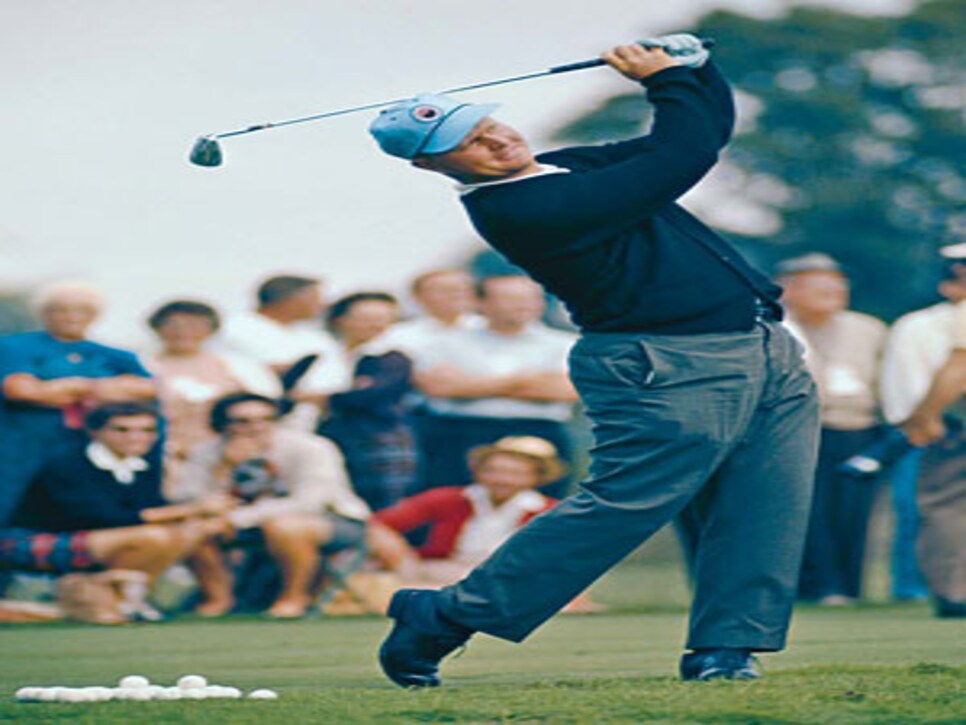 It's the word that Nicklaus most leans on when describing his internal process for dealing with challenge. He has managed himself through the stress of three unanticipated financial problems. The first was in 1969, when he learned upon seeking a real-estate loan that his net worth was far less than he thought. He followed it with the best five years of his career. "It was an eye-opener for Jack," says Beman, a longtime Nicklaus confidante even as they sometimes disagreed. "And it led to a renewal of his drive and maybe a recognition that you're not as smart as you thought you were. I think Tiger is made of the stuff that this personal misfortune -- very different, of course, but in a way, similar -- is going to be the same kind of catalyst that Jack had."
In 1985, Nicklaus lost several million dollars on two golf-course projects. "I was in the middle of it during the 1986 Masters," he says. "People always wonder, 'How could you play with that on your mind?' But I didn't think about that. I never worried about money, except that I knew that all I had to worry about was golf. As long as I could play, I was going to make money. So I didn't worry about it. It was never a focus of my life. Still isn't."
Then in 1998, an attempt to take part of his companies public resulted in a severe reversal. Those setbacks "broke me, or virtually broke me," he says. "All the money I have today has been built since 1998. I'm fine. My family's fine. My golf design business has been a blessing to me. Crises are part of life. Everybody has to face them, and it doesn't make any difference what the crisis is."
On the golf course, Nicklaus' management was the standard. The fundamentals he honed under Grout, along with their mutual goal that Nicklaus be self-sufficient in competition, led to a technique and swing knowledge that prompted only one major swing overhaul, in 1980. (Nicklaus had gotten too upright and steep.) Then there was the Nicklaus style of play, which confounded, fascinated and more often than not conquered his peers. "It was almost like Jack was much wiser than anybody else," says Johnny Miller. "Golf is full of temptations, and Jack just resisted them all. I don't know how he did it. He had all these weapons but kept them in reserve and was so restrained. He was a great putter, but he putted conservatively. Then again, he never, ever got yippy on the greens, and he handled really fast greens, where the nerves really tell, better than anybody. It was a low-stress way to play, in majors especially, and it helped him last a long time. Tiger has modeled it, but he hasn't quite had the ball control to master it like Jack."
Nicklaus offers this explanation for why he believes he avoided shakiness on the greens: "I think the world of yips mostly came from a normal lifestyle in a previous era. That lifestyle included alcohol for a great number of players. I'm not saying they were drunks. But I was never a drinker, so I never really had that problem."
Nicklaus is expansive on the topic of disciplined on-course thinking. He mentions the 1960 U.S. Open at Cherry Hills and the 1963 British Open at Royal Lytham -- two rare occasions where he led on the final nine only to fall short because of mental mistakes. "I learned early in my career, where you get so wrapped up and so excited, that all of a sudden you don't think," he says. "So I worked very hard to keep myself suppressed. And that's one of the reasons I wasn't gregarious with the gallery. Because if I was, I couldn't keep my total, 100-percent concentration on what I had to do. I learned because of those things, and not many times did I give it away because of lack of focus. You can't tolerate bad decisions. Bad decisions not only get to you score-wise, but they get to you in the head. Score you can handle. But in your head, you can't."
As a result, Nicklaus enjoyed the pressure moments that tend to erode the primes of even the greatest players. "Jack was very relaxed within," Player says. "He had a very unusual temperament for a champion, and it was a great asset." Adds Tom Weiskopf: "Jack thought so clearly when everybody else got fuzzy. He just had the innate ability to choose the right club at the right time and hit the proper shot. Under pressure it becomes that much more difficult. Jack had that special preparation of mind."
Nicklaus considered it fun. "I always felt like that was what I practiced for. As long as you've given your best effort, and somebody beats you, fair enough. But if you haven't been prepared and you screw up, and you let somebody beat you who hasn't played very well, that's what ticks you off. And that's why I loved to be prepared and loved to get in the pressure, so that I could see how I could make myself perform. That was the fun."
Nicklaus derived his greatest enjoyment from going up against formidable challengers. "The era that Jack played in had better Sunday players than any other," Miller says. "It was just this long succession: Palmer, Player, Casper, Trevino, Floyd, Weiskopf, Hubert Green, me, Watson and a bunch more. There were like 15 superstars who didn't back down. You're lucky now to have five. In that sense, Tiger's had an easier go than Jack did."
"Oh, I loved it -- my attitude was that they kept me playing," Nicklaus says. "Without that kind of competition, I'm not sure how good my career would have been. I wasn't always sure I could beat those guys, but I always liked that. Competition has always been my life. Even in tennis. I'm an OK tennis player, but if I get in a match with some guys who are really good, my game goes way up. I've always been able to do that when I had to do it. My dad loved competition. He always got me going, by sort of sticking the needle in me and bending it a little bit. I always go back to when I was a sixth-grader. We used to go to the movies. He had his ankle operated on and couldn't run at all. And we'd race from the car to the movie theater every time, and he'd beat me. He'd say, 'You can't play sports if you can't outrun me.' So the next year he says, 'Why don't you go out for track? Learn how to run.' I went out for track, learned how to run, and in a very short period of time, I was the fastest kid in the seventh grade and the eighth grade. Same thing with everything. Did I want to impress him? Absolutely. He was my idol."
"There was a beauty about the way Jack competed," Player says. "I thumped him on a lot of occasions, but there was no bitterness when you beat him. He always played with the right spirit."
It was a spirit that allowed the game's greatest winner to not only lose with grace but to reach out in a meaningful way to losers. Doug Sanders missed a three-footer on the 72nd hole of the 1970 British Open at St. Andrews that gave Nicklaus a chance to beat him in a playoff the next day. "Jack, more than any champion I know, can face the man in the mirror," Sanders says. And after Mike Reid stumbled home at the 1989 PGA to lose by one, Nicklaus was waiting for him in the locker room.
"I'm guessing he waited an hour for me after I'd finished, but he was the first guy to sit next to me," Reid says. "He said, 'I've never felt worse for anybody in all my life. That tournament was yours. I just want you to know I feel for you.' It meant so much. Here Jack had won so many majors, contended in so many others, was a true icon, and yet he had real empathy for me, a guy with one chance to win a major. It was such a genuine example of character, in that moment it just lifted me up. As a human being, he set quite an example."
It's a record that won't be broken.