Happy Birthday
Jack Burke Jr., the 1956 Masters champ, is turning 100 and still has plenty to say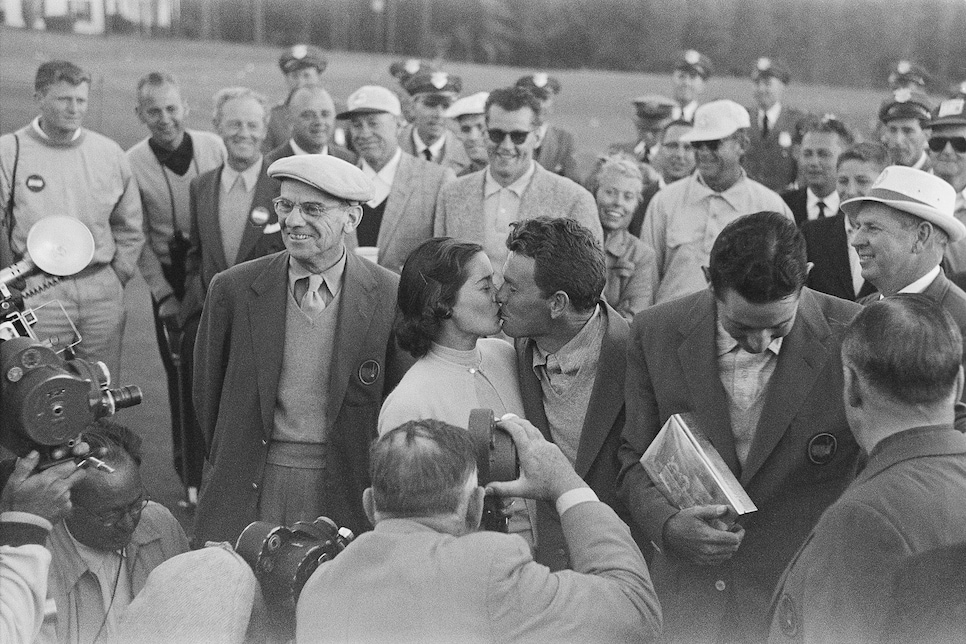 Jack Burke Jr. celebrates his 1956 Masters victory with then-wife Ielene. To the left is Augusta National co-founder Clifford Roberts (smiling). To the right is 1955 Masters winner Cary Middlecoff and in the lower right is Bobby Jones (back turned).
Jack Burke Jr.'s voice, once commanding and direct, is softer these days. His answers to questions are less thunderous, his opinions have less of a hard edge, and his tough-love parables on golf and life are gentler. For this icon of American golf, there's a reason for the slight transformation. On Sunday, Jan. 29, Burke will celebrate his 100th birthday. The oldest living Masters and PGA Championship winner has arrived at a place we would all like to be—at peace and satisfied.
His birthday will come with all the trimmings. A party is on tap at Champions Golf Club, the famed Houston club he and Jimmy Demaret founded in 1957. Coffee, cake and ice cream will be served at noon, accompanied by laughter, storytelling and good-natured Texas kidding. At Champions, there's no such thing as a stranger. One of Burke's friends told him that 100 candles on a cake is so many, he may need to start blowing them out on Saturday.
Events this momentous draw lots of friends. An impressive number of Burke's pals from out of town are coming in. Butch Harmon, the renowned teacher who at age 6 was taught how to get the ball airborne by Burke, will be on hand. So will Jim McLean, another star teacher who since his college days at Houston has visited Burke at least once a year for counsel, conversation and encouragement. Ben Crenshaw, who credits Burke as an influence along with Harvey Penick, is driving over from Austin. Jim Crane, the owner of the Houston Astros and a longtime friend of the family, will bring the World Series trophy to display for Champions' members, hundreds of whom will attend.
This may be a good time to offer a primer on Burke, as two full generations of golfers might not fully know what he has brought to the game. He retired as a player almost 60 years ago, and newcomers especially know him only vaguely. Although Burke won most of golf's important titles and has received the most prestigious honors the game has to offer—the USGA's Bob Jones Award is chief among them—these days he's hidden in plain sight. Burke is a vital part of golf history, a singular individual who distinguished himself as a player, teacher, club owner, author, influencer and preserver of the best things in golf.
Burke was one of the top players of the 1950s. He won 16 times on the PGA Tour in the era of Ben Hogan, Sam Snead, Cary Middlecoff and Lloyd Mangrum. In 1950, Burke's second year playing full time, he won four events, and in 1952, he won four tournaments in successive weeks, a tour record that still stands. His best year probably was 1956, when he won the Masters by coming from eight strokes back in the final round to defeat Ken Venturi. Three months later he won the PGA Championship the last time it was conducted as match play. He won seven matches and defeated Ted Kroll, 3 and 2, in the 36-hole final. Not known as a superlative ball-striker, Burke compensated with shrewd course management, patience, experience, nerve under pressure and one of the best putting strokes of all time.
Burke also was an outstanding Ryder Cup player and team leader. He played on five consecutive U.S. teams from 1951 through 1959, and in 1957 was a playing captain. His record was 7-1. He captained again in 1973 and in 2004, was an assistant captain to Hal Sutton. Sutton, like Phil Mickelson, was a Burke acolyte, as were Steve Elkington, Crenshaw and many other tour players who made the pilgrimage to see Jack when they came to Houston.
His playing career consumed slightly more than a tenth of Burke's life, and his achievements were the primary basis for him being inducted into the World Golf Hall of Fame in 2000. However, Burke lived a remarkable life before arriving on the PGA Tour. Born in Fort Worth in 1923, he was the eldest child of Jack Burke Sr., who finished second to the immortal Ted Ray in the 1920 U.S. Open. Burke Sr. was one of the first club pros in Texas and was a clubmaker, teacher and innovator. He invented, among other things, the original cord grip for golf clubs. The Burke household near River Oaks Country Club was a gathering spot for great players of the day, and young Jackie soaked up the conversation. There's a ton of Burke minutiae, but an interesting bit is that one of his babysitters was Jimmy Demaret, who went on to win the Masters three times. Ben Hogan, Byron Nelson, Craig Wood, Babe Zaharias and many others were like so many aunts and uncles to Jack Jr. In school Burke was a good student and briefly attended Rice University, but at age 19 he left to accept a club-pro position in Galveston. After a hurricane swept the clubhouse away, and with America's entry into World War II, Burke decided to join the Marines.
"My dad's life was shaped by three things," says Mike Burke, Jack's son, who last year purchased Champions from Jackie and his wife, Robin. "First there is his father, whom he idolized. There was and still is, his family. Then there was the Marine Corps."
Burke was in the Marines for four years and taught physical fitness and self-defense to Marines preparing for combat in the Pacific, including the horrific Battle of Tarawa. Even today, Burke's instruction on how to defend against an attacker—it involves a buck knife, honed sharply—is something to hear. The values, discipline and toughness he learned in the Marines, coincided closely with his obedient Catholic upbringing. Upon his discharge in 1946, Burke briefly tried playing for a living, but was drawn instead to a series of excellent club jobs. Through 1941 U.S. Open champ Craig Wood, he landed a club job in Deal, N.J. He then served as an assistant to 1948 Masters champion Claude Harmon at Winged Foot in New York and later took a head pro job at nearby Metropolis Country Club.
An outstanding playing career followed, but with four children at home, Burke aimed to spend his time in Houston. In 1957, he and Demaret founded Champions, which quickly rose to national prominence. Bob Hope, Bing Crosby and many other celebrities hung their hats at Champions, and Burke knew them all. After Demaret died in 1983, Burke pointed out that the two men never signed a contract. "With Jimmy and I, our word was our bond," he said. Champions over the years hosted the 1967 Ryder Cup, 1969 U.S. Open, 1993 U.S. Amateur, 1998 and 2017 U.S. Women's Mid-Amateur, 2020 U.S. Women's Open and four playings of the PGA Tour's Tour Championship from 1997 to 2003. During the 1960s, Champions also hosted the Houston Champions International five times. It's where Hogan, who counted Burke among his few close friends, struck his last shot in competition, in 1971.
Champions became Burke's most important endeavor. From there he's preached the importance of amateur golf, juniors in particular. (The Jack Burke Invitational is a popular stop on AJGA schedule.) Over time he has dispensed all kinds of wisdom and humor, along with sharp reactions to different facets of the game. On the commercialization of golf, including pricey club memberships, big green fees and expensive equipment: "These people are like one-eyed dogs in a meat shop. They'll never realize that an emphasis on money makes everything worse." On his policy in the 1990s of requiring prospective members at Champions to possess a handicap of 15 or lower: "We don't want to run a yacht club where nobody knows how to sail a boat." On the emergence of sports psychologists: "I don't get it. In my day, our sports psychologist was named Jack Daniels." On teaching systems: "I've never known of one that worked. Golf can't be overpowered." On the slew of improprieties that occurred in politics and financial sectors: "Not many of these people play golf. If they did, they'd know where the out-of-bounds stakes are."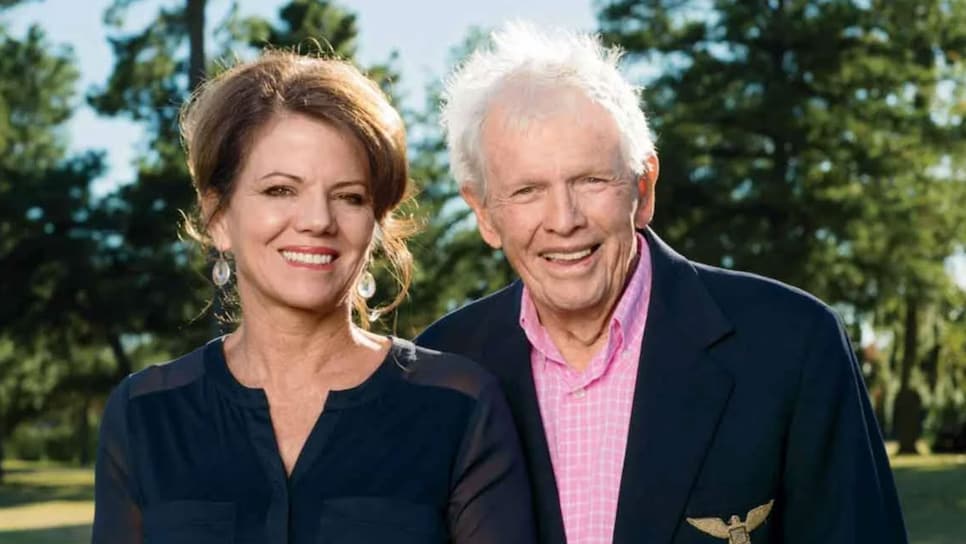 Jack Burke Jr. with wife Robin, captain of the 2016 Curtis Cup, in 2020.
Darren Carroll/USGA
Instructional thoughts and takes on the nature of competition flowed from Burke, too. On a key swing fundamental: "The primitive hunter who threw his spear at the saber-tooth tiger finished with his weight on his left foot. If he didn't, he got eaten. A good golfer, like that hunter, shifts his weight to the left." On fans at major championships: "Many will be rooting for the players, but others are bloodthirsty and want to see how they handle the struggle. They want to see whether they pass out on the first tee."
He gave life advice, too. On retirement: "Leisure time is dangerous. You might wind up inside a bottle of bourbon. You were put on this earth to produce, so get with it." On managing finances: "A priest and teacher I had in school, Father Allnoch wrote on the blackboard, '50-51.' He said if you make $50, don't spend $51. It's that simple." One of Burke's best is repeated often by Steve Elkington, a PGA Championship winner himself and Burke disciple. Elkington says Burke values personal relationships above all else and notes that on Burke's refrigerator are the words, "If you can put a match to it, it's not worth a damn."
With Jackie, the whole has always been greater than the sum of the parts. It's Burke who Tiger Woods credits with inspiring his famous "stinger" at the 1993 U.S. Amateur. In 1999, he turned Mickelson's putting around, setting the stage for big titles. In 1969, he was instrumental in bringing the U.S. Open south of the Mason-Dixon line for the first time. When the crisis over racial discrimination at private clubs occurred in 1990, national TV networks sought out Burke for perspective. He quietly commanded attention from several generations of players, administrators, course architects and club owners, but Burke preferred to stay a half-step away from the limelight. He has always said that the word, "pro" was the root word not for "professional," but "promotion." Yet he never was particularly interested in promoting himself.
Age has always been just a number to Burke. In 1987, well after his first wife had passed away, he married the former Robin Moran, a freshman walk-on at Texas who had ventured over to Champions for a putting lesson. Burke was 64, Robin was 24. Robin went on to be the runner-up in the 1997 U.S. Women's Amateur and captain of the 2016 Curtis Cup team. Jack had five children already, but he and Robin had a daughter, Meghan, now 32. Now that's living.
After the birthday party concludes, Burke will get back to business. Six days a week, he'll rise early, eat a small bowl of cereal, attend church and then head over to Champions. He'll greet members and their guests, write a few notes and talk on the phone a bit. If he's feeling especially good, he'll visits the double-ended practice range and big putting green, where he'll offer a few quick lessons but mostly encouragement. "His eyes aren't great anymore but he can tell a lot without seeing the ball," Robin says. The day is not heavy lifting, and Robin has him home by early afternoon. "In summers I'm asleep before dark," he says.
Years ago, Burke likened the average person's life journey to climbing a tree, with the focus on reaching the top. "Sooner or later, though, you have to climb down out of the tree," he said. "The secret is to not break too many branches on the way down."
As he reaches the century mark of his remarkable life, Jack Burke Jr. is coming down on angel wings.