The Loop
It's quite simple, really: When Rory's driver is on, he's 'unstoppable'
HOYLAKE, England -- It is 1973 and Jack Nicklaus is home alone watching television. On the box is the Belmont Stakes, the third and final leg of American horse racing's "Triple Crown." Nicklaus has no real interest in the sport and barely knows which end of a horse eats, but watches anyway. Before the end of the race, which the magnificent Secretariat won in a still-record time and by a phenomenal 31 lengths, the greatest golfer of all-time is in tears and on his knees beating the carpet with his fists. Days later, Nicklaus tells of his startling reaction to sportswriter Heywood Hale Broun and wonders aloud what would provoke him to behave in such a strange and uncharacteristic way.
"That's easy," says Broun. "You've been searching for sporting perfection your whole life and finally you saw it."
Which is not to say that what we have so far witnessed from Rory McIlroy here at Hoylake has quite approached Secretariat's incredible level of excellence. It has not. Not quite. But there is surely no doubt, if any still existed, that when the 25-year old Northern Irishman drives the ball at or close to his very best then even "long" par 4s like the 458-yard 17th are reduced to, in Scottish parlance, "a drive and a kick."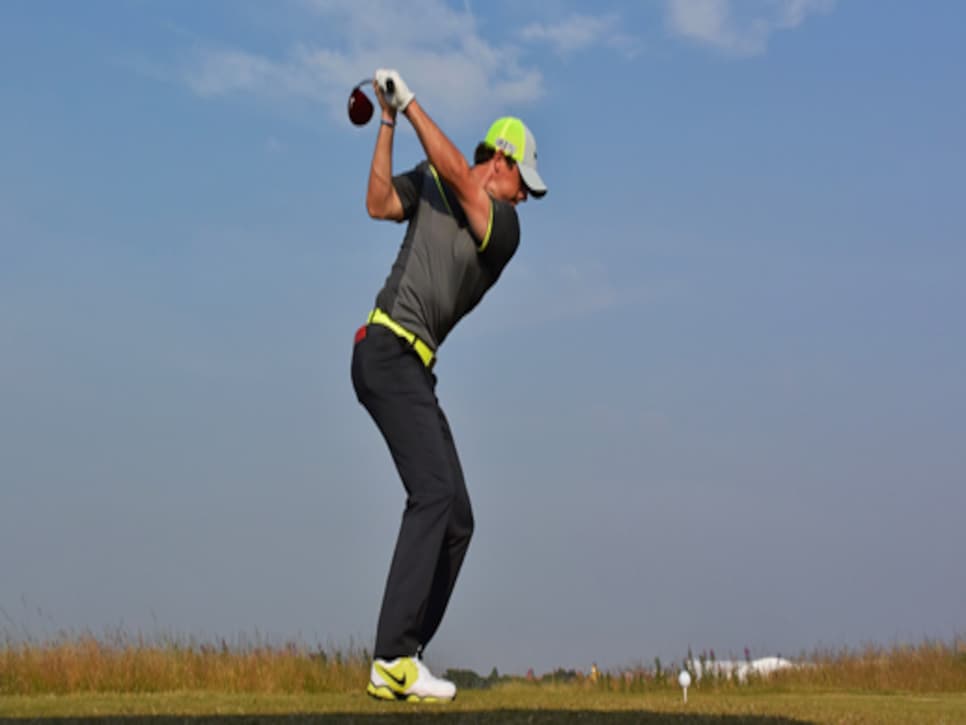 McIlroy's length has been a significant advantage thus far at Hoylake. He hit a 396-yard drive on the 17th hole on Friday. Photo by Getty Images
As Rickie Fowler was quick to acknowledge: "When his driver is on, Rory is almost unstoppable." Indeed, a brace of major championship victories -- both by eight shots -- is already evidence enough of that all but immutable golfing fact.
"Driving is the foundation to any golf game," said McIlroy, who used the longest club in his bag six times en route his second successive round of 66. "If my driving is there, then everything else sort of feeds off it. Golf is a fickle game, but I'm happy with where my swing is at at the minute.
"I've a couple of little triggers that I'm using this week. I keep them in my head when I'm on the course. Just a couple of little words I recite when I'm about to hit. Whether I'm one-shot in the lead or 10 in the lead, I'll keep trying to do the same thing. That's as complex as I get. There's still a lot of golf to play. But I'm in a great position. We'll just see how the next couple of days unfold. "
McIlroy is right to be cautious. There have been more than a few slipshod rounds this year -- especially on Fridays and one as recently as last week at the Scottish Open -- a fact for which he claimed to have "no explanation." Plus, a lot has been going on in his life off the course in recent times, legal wrangles with former management and a broken engagement most prominent. And with the weather forecast over the weekend less than stellar (even with an early two-tee start in place for the third round) his well-chronicled distaste for links golf in wind and rain may yet catch up with him.
"He's had a few distractions and he's still young," confirms leading swing coach Pete Cowen, who worked with the Irish amateur squad when an even fresher-faced McIlroy was first making his mark. "People forget that. I'm not sure he's yet had the life experience to deal with some of the problems he's had. It's as simple as that.
"But Rory is special. Always has been. I first saw him when he was maybe 14. I'll never forget the shots he could hit. There was one he couldn't hit, though, a bunker shot I showed him. He tried and tried. He wasn't embarrassed to give it a go in front of the older men. And when he couldn't get it, he turned to me and said, I'll have it next time.'
"And he did. It was the first thing he did for me. He was desperate to show me. That's a quality you want in people. He's never been a shrinking violet. Over the last few months he's had a few aggravations. But he's never stopped being a nice bloke and a brilliant talent."
McIlroy already has one R&A trophy in his possession of course. Back in 2007, the then-17-year old finished T-42 in the Open Championship and pocketed the silver medal awarded annually to the leading amateur who completes 72 holes in golf's oldest and most important event. And now, seven years and two Grand Slam victories on, a more mature golfer is halfway to adding the Old Claret Jug to that early taste of success at the highest level of the game. Even this early in the proceedings it is difficult to predict any other outcome.