The Loop
It's easy to figure out who The Secret Tour Pro is if you look at ALL the clues (Nope, it's actually harder)
One of the most popular golf follows on Twitter these days is a player who wishes not to be revealed. The Secret Tour Pro (@secrettourpro), in case you haven't heard of him, is just that, a secret tour pro who takes to social media to offer insight into life on tour (like the time he said a tour pro used his caddie to help pick out a Christmas present for his wife), give golf advice, give strong golf opinions and even break news.
With regards to the latter, STP, who claims to split his time between the PGA and European tours, has shared inaccurate tidbits regarding Tiger Woods, first saying he'd split with swing instructor Chris Como and then claiming to have a new photo of Woods practicing at the Bear's Club (he later apologized for sharing an old photo). However, he has been all over some of the equipment changes for the new year, sometimes weeks before they were reported.
We decided to comb through STP's Twitter account and read interviews he's given to see if we could determine his true identity. Since starting his Twitter account in April, he has averaged more than 1,000 tweets(!) per month, and he has provided a lot of clues. Let's do a rundown of some of his hints.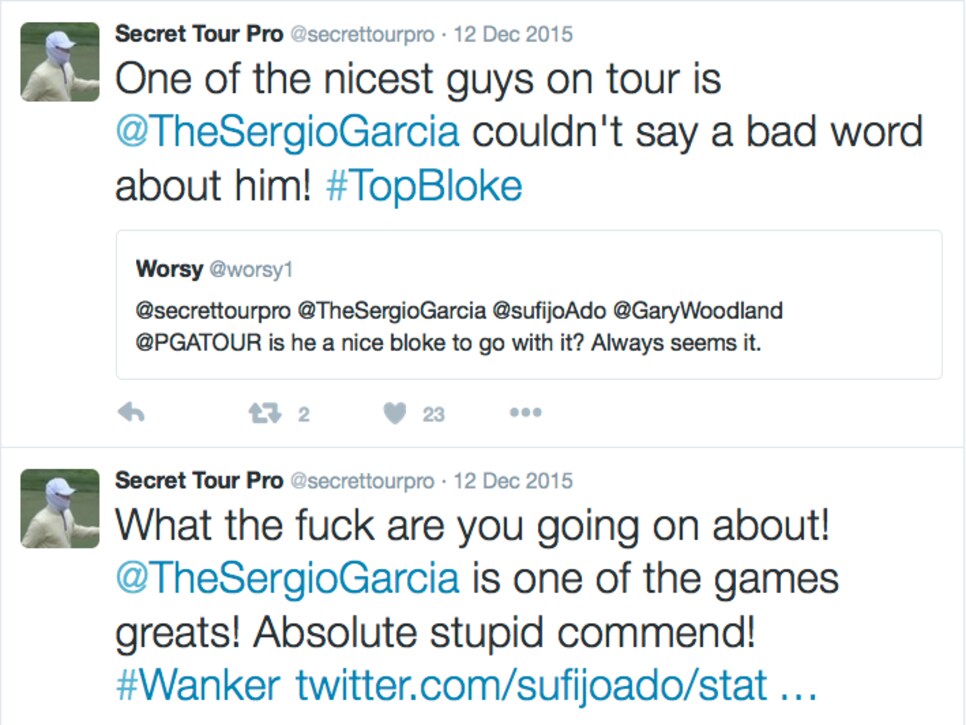 While we're tempted to say it's Sergio because of STP's feelings for the Spaniard, STP has a different tone on social media, and he enjoys it way too much as evidenced by those 11,000 tweets in nine months. The British thing rules out Rock. Clarke, Yang, Bjorn, and Ogilvy (who many think it is) didn't "have it all come together finally" in 2015, and it's simply not Nhat. Hmm.
In an interview with Kenneth Quillinan, though, STP said, "I drop enough clues for everyone. It's just about piecing them together and working it out. Whatever you do, don't try and work me out from the schedule I say I play! You're fishing in an empty lake doing that!"
OK, we're stumped. Unless it really is Bernd Wiesberger.