News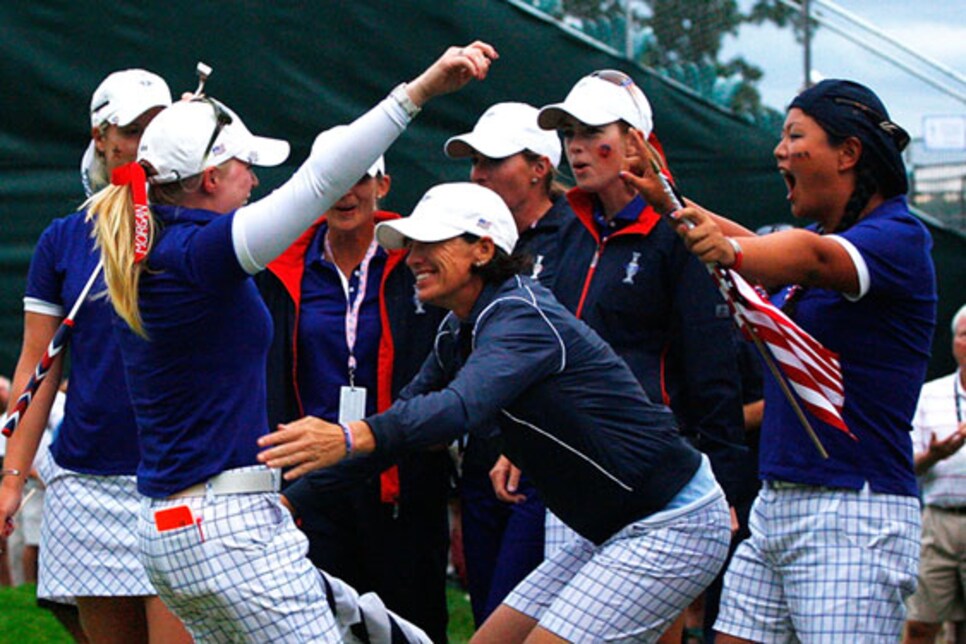 SUGAR GROVE, Ill.-- After two days of cheers and tears, Solheim Sunday is here, and it promises to be a doozy. As expected, both teams' singles lineups are front-loaded with strong players. History shows the team that gets its colors up on the board early has a much better chance of taking home the cup, especially in a dead heat such as this year's Cup.
Here are the Sunday pairings (CDT):
MATCH 9 (10:05 tee time): Suzann Pettersen (Eur.) vs. Paula Creamer (USA)
MATCH 10: Becky Brewerton vs. Angela Stanford
MATCH 11: Helen Alfredsson vs. Michelle Wie
MATCH 12: Laura Davies vs. Brittany Lang
MATCH 13: Gwladys Nocera vs. Juli Inkster
MATCH 14: Catriona Matthew vs. Kristy McPherson
MATCH 15: Sophie Gustafson vs. Brittany Lincicome
MATCH 16: Diana Luna vs. Nicole Castrale
MATCH 17: Tania Elosigui vs. Christina Kim
MATCH 18: Maria Hjorth vs. Cristie Kerr
MATCH 19: Anna Nordquist vs. Morgan Pressel
MATCH 20: Janice Moodie vs. Natalie Gulbis
Obviously, neither captain knows what the other team's starting order looks like when they hand in theirs, so the pairings are all by chance. But when you look at the list above, it's almost hard to believe how perfect some of these match-ups are.Â
Gustafson and Lincicome? Let's call that "the battle of the long ball." Alfredsson and Wie? The battle of the strong wills. Matthew and McPherson? The battle of the straight shooters. Hjorth and Kerr? The battle of the putting queens. Pressel and Nordquist? David and Goliath.Â
I never thought I'd say it, but looking at this list, we may have a tighter match than expected today.
The U.S. team has a big leg up coming into singles, considering the Euros have never won on foreign soil, and the only three times they've won at home, they've entered Sunday with at least a two-point lead. Plus, we were just told that the spectator figures for this week have already annihilated early predictions: the 100,000 mark was passed yesterday, and there's likely at least another 30,000 fans piling in for the event's conclusion today. The boisterous home crowd is what the host team likes to call its "13th player," especially on Sunday, when all the competitors are out there alone with no teammates to lean on.
But the Europeans aren't giving up. As captain Alison Nicholas said late last night, "We have won single series before and we have nothing to lose -- we've just got to go out there and play our hearts out." Will the Euros come out strong early as they have the previous two days, perhaps creating some "shock and awe" effect that could give them enough momentum to actually steal this thing? Considering the above pairings, it's certainly not impossible.
There's a first time for everything. And this would be a great first.Â
--Stina Sternberg (Photo by Scott Halleran, Getty Images)