The Loop
It's another 'one of those days' for Tiger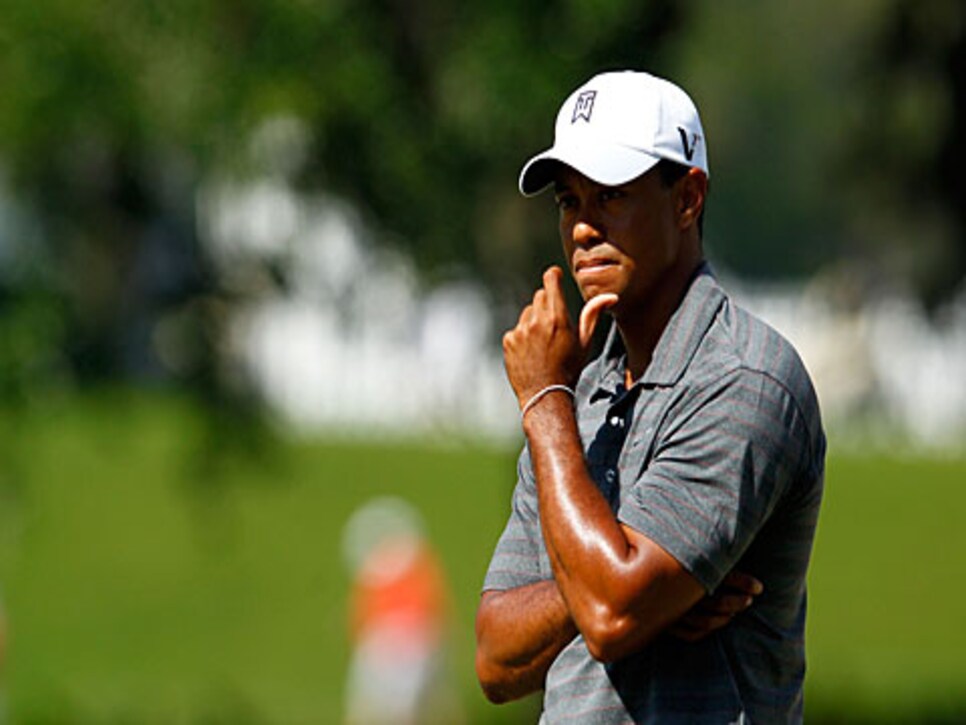 (Photo Mike Ehrmann/Getty Images Sport)
PONTE VEDRA BEACH, Fla. -- If body language could be censored, we wouldn't have heard much from Tiger Woods in Thursday's first round of The Players at TPC Sawgrass. His posture was percolating with profanities as he shrugged, sagged, grimaced and sighed his way to a 74 that was as ordinary of an effort as a great player can turn in.
There weren't any kicked clubs, only a couple of F-bombs and one reprimand to a fan wielding a smart phone camera, but it was also not a day at the beach for Woods. He bogeyed his first hole and never got into red numbers on a day when a lot of guys went low, finishing well in the second half of the field.
In fact, the entire marquee threesome of Woods, Rickie Fowler and Hunter Mahan handed in ho-hum performances that disappointed, and at times, befuddled the large galleries traipsing around behind them. Mahan also shot 74 with Fowler only slightly better at 72.
If great play feeds off great play, this was a case of a trio that inspired each other to be less than their best. In fact, Woods, Mahan and Fowler had a better-ball sore of 64, only one stroke better than leader Ian Poulter managed to do by himself.
The multitude of youngsters sporting colorful, flat-brim Rickie hats -- a growing phenomenon on tour -- seemed to enjoy the day nonetheless, more than Woods did in any case.
"It wasn't certainly the most positive start," Woods said after hitting only half the fairways, despite using driver only a handful of times, and hitting only half the greens in regulation. "Any kind of momentum that I would build, I would shoot myself in the foot on the very next hole. Just one of those days."
In fact, Woods has had "one of those days" pretty much in all of his last seven rounds since winning the Arnold Palmer Invitational in March, finishing T-40 at the Masters before missing the cut at the Wells Fargo Championship last week.
Woods' body language seemed to be shouting, "I hate this golf course and I just can't play it." In fact, that is the case. This is not a place where he has had much success. And his body language also seems to be saying he is not comfortable or confident over the ball. He's just not trusting it.
And the words that Woods is saying after his rounds don't seem to reflect the reality of what is happening on the golf course. "I just didn't score," he said. "It was frustrating in the sense that my good shots ended up in bad spots, and obviously my bad shots ended up in worse spots."
But on several occasions, with a short iron in his hand, Woods failed to get the ball as close to the hole as we had grown used to seeing over his career. He made a dreadful bogey on No. 1 -- his tenth hole -- when he spun the ball off the green from 108 yards then failed to get up and down.
And of all the aspects of his game that have deteriorated, it is the drop off in his short game that is the most puzzling. Once a magician just this side of Seve Ballesteros around the greens, Woods now is, well, ordinary. Truly, there was not one aspect of his game in this first round that was anywhere near his best effort.
Still, he remains committed to the swing mechanics he is working on with Sean Foley. "Just be patient with it," Woods says when asked where his head is at in terms of the state of his game. "Just keep plugging along."
At times it seems as if Tiger is trying to talk himself into playing good golf, almost as if he hopes that if he says the words often enough, his game will line up with the words rather than altering the words to accurately reflect the state of his game.
"You know, obviously in the last few months, I've put together some good rounds; won a couple tournaments," he said, adding the limited-field, unofficial Chevron World Challenge to his victory at Bay Hill. "So it's there, I just need to continue doing it."
Certainly, a great player has to believe he is a great player in order to get that kind of performance. And Woods sounds very much right now like he is trying to access that level of belief -- the kind of belief in himself and his ability to succeed that for so long was unshakeable.
But on Thursday, Woods looked very much like a guy going into Friday trying to make a cut rather than trying to win a golf tournament. Suddenly, or perhaps more accurately, gradually over the last two years, Woods looks very ordinary.
"The weekend is going to be a different deal, I think, with the weather forecast coming in," Woods said, referring to the fact the wind is supposed to blow more. "It's going to get really, really difficult."
That would have been a good thing for the old Tiger Woods. The more difficult the conditions, the greater the separation he would have with the rest of the field. But now, however, difficult conditions have tended to expose the weaknesses in his game. Still, he is Tiger Woods.
The bottom line is this: If Woods shoots another 74 on Friday and misses the cut or climbs back into the fray with a 64, neither result would come as much of a surprise. That is the level of unpredictability of who Woods is right now -- ordinary, with occasional glimmers of his past greatness.