News
Playing with brother Brooks at the Zurich Classic gives Chase Koepka momentum for his pro career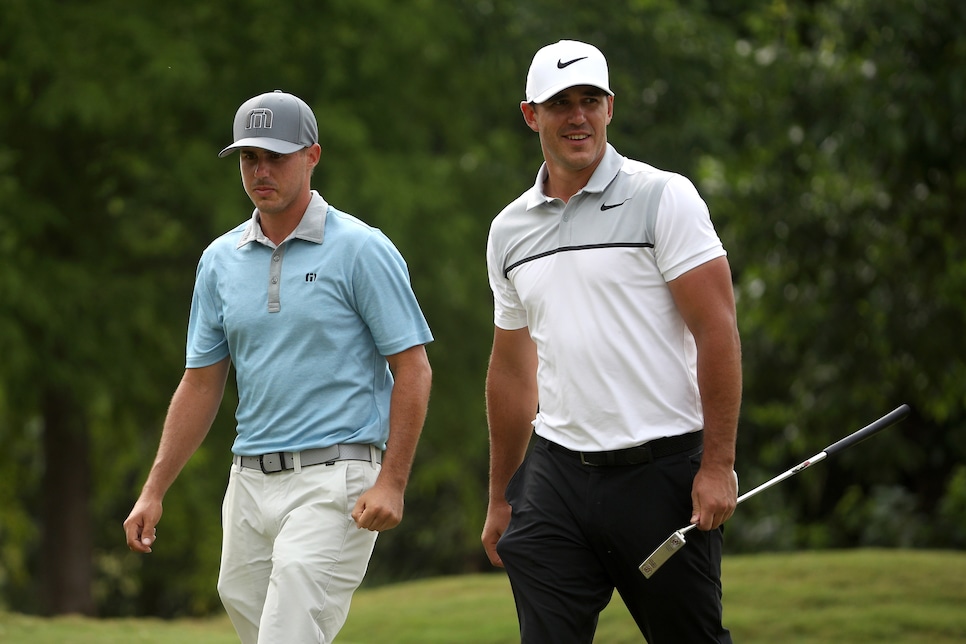 Big brother was not just watching Chase Koepka. He was helping him, too. Instead of "killing one another," as Brooks Koepka facetiously alluded in the run-up to the Zurich Classic of New Orleans, they ended up having an awesome week.
While they didn't win, the Brothers Koepka did finish T-5—thanks to a closing 62 in fourball play on Sunday—which in this case provided Chase with an exemption into another PGA Tour event in this week's Wells Fargo Championship.
Brooks, ranked 19th in the world after a second-place finish in the Valero Texas Open, did most of the heavy lifting, birdieing eight holes, including the last three, in the better-ball competition. That moved the Koepkas nine spots up the leader board. But Chase more than held his own in his tour debut as well.
"It was a good experience," Chase said before flying back to West Palm Beach on Brooks' leased jet. "I felt like I have a little bit to improve on if I want to be here week-in and week-out with these guys."
As a three-time All American at the University of South Florida, and the best golfer in school history, Chase is hoping to carve a pro career the way his 26-year-old brother did, building his foundation by playing primarily on the Challenge Tour, with occasional starts on the main European Tour. At 23, Chase is ranked 1,434 in the world with only one start in 2017. In March, he traveled all the way to the Hero Indian Open in New Delhi to shoot 83-72 and miss the cut. His best finish last year was a T-19 in the European Tour's D+D Real Czech Masters.
The experiences that most help Chase in these situation, according to USF coach Steve Bradley, have been being around Brooks' friends on money-game days in the Jupiter, Fla., area. "When he gets an opportunity like he did this week, he's not in awe, or the moment is not too big for him," Bradley said. "I think that's going to help him in the transition."
Chase found this to be the case during a practice round at the TPC Louisiana with Brooks, Bubba Watson and J.B. Holmes, three of the longest hitters on tour. While undersized (5-foot-9, 160 pounds) compared to his brother (6 foot, 186 pounds), Chase plays a more precision game with a competitive drive honed by basketball games in the driveway of their home in Lake Worth, Fla. He was also known for being exceptional at returning his brother's slams in table tennis.
"His personal belief in himself was pretty impressive," Bradley said. "Because if you look at him from a stature standpoint, he's not the biggest kid out there, he's not the strongest kid out there, and he doesn't hit it the farthest. But he attacked golf courses with his mind and strategy and course management as opposed to overpowering them like a lot of college kids."
Come this week in Wilmington, N.C., there will be no one watching his back the way Brooks did in New Orleans. If Chase doesn't get starts on the PGA Tour, he will head back overseas, just like Brooks did in 2013, hoping to build up his world ranking points through the European Tour. There's also play in the U.S. on the Minor League Tour, where Chase is third on this year's money list (Brooks won it in 2012).
The brothers were jokingly playful all week—as Brooks said, "We've definitely hurt each other's feelings before"—yet appreciative of the opportunity to compete as a team, the tournament giving Chase the exemption into the field. There were no hurt feelings between the two while experiencing the dream scenario of playing in a PGA Tour event together. Whether it's the first of many starts will depend on Chase.
"He always had to play up," said his father, Bob. "I think that's what made Chase the way he is."