The Loop
It's a threesome: Smoltz joins golf partners (and teammates) Glavine, Maddux in Hall of Fame
It was a reasonably safe bet that John Smoltz would join former Atlanta Braves teammates Greg Maddux and Tom Glavine in the National Baseball Hall of Fame, but an even better bet is that he'll join them on the first tee of the Leatherstocking Golf Course in Cooperstown, N.Y., in July.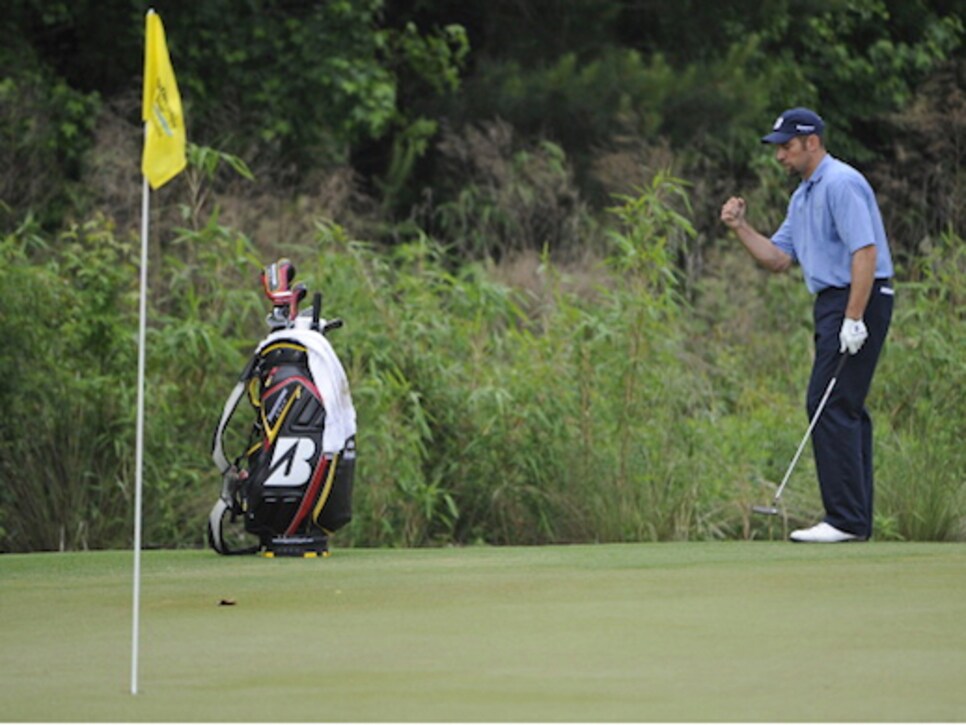 Smoltz, playing in the South Georgia Classic (Getty Images)
Has there ever been a more avid group of good golfers/great pitchers on one pitching staff? Smoltz, whose election to the Hall of Fame was announced on Tuesday, is the best of the three, playing to a +1.8 handicap index. Glavine, who along with Maddux were part of the Hall of Fame Class of 2014, plays to a 2.8, while Maddux is a 3.9.
In 1997, Golf Digest' s Dave Kindred wrote about the golf-obsessed Braves, who were promised by team president Stan Kasten a clubhouse putting green were they to win the World Series. They won it in 1995 and an artificial-turf green, 10-feet wide and 20-feet long, was installed in the Braves' clubhouse, flanked by a full-color photo mural of the 16th hole at Augusta National. "It's so peaceful. All we need are the birds chirping," Maddux said.
The threesome of pitchers played frequently on the road, though their manager Bobby Cox, who also is in the Hall of Fame, had this rule: "They can't play the day before they pitch or the day of, but I want them to play golf. They need to do something better than sit around the hotel all day -- especially the day after they pitch. They need to get their mind off it, whether they did good or bad, and get ready for their next start."
Smoltz and Tiger Woods are friends and frequent golf partners, who once played together one Sunday at Augusta National. "And as the story grows and the older I get, I'm going to say I was one of the few guys who played with Tiger on Sunday at Augusta," Smoltz told Golf Digest.
In 2011, Smoltz played in the Web.com Tour's South Georgia Classic and missed the cut.
"Winning a golf tournament has to be the hardest thing to do in sports," he told Kindred. "In baseball, if you run slowly, you can be a slugger. If your curve ball isn't working one day, maybe your fastball is. If you're having a bad day, your teammates can pick you up. But in golf, it's only you. And everything has to work every day. Because the game seeks out your weakness, you can't afford to have any. To me, the top golfers are the best athletes because they've mastered all the elements of their sport."
Smoltz, along with Randy Johnson, Pedro Martinez and Craig Biggio, will be inducted into the Hall of Fame on July 27 in Cooperstown.