News
It seems impossible, but Steve Stricker is actually *nicer* than you think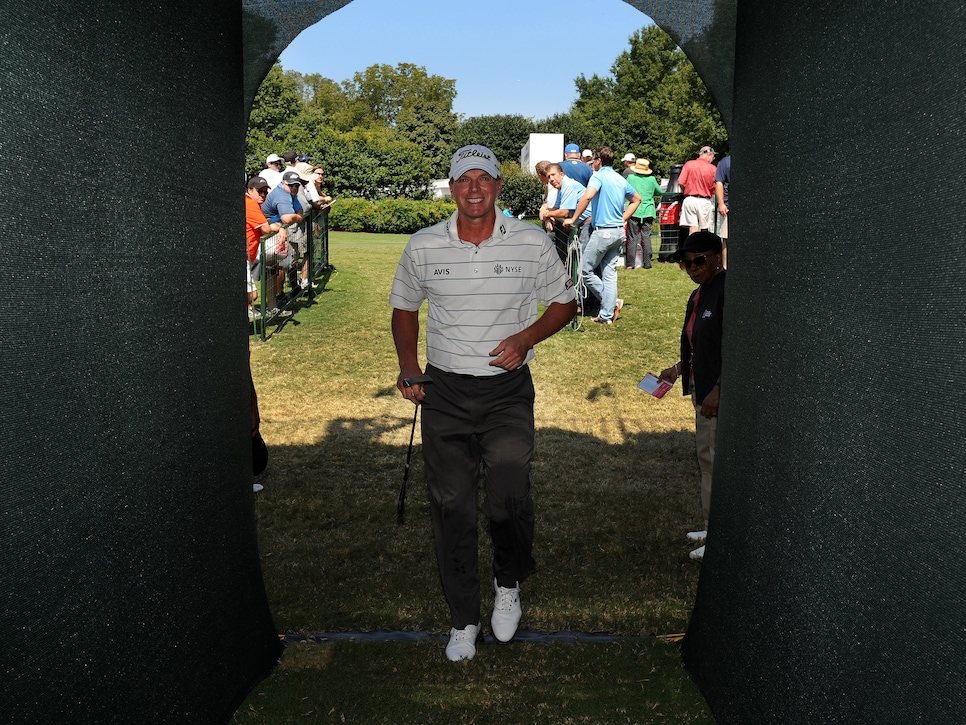 If you are a golf fan, you've seen the Avis commercial in which Steve Stricker explains how driving the right car to the golf course turns him into a "savage." In the commercial, Stricker is getting himself pumped up when he's passed by an elderly couple and then wrestles with a parking valet over who is going to carry his golf clubs inside.
What makes the bit truly funny is that it is so Stricker. I speak from first-hand experience.
In 1998, when I was working on my second golf book, The Majors, Stricker was one of the guys who agreed to sit down with me at length during the course of that year. We did our first interview in San Diego, the day before the first round of what was then the Buick Invitational. Stricker was talking about his parents.
"They're just sort of the classic Midwesterners," he said. "They're quiet and polite, really nice to everyone. Kind of the anti-New Yorkers if you know what I mean."
I nodded. "I get it," I said. "I grew up in New York so I understand."
Stricker's face drained of all color. "Oh jeez," he said. "I didn't mean to insult you. I didn't mean it as a putdown, I was just …"
I put up a hand. "Steve, stop. That was a perfect description. New Yorkers are like that."
We spent another hour together. As we stood up, Steve apologized again. I waved him off … again.
The next day I went out to walk with his group. At the par-3 third hole on the South Course at Torrey Pines, there was a group on the green, so Steve and his fellow competitors had to wait. I was standing on the tee, next to the ropes. Steve walked over.
"I gotta tell you, I had trouble sleeping last night, thinking about what I said to you yesterday," he said. "I know you said it was OK, but it was still wrong …"
One last time, I cut him off. "Steve, as a New Yorker, let me say this to you: Shut the f--- up!"
Finally—I broke through. "Well," he said, laughing, "if you're going to be rude about it, the heck with you!"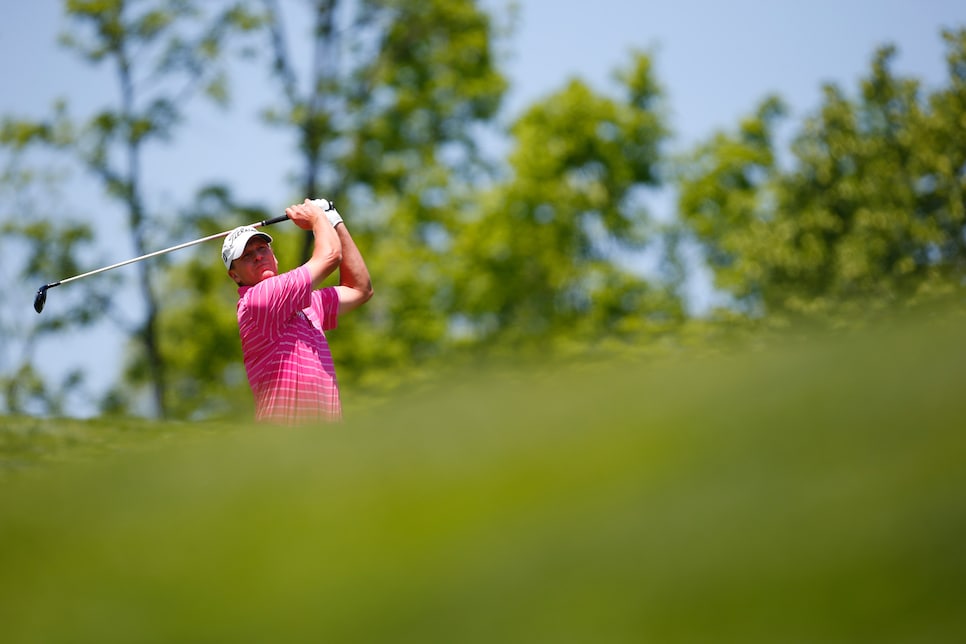 The argument can be made that there's never been a nicer person to have success on the PGA Tour—12 wins; three Ryder Cup appearances; close to $43 million in earnings—than Stricker. He's the guy you can count on to break down in tears trying to thank his family and friends any time he wins a golf tournament. He's the guy who paired successfully with Tiger Woods in Ryder Cup and Presidents Cup play. He's the guy whose wife, Nicki, caddied for him early in his career and then again late in his career—not because they needed to save money but because they enjoy being together.
He's also the guy who got choked up at dinner the night before the final round of the 1998 PGA Championship at Sahalee because he was playing in the last group the next day and Nicki was home, nine months pregnant.
"I really want to win tomorrow," he said. "But I just can't imagine winning without Nicki being here."
Vijay Singh buried a 30-foot birdie putt on the 71st hole the next day and beat Stricker by two strokes. That's still the closest Stricker has come to winning a major title.
One doesn't get as far in golf as Stricker has without serious toughness, even if it's not outwardly apparent. After all, he's the only player in history to win the PGA Tour's comeback player-of-the-year award two years in a row.
"Well, Strick," Woods told him after he'd won the award in 2007, "you have now set a record that no one, including me, will ever equal."
Woods knew just how far back Stricker had to come to win those awards. Always a great putter, Stricker often struggled—really struggled—with his driver. In 1996, he had finished fourth on the money list, winning twice, and then dropped to 130th the next year after an equipment change. In 1998, the year he almost won the PGA, he all but abandoned hitting driver and jumped back to 13th on the money list.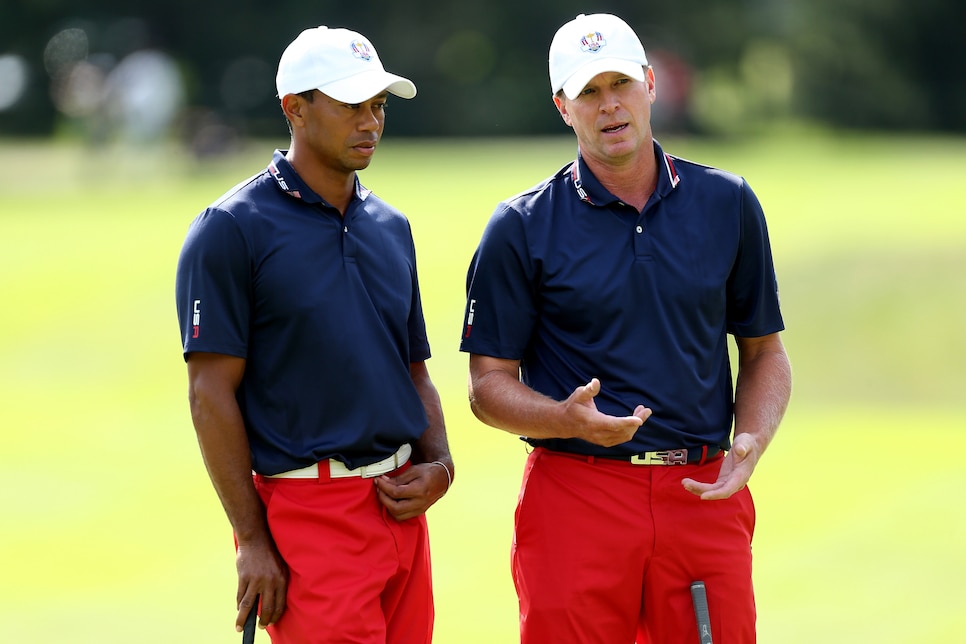 That started a rollercoaster stretch that lasted almost a decade. For three years, beginning in 2003, he finished 188th, 151st and 162nd on the money list. In 2005, at the finals of PGA Tour Qualifying School at Orange County National in Orlando, I walked with him often during the six-round torture test. While hitting about what seemed like one fairway a day, he somehow stayed in contention and shot 67 the last day to come within two shots of getting his card back. He did it on grit, constantly recovering from places a pro should never find himself.
That was the winter when he went back to Wisconsin and dedicated himself to a regimen of hitting balls out of the back of a heated trailer, working with his teacher (and father-in-law) Dennis Tiziani. Playing on sponsor exemptions and past champion's status, he found his swing again and finished 34th on the money list—comeback player-of-the year award number one. A year later, he won for the first time in six years, finishing seventh on the money list. Comeback award No. 2, and the comment from Woods.
He played so well the next five years that he rose as high as No. 2 in the World Rankings—winning eight more times. Last year, at 49, playing a limited schedule, he finished fourth in the Open Championship.
Why did he cut his schedule back several years ago? Because his two daughters were teenagers and he wanted more time at home with them before they left for college. What would you expect?
Of course, the story about Steve's first encounter with Nicki—which he tells on himself—is also classic Stricker.
"I was sitting on a cart with Tiz [his father-in-law] after a lesson, talking," Stricker said. "Nicki walked by. She was working at the club. I elbowed Tiz and said, 'Hey, who's that?"
"My daughter," Tiziani answered.
Stricker's probably still apologizing for that one.
All of that said, a few weeks ago, when I heard that the USGA had turned down Stricker's request for a special exemption into this year's U.S. Open, there was no doubt in my mind that he would play at Erin Hills. Stricker had hoped that his status as a native cheese-head and current resident of Wisconsin, his playing record and his unofficial position as the likely Ryder Cup captain in 2020 when the matches will be played in Wisconsin at Whistling Straits, might entice the USGA. After all, the USGA had asked Stricker to write a welcome message for the championship program. One might think that the event's pseudo-host might catch a break.
Stricker responded by shooting 67-65 in the sectional qualifier in Memphis last Monday to earn his way to Erin Hills, (earning medalist honors to boot).
"When they turned me down, I was almost tempted to call them and tell them to take [the welcome message] out," he joked after qualifying.
That's Stricker in a nutshell: Too nice a guy to really get upset with the USGA—he had thought he might get turned down since he's not a major champion. But tough enough, at 50, to grind out 36 holes and beat a field full of PGA Tour players.
There's no doubt that guys like defending champion Dustin Johnson, Jordan Spieth, Rory McIlroy and Jason Day will draw huge galleries. But none are likely to outdraw Stricker, the hometown hero.
And, arguably, the nicest savage to ever play golf.