The Loop
It may be 2014, but Johnny Miller is still Johnny Miller
Earlier this week, Johnny Miller participated in a phone conference with reporters to kick off NBC/Golf Channel's coverage of the PGA Tour in 2014. Don't worry, it doesn't seem like he's made a New Year's resolution to change how he analyzes the game. Here were some of the highlights:
Johnny waxing poetic about the good old days:
"He's a streak player. I was the same way. Of course if I would have won one tournament a year for seven years, nobody would have paid any attention to me, because back in our era if you weren't winning three or four or five tournaments nobody was paying attention to you. Now if you win one tournament a year you're ready for the Hall of Fame."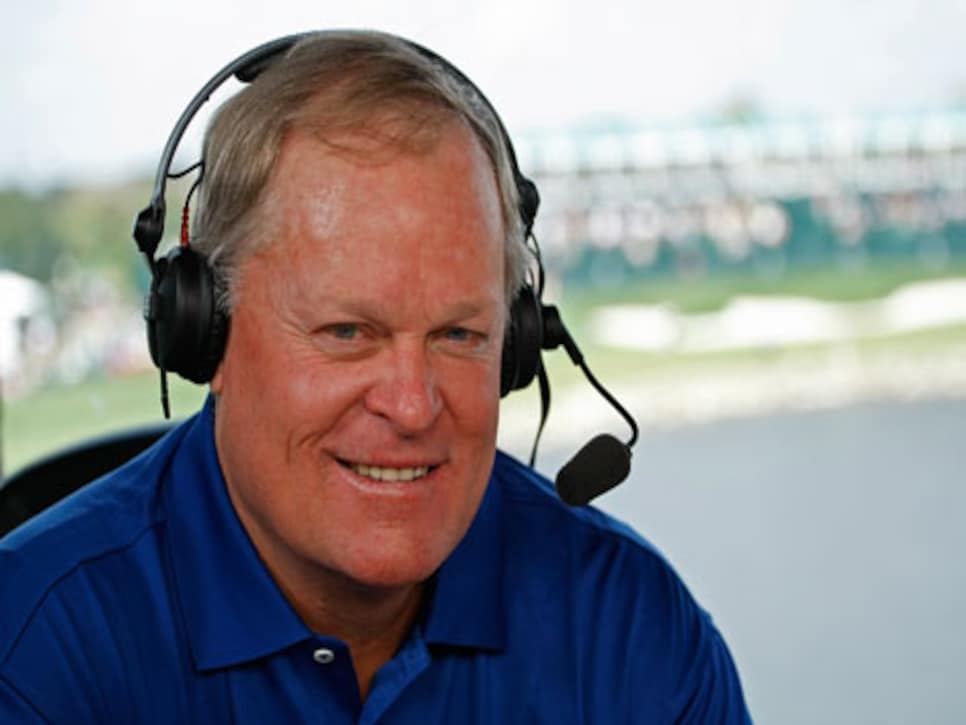 Johnny waxing poetic about the good old days. Again:
"The rare thing nowadays is the insatiable player. In my era, the guys just couldn't get enough wins. Now you get guys that win, man, if you win, I hope I win again, but man, my year is made. . . . If you can get a win every year like Dustin Johnson, man, I am awesome. One win is OK, that kind of thinking in our era, one win was nice, but you've got to win more than that. If you can win once, you should be able to win two, three times or more if you get hot."
Johnny randomly mentioning how good he was:
"Golf is about your psyche and your confidence, and I had about 10 minutes where I was probably the best player in the world, but it was a very interesting time, and the confidence was sky high. That's one reason why I was able to do so well.
Johnny randomly mentioning how good he was. Again:
"Well, I copied Jack Nicklaus, and the reason I did it was a family issue.  I wanted to be . . . I had six children, and so I wanted to be a good dad, and I just basically started playing about 17 tournaments a year. I only played about 380 tournaments my whole career, which for winning 25 times is pretty good."
Johnny on his style of broadcasting:
"You have to know in my era nobody said anything. Nobody ever said anything that would make you upset. As Dave Marr said, we were just gilding the rose back then, just about making everybody look good . . . But golf has gotten to be a bigger sport, it's not just a cute little sport or an awesome game, now it's sort of a world sport, and in the public view they want more than that was a fantastic wedge shot 30 feet right of the hole. That's not what they want to hear."
Johnny with more on his style of broadcasting:
"I hate to say it, but I'm probably the guy that got announcing a little bit more real, sort of an X Games type of announcer, and sometimes I wish I wasn't the way I am, but that's the way I talk about my own game, so it's just the way I viewed it. I wasn't trying to rip anybody, but I have a high standard, and I feel like the best players in the world should perform. If they don't, I'm not going to just say, 'oh, that was a bad break or something.'"
Johnny turning the conversation about the length of Tiger Woods' career back to Johnny:
"Well, speaking of Hall of Famers, besides Byron Nelson or whatever, I was like the first guy, Hall of Fame player, that quit at 41, and then along came Norman and he did it, and then Faldo, which was really rare . . . Everybody says that, but it's very rare to leave the tour and to quit playing. You go home and you can only twiddle your thumbs a few different ways and after a while it gets pretty boring."
And finally, Johnny taking a little dig at the USGA, which signed a TV deal with Fox, meaning Johnny won't announce the U.S. Open after this year:
"It's so much money, with all of the gallery stands and all the VIP stuff and all the setup, not to have to do it twice [The men's and women's U.S. Opens are being played back-to-back weeks at Pinehurst this year] is just amazingly really smart in some ways. We'll just have to see, because that part of it is really, really good for the USGA, and they seem to be, I guess I could say it, a little more monetarily motivated it seems like with changing networks and everything else, so I guess, maybe that was in their thinking."
Never change, Johnny. Never change.