The Loop
Is Tiger's Achilles tendon his Achilles' heel?
The Tiger Woods saga took another unexpected turn, this time toward the parking lot from the 12th tee at Doral in Miami. It was an old nemesis that sent him on that route, though not the wildly wayward tee shot that typically would have been the leading suspect.
Moments later, Woods was seen in a Mercedes leaving a tournament sponsored by Cadillac (a metaphor for a career no longer in harmony?). He had left without explanation, though a representative later phoned in a statement from him: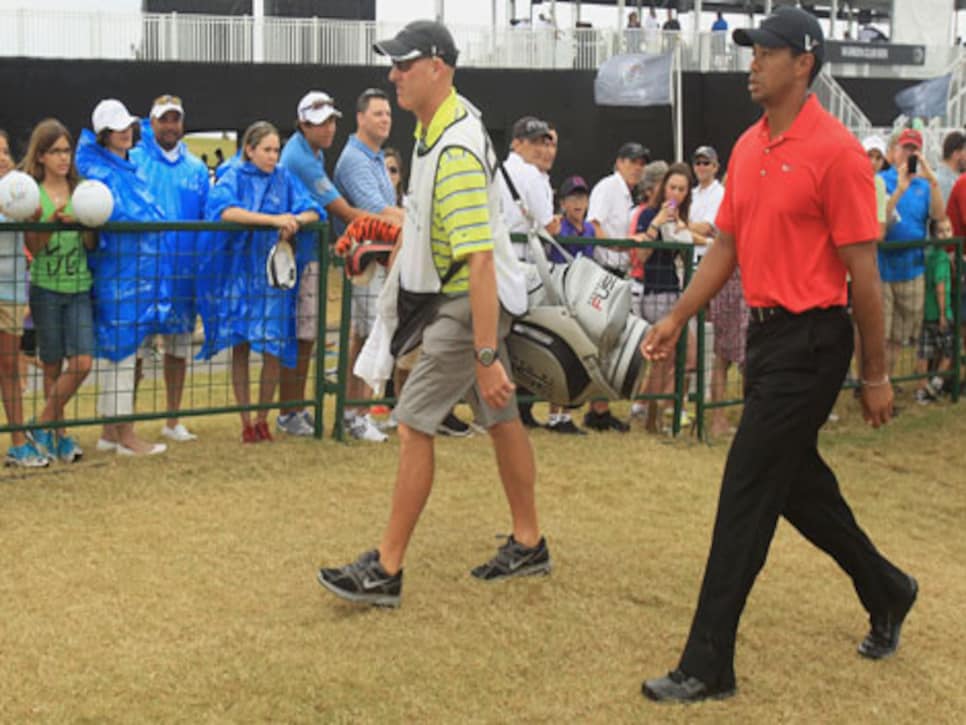 Photo by Scott Halleran/Getty Images
"I felt tightness in my left Achilles warming up this morning, and it continued to get progressively worse. After hitting my tee shot at 12, I decided it was necessary to withdraw. In the past, I may have tried to continue to play, but this time, I decided to do what I thought was necessary."
He was following his late father's advice, which in his effort to regain his equilibrium in his Nicklaus pursuit isn't necessarily a bad thing. Earl Woods taught a young Tiger to listen to his body. Of course, over the years, Woods was accused occasionally of listening too closely, suggesting that he was soft.
Twitter accordingly was rife with speculation, one amateur diagnosis concluding that he had withdrawn with a bruised ego. That he was closer to the parking lot than the lead was not likely to dissuade those doubting the severity of his injury.
Yet by now, it ought to be clear that an injured Woods is not a malingering one. He won the U.S. Open in 2008 on a bum knee that would not allow him to return to competitive golf for seven months. Injuries sustained at the Masters a year ago put him on the shelf for four months, notwithstanding an ill-advised start in the Players Championship, from which he withdrew.
His injuries in recent years require that we, as well, listen to his body, and what we're hearing is not encouraging for one who has played in only 43 PGA Tour events over the better part of the last four years. The injuries he incurred at Augusta a year ago included a strain to his left Achilles tendon, the same that now apparently is giving him problems again, 11 months on.
Eye witnesses noted that Woods was obviously in pain. He even changed shoes at the turn, going from a pair of black shoes to white shoes. And when he hit hit tee shot at 12, he grimaced, then told Webb Simpson, his playing partner, that he was done, and headed off down the cart path in a golf cart, his progress, at least temporarily, coming to an untimely halt, four weeks before the Masters.
At the Honda Classic a week earlier, Woods had closed with a 62 that gave him a chance to win and ultimately got him into a second-place tie. that still was regarded as a portent of better days. On Saturday, following the third round of the WGC-Cadillac Championship, there was this exchange in an interview:
"It's been years since you've played this much golf in a short stretch. Just wondering how your body is holding up through it?"
"Oh, it feels great," Woods replied.
A day later, he is scheduling an appointment with a doctor and expects to have an evaluation completed early in the week ahead. In what likely has become his lone remaining goal in golf, to overtake Nicklaus in major championships, an Achilles tendon might have become his Achilles' heel.
Had he left Doral Sunday in either a Mercedes or a Cadillac, it would have been a smoother ride than he seems to have ahead of him in his quest to win five more majors.