The Loop
Is Tiger again the best player in the world?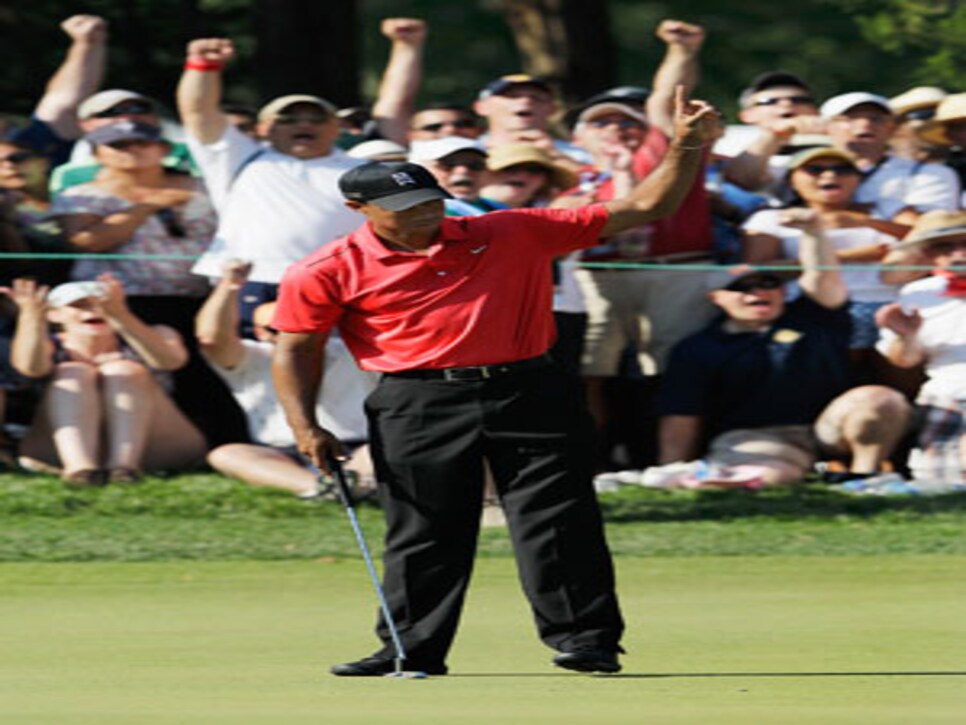 Tiger Woods' best won't necessarily win beauty contests the way it once did, nor is victory the given it once was, but, as Woods is wont to say, it's all about the W, and he has resumed his habit of collecting them.
His victory in the AT&T National at Congressional Country Club in Bethesda, Md., on Sunday was his third of the year, which puts him up in the PGA Tour player of the year competition and re-establishes him as the best player in the world, notwithstanding the World Ranking that hasn't caught up.
Three victories leads the tour and are two more than the major champions, Bubba Watson and Webb Simpson, have. He also leads the tour in scoring average (69.04) and in earnings ($4.22 million).
Yet more revealing statistic is that Woods has won 27 percent of his starts in 2012 (three of 11), which betters his career mark of 26 percent (74 of 285). It also was his third win in his last seven starts.
Yet a question remains and it is a major one. His 74th career victory leaves Jack Nicklaus behind in a category that matters less to Woods than the one in which he trails. Nicklaus' 18 major championships remain the benchmark and Woods is stuck on 14, though he does seem to be applying large doses of WD-40 to his game in effort to get unstuck before the British Open in four weeks.
His performance on Sunday had much to commend it, including the six-foot par-saving putt he made on 17 to break a deadlock with Bo Van Pelt. "Feels almost like old times," CBS' David Feherty said. He also played the difficult 18th hole flawlessly -- driver in the fairway, 9-iron to 17 feet. The latter shot, explained in his own words, suggests that his newest swing is not the work in progress it has been.
"It was 159 [yards to the] front and we're looking at 10 [yards] on, downhill, it's hot, ball's flying, a nice smooth drawing 9-iron," he said. "It just fit my eye for some reason. I just saw it and I hit it."
There are still demons, notably a driver that often betrays him (though it did not do so on the 18th tee). There, too, was the overheated wedge that bounded off the back of the 16th green and down a slope, resulting in a bogey that Van Pelt repaid in kind. That shot did not feel like old times, unless old is defined as last August. On the upside for Woods, he had played the previous 41 holes without a bogey on a course little more than a year removed from hosting the U.S. Open.
Woods has one more start before resuming his Nicklaus chase. He is playing in the Greenbrier Classic for the first time next week, then has two weeks off before the British Open, which presumably will be played in cooler climes than the D.C. area was offering.
"After that weekend of heat in DC, I think I have an idea what the brisket and pork butts feel like when I cook 'em," barbecue maestro Stewart Cink wrote on Twitter.
He and his brethren ought to be sweating for another reason, too. Tiger, with a new swing that has started producing recognizable results, has begun turning up the heat.