The Loop
Is this Woods' new reality?
JOHNS CREEK, Ga. -- The biggest of all his problems -- of which there are all too clearly many -- is that this wasn't such a bad day out on the links. For Tiger Woods circa 2011, a seven-over par score of 77 is merely a couple of shots, maybe three, above what is now or soon will be the norm, part of this formerly great champion's slow, inexorable descent into sporting anonymity.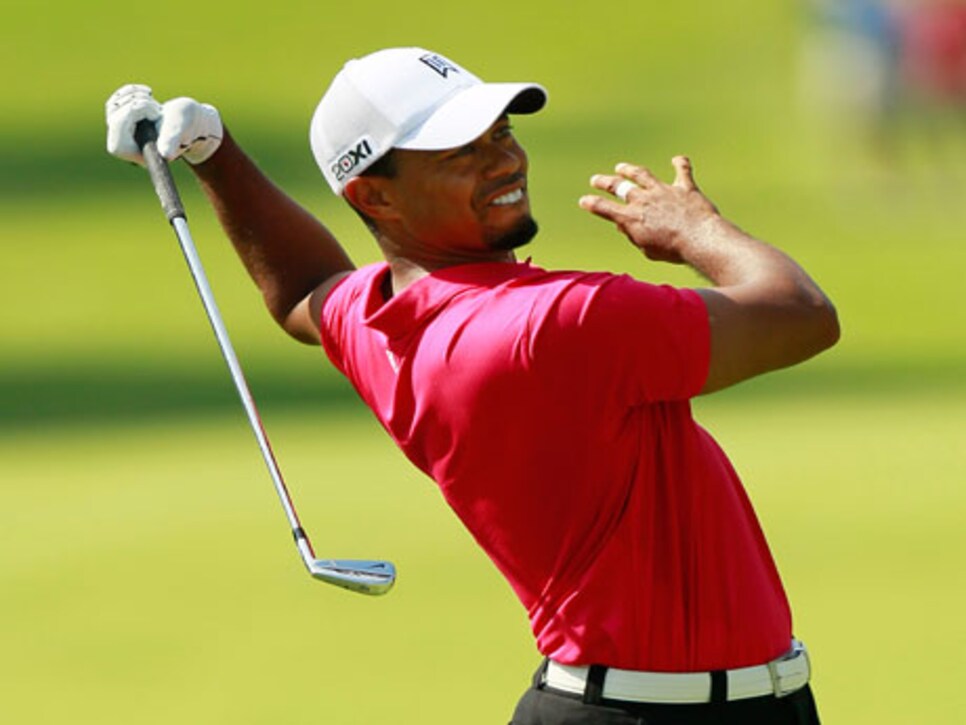 At the end, the familiar dead eyes and grim countenance already firmly (and comically) in place as if daring even one "disrespectful" question from his many chums in the media, he was quick to confirm the impression of this admittedly uneducated eye.
"I was three under early (after five holes after starting on the tenth) and hit every shot to that point with mechanical thoughts," he said. "I was putting the club in a certain position and feeling good. So I decided to let it go. I thought I was playing well enough to do that.
"I wanted to go out there and play and let it go and just play by feel: 'see' the shot, hit the shot and feel it. But I'm not at that point yet. My motor pattern is getting there, but when I start fighting it I can't get it back. It's tough."
What Woods did not admit to: the fact that he is not the golfer he once was and, more than likely given his multitude of physical and mental issues, will never be again. His putting -- a particular strength of his once peerless game -- has deteriorated to a point where he looks 45, not 35 on the greens. And his swing, formerly a thing of rhythmic and positional beauty, is now an unnatural looking heave, the penetrating ball-flight of years gone by now just gone.
The shots he hit over his last four holes displayed many aspects of his present malaise. With water left on both the 6th and 8th holes, Woods hit anemic, 'necky,' low, weak cuts off the tee into bunkers on the right side. Such shots are the classic symptoms of a player unsure of his aim and his technique, of a player 'steering' rather than hitting or swinging. You can get round -- somehow -- hitting such shots, but not for long. Eventually, the sheer effort involved in staying out of trouble gets to the psyche, deflation, frustration and depression the eventual and inevitable results -- hence Woods' dark mood at the finish of a round that included as many as three double-bogeys.
It all started to go wrong on the 15th tee, the controversially lengthy 260-yard par 3 that will surely see many more disasters before this week is out. Three under par at that point, Woods played the next ten holes in a crippling nine over the card.
"It was a 4-iron and I was going to hit to the front edge or maybe just short of the green," he explained of that fateful tee-shot at the 15th. "I would have had to take something off a 3-iron, but I didn't want to do that. It's frustrating because my shots don't shape like they used to. I don't shape the ball as much. But I went ahead and played by feel and just hit it. But I aimed too far right and it didn't move."
Indeed, Woods' obvious inability to hit fades and draws at will stems from the fact that his swing through impact seems to be 'shut to open' rather than 'open to shut.' Having to 'hold' the face square through impact limits rotation in the clubface and, later, in the shape of the shot.
Throw in the absence of the confidence and boldness with which he used to hit such shots and Woods is unable to create anything like the clubhead speed of old. Confronted and conflicted by trouble ahead -- a water hazard in the case of the Atlanta Athletic Club's 15th hole -- Woods has neither the belief nor the technique to go ahead and swing the club freely. He's not a swinger anymore; he's a steerer.