News
Is there any correlation between major championships and PGA Tour events at the same venue?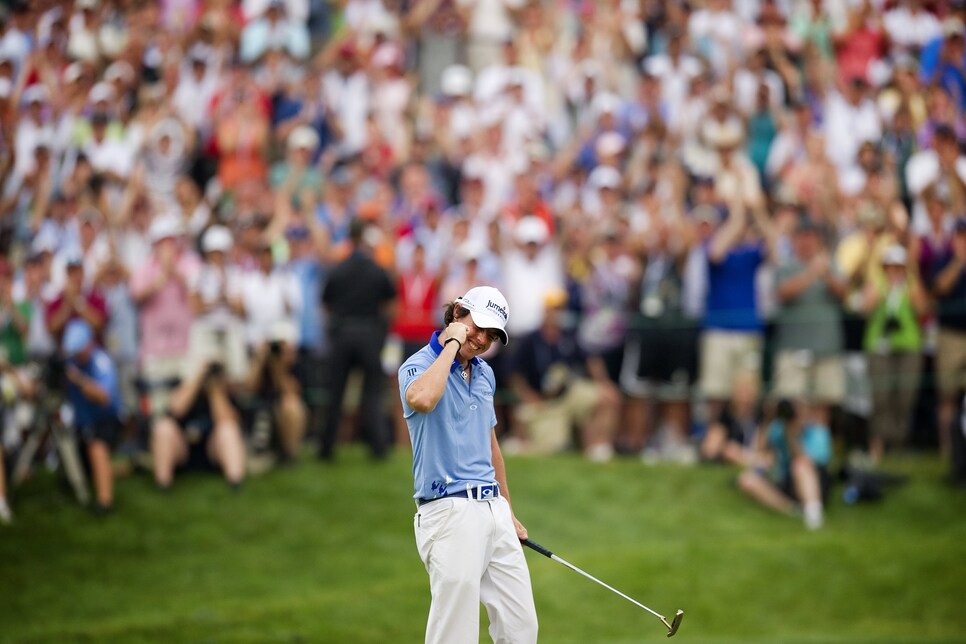 The Wells Fargo Championship returns to Charlotte following a one-year sabbatical, the tournament temporarily moving to Eagle Point in Wilmington, N.C., to accommodate the PGA Championship's visit to Quail Hollow. As evidenced during the PGA build-up, when a course in the PGA Tour rotation gets tabbed into a major slot, players with strong track records at the venue are touted as favorites. (Last year's darlings, Rory McIlroy and Rickie Fowler, mostly fizzled out, although Fowler had a Sunday 67 for a backdoor top-five.)
But is there any performance correlation between major championships and PGA Tour events at the same venue, specifically, when the tour returns to its regularly scheduled tournament the following year? We examined the last six such instances, and the symmetry, or lack thereof, should give bettors pause on backing PGA champ Justin Thomas or runner-up Patrick Reed this week. Note: Bethpage Black was considered for the 2009 U.S. Open and 2012 Barclays, but we felt the time between events was too long to warrant inclusion.
Congressional -- 2011 U.S. Open to 2012 AT&T National
For those that need the reminder, this was when McIlroy torched D.C. like it was 1812, shooting a U.S. Open record 16 under par for an eight-shot victory. Interestingly, McIlroy did not tee it up at the next summer's National (he has never played the event, actually), passing on the chance to run it back at Congressional. Similarly, the National's champ in 2011, Tiger Woods, withdrew from the U.S. Open that year with a knee injury. Not much help here.
However, the events did have some interaction, as Robert Garrigus and Jason Day finished inside the top 10 at both events, with Garrigus going T-3 at the Open and T-4 at National, and Day checking in with a runner-up and T-8. Interestingly, though the major championships tend to see scores closer to par than tour events, McIlroy's 16 under doubled Woods' eight-under winning mark the next year.
Pebble Beach -- 2010 U.S. Open to 2011 AT&T Pebble Beach Pro-Am
What's with these U.S. Open winners not returning to their stomping grounds? Graeme McDowell, the 2010 champ, didn't make another Pebble Beach appearance until 2014. However, Phil Mickelson, who finished T-4 at the 2010 U.S. Open, came back to Monterey Peninsula in the spring and made the most of his visit, capturing the 2011 Pebble Beach Pro-Am title. But to think the Open spurred Lefty to victory is mistaken, as Mickelson had already won the Pro-Am three times.
Dustin Johnson, who entered the U.S. Open final round with a three-shot lead only to infamously shoot a 82 on Sunday, was the only player to post top-10s at both tournaments. Mickelson's winning spring score of 269 bettered McDowell by 15 shots.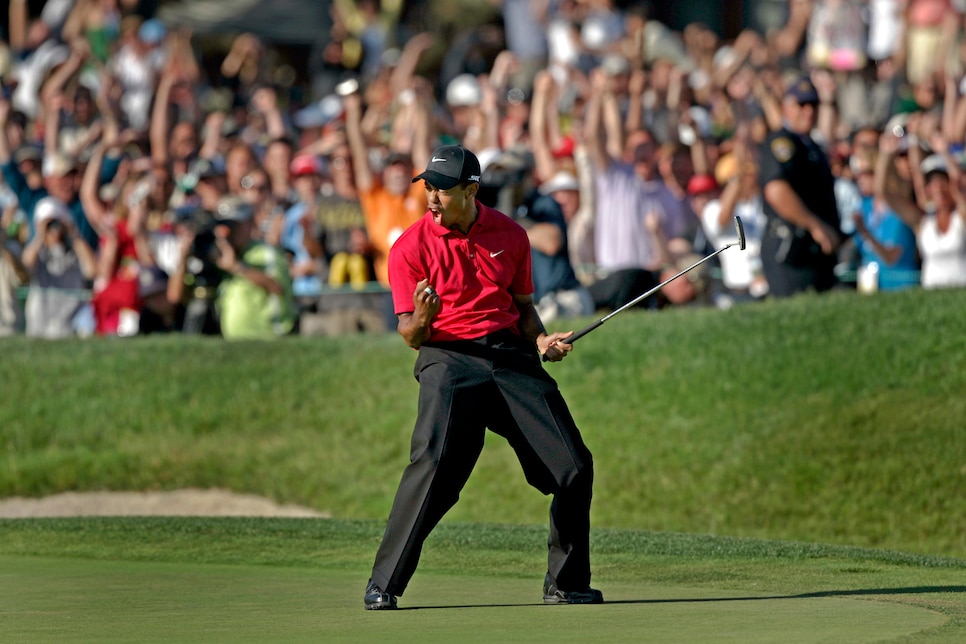 Torrey Pines -- 2008 U.S. Open to 2009 Buick Invitational
Another winner, this time Woods, who didn't return. In his defense, Tiger was sidelined at the time after, you know, winning the hardest golf tournament in the world over 91 holes on a broken leg. Nick Watney, who claimed the then-Buick Invitational in 2009, made the weekend at the 2008 U.S. Open but was mostly a non-factor, finishing T-60. Woods won the Open at 283, Watney the Buick at 277.
Only one player finished inside the top 10 at both: Camilo Villegas. That will win you a bar bet or two. Although expect odd glances for asking, "Can you name the only player to finish in the top 10 at the 2008 U.S. Open AND 2009 Buick Invitational?"
Pebble Beach -- 2000 U.S. Open to 2001 AT&T Pebble Beach Pro-Am
Woods makes his third appearance on the list, this time for lapping the U.S. Open field by 15 shots. Why we don't discuss his 2000 tour de force on a weekly basis is beyond me.
Tiger teed it up at Carmel the subsequent season, not only as the reigning U.S. Open winner but the defending Pro-Am champ as well. Unfortunately for Woods, an uneven second round kept a Pebble three-peat at bay, ultimately finishing T-13. That week's winner, Davis Love III, missed the cut at the Open the previous year. Only Vijay Singh had high finishes at both, a T-8 and runner-up at the Pro-Am.
Riviera -- 1995 PGA Championship to 1996 L.A. Open
Only two competitors played well at both, but they're names that matter. Steve Elkington brought home the Wanamaker Trophy in 1995 after defeating Colin Montgomerie in a playoff. Elk went a tad higher than his PGA winning 17-under 267 at next year's L.A. Open, although his 281 was still good enough for a T-10. Craig Stadler, who owned a handful of near-misses in 20 previous Riviera starts, won the L.A. Open after placing eighth at the prior PGA. Hey, only took 20 years of turning back the clock, but we found binary links!
Southern Hills -- 1994 PGA Championship to 1995 Tour Championship
Nice Price won his second consecutive major and third overall at Southern Hills, his 11-under 269 five shots better than Corey Pavin. His next go-around in Tulsa would, ahem, not be as prosperous; his four-day score was 30 shots higher at the 1995 Tour Championship. (Spoiler alert: He came in last.) Billy Mayfield, who took the Tour crown, didn't do much of note at the PGA, evidenced in a T-39.
Nevertheless, three players did make PGA and Tour Championship runs: Pavin (who finished second at both), Elkington (T-7 at PGA, T-2 with Pavin) and Greg Norman.
While the sample size is short, the findings are clear. Thomas, Reed, Hideki Matsuyama and Louis Oosthuizen are among the favorites this week, and one of them will likely flourish. But, on the whole, history paints an ominous forecast.