The Loop
Is the U.S. Open fescue as bad as Kevin Na says? Absolutely...and not really
ERIN, Wis. -- U.S. Open conditions are a bit of a contentious matter with players, their experiences ingraining such a prejudice that reality and perspective tend to go out the window when the topic is breached. Case in point: Kevin Na's breakdown -- literally and figuratively -- of Erin Hills' fescue:
Given the pressure facing the USGA to host a controversy-free tournament, not quite the introduction the governing body wished.
But is the fescue really that bad? Or are players simply looking for the littlest thing to go wrong? We examined the course Monday morning to discover that Na was absolutely right in his assessment...but not really, either.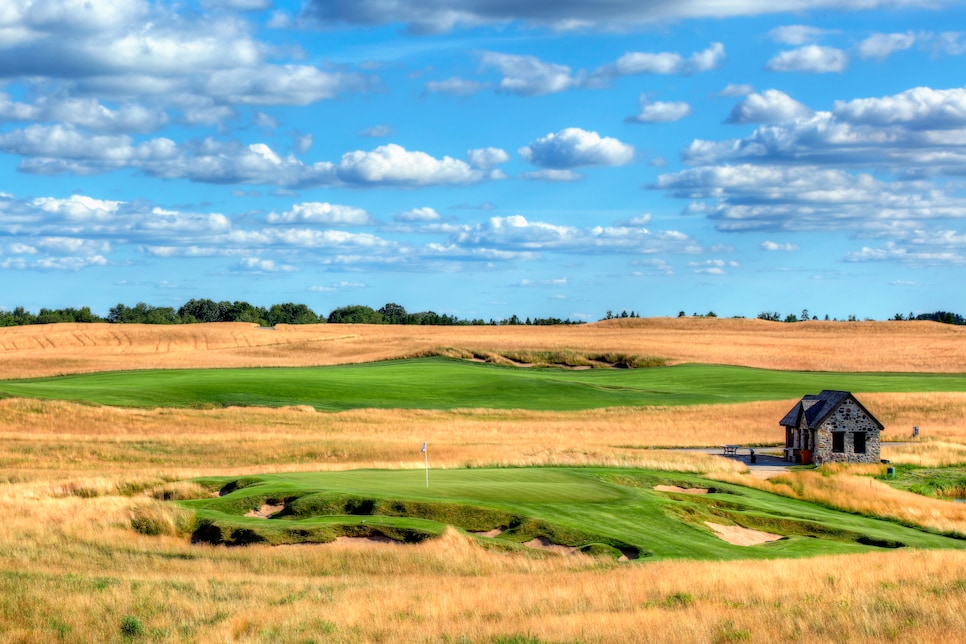 Erin Hills is as spacious a course as you'll see, the property boasting 652 acres in its domain. For comparison, last year's U.S. Open host, Oakmont, checks in at 218. And the majority of this land is covered in fescue, framing the fairways, tees and greens like infinitesimal islands in the Pacific to create an optic illusion.
Because, in truth, the fairways are some of the widest runways in golf.
Hell, Phil Mickelson could land his private jet on the No. 1 with room to spare come Thursday evening. As Na briefly alluded to, there's only 5-to-10 yards of rough between the short stuff and fescue, but it fails to convey this generous amount of landing strips before that comes in play.
And while we're here, the rough itself is shockingly sparse in many spots. Not to say it's anything like your local muni. Conversely, compared to the Oakmonts and Merions of the Open rota, finding yourself in the rough is not a penalty at Erin Hills.
However, you came here for the fescue, and dammit, we're going to give you fescue.
We traversed the course to seek out the danger spots, as well as observe how players would respond if they found themselves in such a predicament. Using a water bottle as a marker, we dropped our container in various spots to see if it truly disappeared like Na's assertion. Why a water bottle instead of a ball? For photographic considerations, obviously. That, and your boy needs to stay hydrated in this Midwest heat wave.
In many cases, Na was correct: your object would vanish just steps off the rough. At one point, I lost the freaking bottle on the left side of No. 2: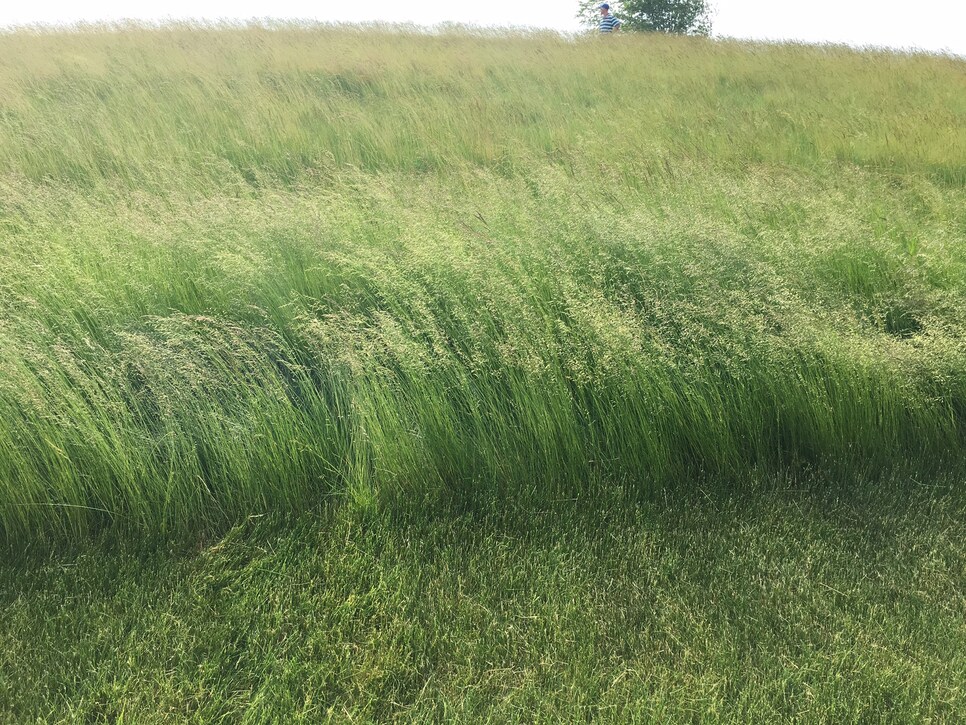 I cannot properly convey the embarrassment that comes in such a moment. Especially when I felt Jordan Spieth's caddie Michael Greller staring, wondering what the **** I was doing.
So forget taking full swings or advancing your shot. Finding a ball when it departs into this green labyrinth counts as a victory.
But here's the kicker: all the fescue doesn't have this composition. It's mostly just the first six-to-eight yards. Once you travel past that barrier, it's a relative walk in the park. Not only can you find your ball, you can advance it with ease. The picture below is the same spot where I briefly lost my bottle, only this time the bottle is placed 10 yards further from the rough. (And yes, that trampled down area in front is where I was searching for the previously-lost item. If any pros receive a generous lie on No. 2 this week, you're welcome.) As you can see in the middle of the picture, it's in plain sight.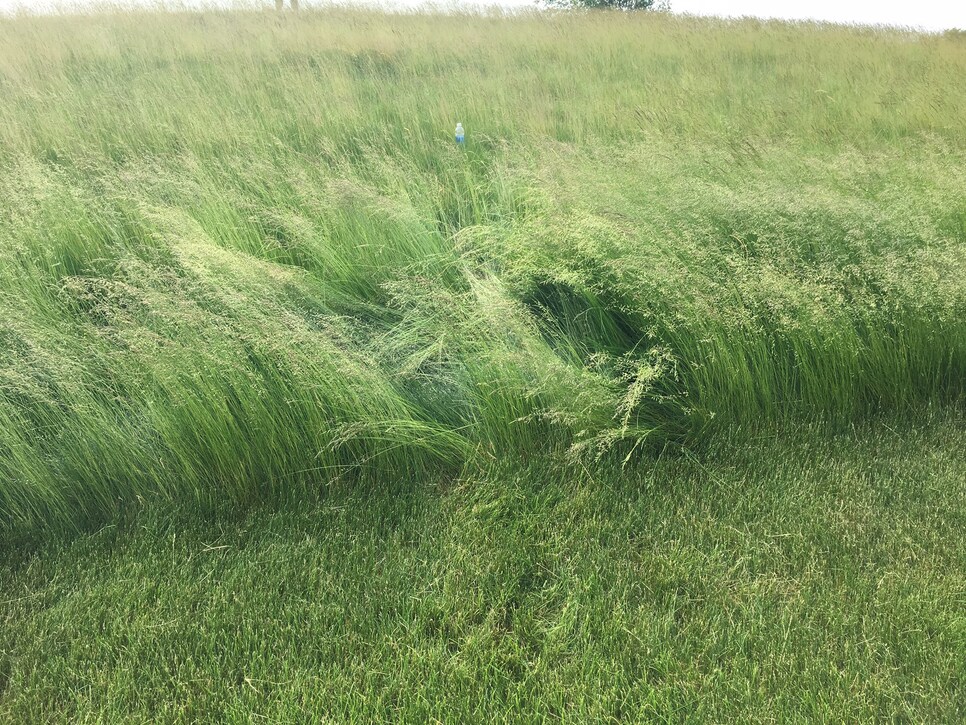 On eight separate occasions Monday morning I witnessed players in this second cut of fescue; guys found the putting surface five times from over 170 yards, with only one shot labeled as poor.
This held true around the greens as well. I camped out on the par-3 sixth for an hour or so, and at least one guy in each pairing found the fescue off the tee. Those that were barely in the tall grass struggled, while those that were extremely errant departed without issue.
Moreover, as there are few flat spots on the course, it seemed as if most players aimed towards the peak of slopes in their tee shots. Part of this approach uses the undulations as a natural tee-shot funnel, yes, but the fescue on these hills was sparse, at least compared to the fescue that awaited at the bottom (which makes sense, as it's a presumable run-off for water and thus equating to a thicker fescue constitution). Meaning a player really has to miss the mark on par 4s and 5s to find the troubled areas. This will undoubtedly happen, especially when the winds begin to blow. And some of said areas offer better angles or improved distance. But, to those averse to danger, bad news is not encircling every tee shot.
Which speaks volumes about Erin Hills' character and inherent challenge this week. For, in many cases in this tournament's history, it's not the longest or straightest or best putter that shines through, but the most resilient and mentally tough. U.S. Open layouts can wreak havoc in a player's mind. The physicality of Erin Hills' fescue varies, but it can tangle up many a competitor before the ball's even in the air. That, my friends, is a formidable hazard.