The Loop
Is Rory McIlroy the best first-round golfer of all time?
OK, perhaps that's a bit too bold of a statement -- and one that would probably be impossible to prove -- but this season, no one has been better on Thursdays than Rory McIlroy. McIlroy continued his trend of going low on Day 1 at the Scottish Open with a 64 that gave him the course record at Royal Aberdeen and the early lead in his final tune-up for next week's British Open.
The score lowered his first-round scoring average this year to just under 68 and it marks the fourth time in 13 stroke-play tournaments on both the European and PGA Tours in 2014 that McIlroy has opened with a 64 or better. So why has the Day 1 dominator only won once this year? You guessed it, Day 2!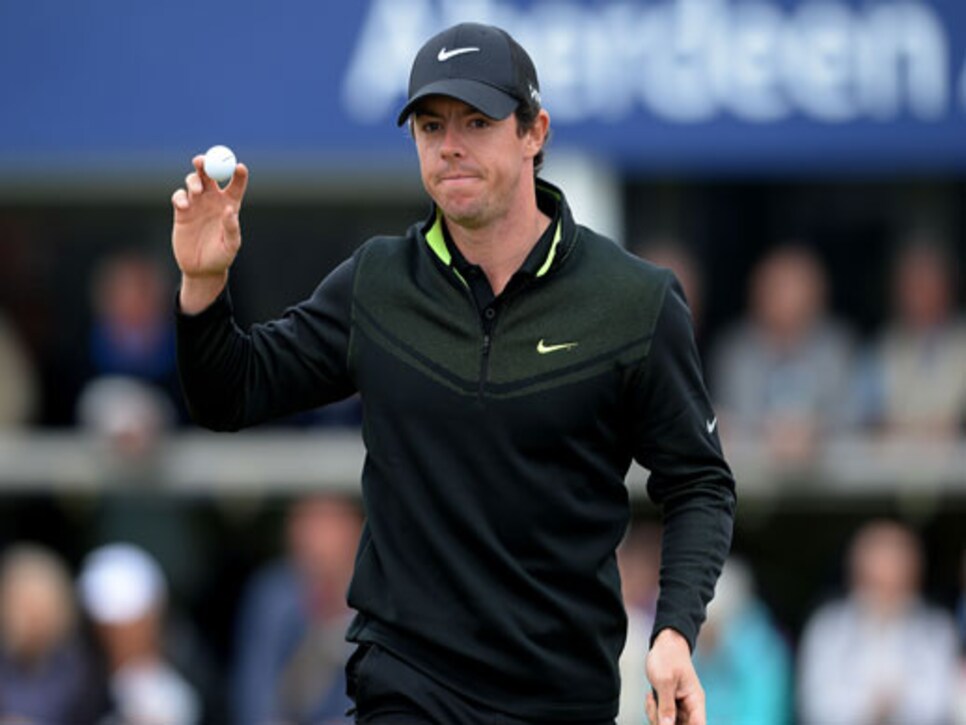 The difference has been most dramatic in McIlroy's nine starts on the PGA Tour. McIlroy's first-round scoring average leads the tour, but he's been nearly five shots worse (72.89) in the second round. At the Memorial, McIlroy, fresh off his lone win of 2014 at the BMW PGA, followed an opening 63 with a 78.
We saw a similar performance from McIlroy at the 2010 British Open. Then 21, McIlroy torched St. Andrews for a 63 before stumbling to an 80 on Day 2 (in fairness, conditions were much tougher the second day). This year McIlroy has shot a first round 63 three times, yet hasn't gone on to win any of those events. McIlroy said his inconsistent play was a topic of a recent conversation with Jack Nicklaus and he addressed it after Thursday's first round.
"I've got off to a lot of good starts this year," McIlroy said. "But I've tended to fall away. So hopefully that won't be the case this week. I'll try and keep it together a bit more. I'm comfortable with my swing so I think I can do that."
But perhaps this is just a statistical anomaly. McIlroy has shot a higher second-round score in eight of his nine PGA Tour starts, but he only did that 10 times in 26 worldwide events in 2013.
And other than the lack of wins, McIlroy has had a very solid year with nine top-10 finishes in 13 starts, with his lone missed cut coming at last month's Irish Open. He has voiced displeasure at producing numerous "back-door top 10s," but those are in part a function of how well he starts.