News
Is pro golf seeing too much of a low thing?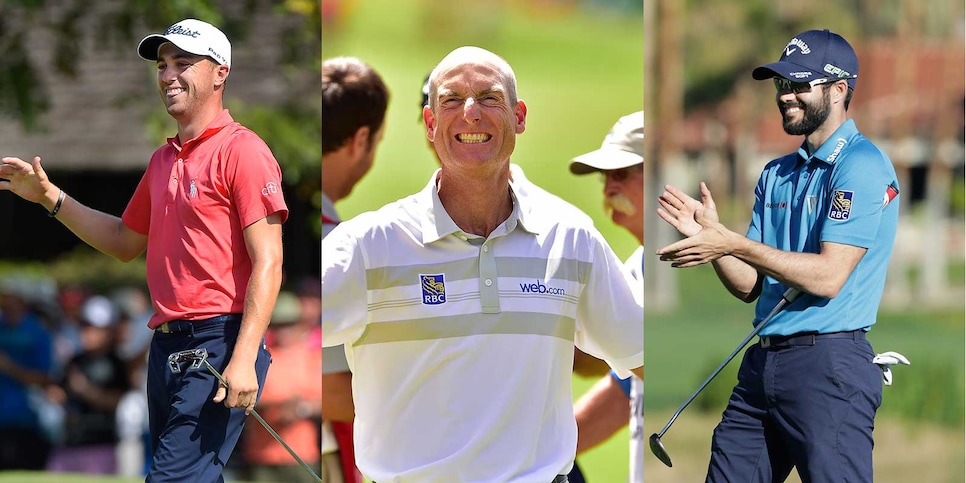 Birdies are seductive. For an American sports audience, seeing a lot of them can make golf far more like basketball (lots of scoring) than soccer (lots of waiting for scoring).
Golf's favorite stretch of holes is the back nine at Augusta National, where eagles can fly. Last year's favorite major was the Open Championship, where Henrik Stenson and Phil Mickelson made 14 birdies and an eagle between them in a final-day showdown at Royal Troon. USA fans would have taken any kind of win at the Ryder Cup, but the scoring pyrotechnics at accessible Hazeltine National in the Patrick Reed/Rory McIlroy and Mickelson/Sergio Garcia singles matches made the victory especially easy to savor.
Already, 2017 has been marked by a flamboyant burst of low scoring. Two weeks ago, Justin Thomas opened with a 59 at the Sony Open in Hawaii—where Waialae Country Club also gave up a 60 and two 61s—and won with an all-time 72-hole scoring record of 253. Nine days later, Adam Hadwin shot 59 in the third round at the CareerBuilder Challenge on the La Quinta (Calif.) Country Club, the first 59 on a par 72 (7,060 yards) on the PGA Tour since 1999.
Of the now nine sub-60 rounds in tour history, six have come since 2010, and three in the past six months, including Jim Furyk's record 58 in August at the Travelers Championship at par-70 TPC River Highlands. The previous month, at the Web.com Tour's Ellie Mae Classic on the par-70 TPC Stonebrae (7,100 yards) in Hayward, Calif., Stephan Jaeger, a 27-year-old German-born pro, posted a 58—and a 30-under-par 250 total. Jason Bohn shot the first 58 on a sanctioned professional tour, in 2001 on the Canadian Tour; Ryo Ishikawa did it on the Japan Tour in 2010, and Shigeki Maruyama did it at a U.S. Open qualifier in 2000.
Furyk's was as close to a perfect round as has ever been seen: He hit every fairway and every green in regulation. Still, it didn't generate the excitement of the first 59, by Al Geiberger in Memphis in 1977 (which, although played with preferred lies, unofficially featured the same flawless tee-to-green stats). Thomas' round got more buzz than Furyk's, probably because he was just coming off a victory at Kapalua; his long-driving, young-man's game; and because he finished with an eagle.
So the question arises: Is professional golf, what many pro athletes consider the most difficult sport, getting too easy?
The answer lies in balance. In any sport, there is danger when the exceptional starts becoming too commonplace. Baseball faced this with too many home runs, tennis with too many aces. Tennis rulers slowed down the ball. Baseball did the same and moved back some fences, as well as began to enforce prohibitions on PEDs.
On the other hand, big-time sports compete to provide entertainment in a cultural landscape with an exponentially increased number of choices. So, to the dismay of some football purists, the NFL has fashioned its rules to encourage more passing. Same in the NBA, where offenses, and particularly speedy point guards with three-point shooting range, now have the edge.
'There are more good players now, and with all the advances, it's a good time to be a pro golfer. I don't think I'm living in the past to say it used to be harder to be good. You add everything up, and I'm surprised there haven't been more 59s.' —Johnny Miller
In golf, power is crowd-pleasing, but for the game to be truly compelling, it still must be accompanied by a pro's most mesmerizing quality: skill. Ironically, when birdies are too plentiful, it can work against the most skilled player asserting his advantage. That's mainly why Jack Nicklaus and Tiger Woods avoided tournaments considered "birdie fests."
But a clinical measurement of skill is not always feasible. As Tom Kite once said, if you wanted to find out the most skilled golfer, everyone would play with hickory and gutta percha. Other than fresh air, golf as a spectator experience suffers in comparison to team sports. From an audience perspective, golf's image as too hard and too slow has to be countered.
Accordingly, equipment limitations have been moderate, allowing players to continue to gain distance and control. The most valuable innovation might be portable launch monitors that players routinely take to the practice tee to help keep their swings in tune. Agronomical advances make for flawless fairway turf and impeccable putting surfaces. Other than the majors, the tour's week-to-week course setups feature light rough, reasonable green speeds and firmness, and only marginally hidden pins. When the weather is benign, low scores follow.
Before the CareerBuilder, defending champion Jason Dufner noted the trend. "I think some of it goes into golf courses that we're playing now. Some of them are becoming a little too easy, distance-wise, setup-wise," he said. "I think the biggest deterrent to low scores is probably a good amount of rough and firm, fast greens. Not rough where it's hack-out, but where you lose control. Last week [at Waialae] in the rough you had control. So I think that if the trend continues, you'll continue to see a lot of low scores."
Another thing that is important is the increasing number of wedge approaches players are left with after the now-routine 300-plus-yard drive. It's why many pros carry four wedges (two was once the standard), usually ranging from a 46-degree pitching wedge to 60-degree lob wedge. With a wedge, a pro has his best chance of getting an approach inside 10 feet, the distance where birdies are disproportionately converted. (Tour players make 50 percent of eight-footers, but the rate drops to 30 percent from 12 feet and down to 25 percent from 14 feet.)
Dufner said that at last year's U.S. Open at Oakmont, Larry Nelson told him when he won there in 1983, he hit 3-iron and 4-iron approaches into the then-469-yard first hole. Dufner said he hit pitching wedge into the now-482-yard hole in three of the rounds and sand wedge the other. The course was rain-soaked both years.
As Johnny Miller, whose 63 at Oakmont in 1973 remains by consensus the greatest low round ever shot, said the day before Hadwin's 59, "The only disadvantage that pros have now is that the courses are longer. Except that they really aren't, because the clubs they're hitting in are shorter."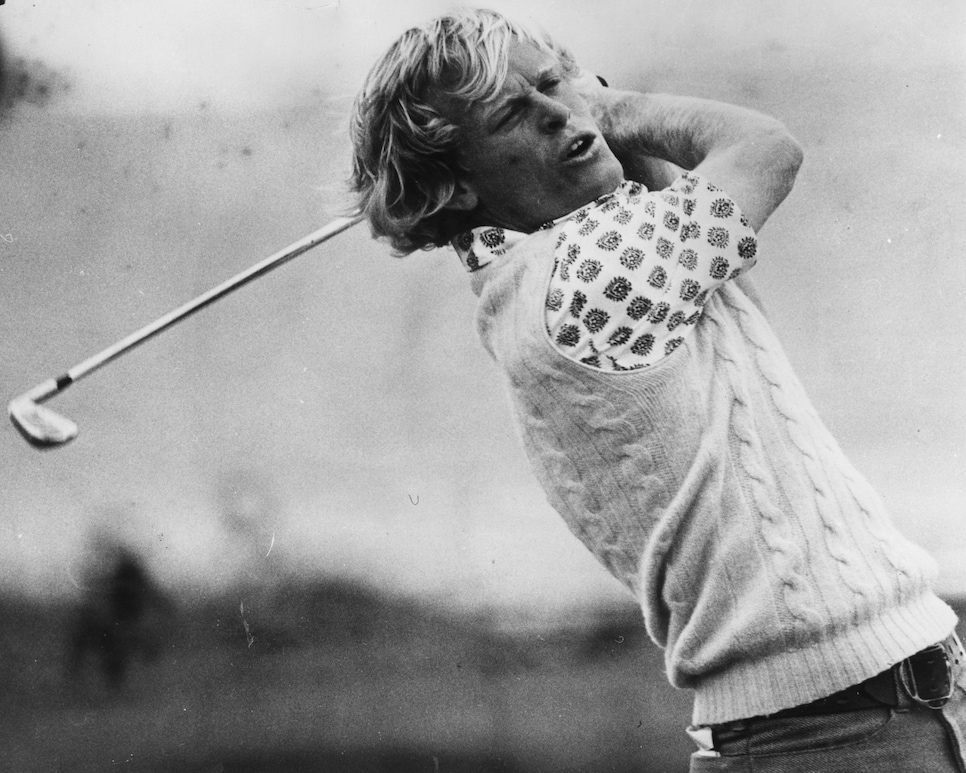 Miller notes that when he was shooting 61s in back-to-back weeks while winning in Phoenix and Tucson in 1975, "my average approach club was 6-iron through 8-iron. Very occasionally, a pitching wedge, almost never a sand wedge. Way more 4-irons into par 4s than wedges."
He continued, knowingly treading into polarizing "our era was better" territory. "There are more good players now, and with all the advances, it's a good time to be a pro golfer. I don't think I'm living in the past to say it used to be harder to be good. You add everything up, and I'm surprised there haven't been more 59s."
If they keep coming, it might be most due to the mental factor. Just as four minutes stopped being a magic number for the mile run after Roger Bannister broke the barrier in 1954, 59 isn't quite as magical in golf. Hadwin said as much when he described his late-round mind-set: "If anything, I was thinking 58."
Perhaps the players are catching up to a moment when an adjustment will be needed, similar to how course set-ups got noticeably longer and tougher in the 1960s and 1970s after several scoring records were established on 6,400-ish-yard parkland courses in the 1940s and 1950s (from 1951-'57, seven different players shot 60, and Geiberger shot his 59 on a 7,282-yard track).
It's not difficult to make tournament courses harder, and it will probably happen eventually. But we are far from critical mass, or any sort of backlash. The birdie hasn't been devalued. Until further notice, rounds in the 50s will have much more upside than down. For now, may they keep coming.