News
Is Nick Faldo making his competitive finale this week at the Senior British Open?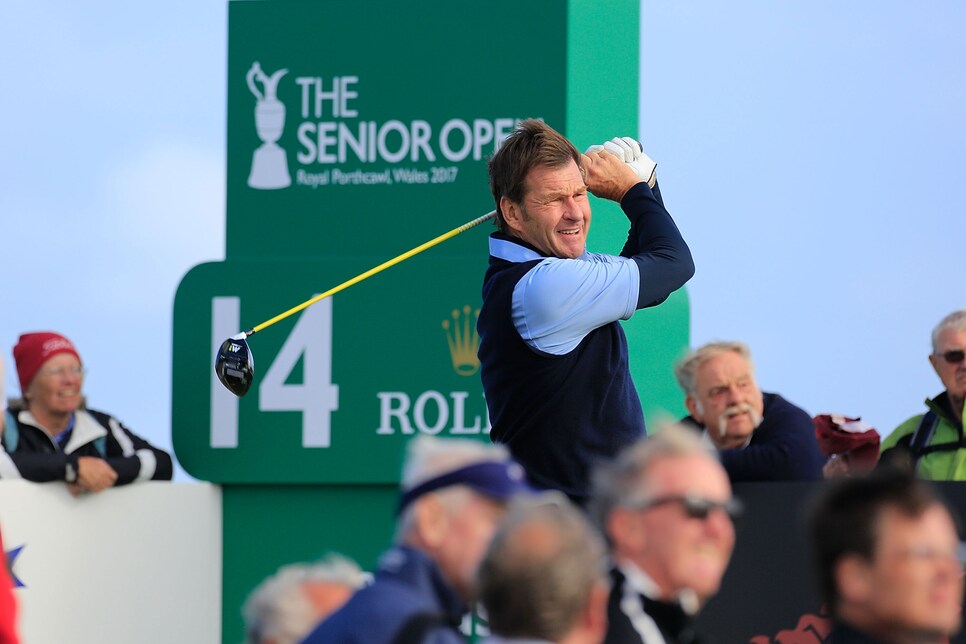 ST. ANDREWS, Scotland — It was, not surprisingly, a time for looking back rather than forward. One day before the Senior British Open Championship tees-off over the Old Course at St. Andrews, Nick Faldo arrived back in the Auld Grey Toon in nostalgic mood. Eight months on from his last competitive appearance at the hit-and-giggle Father-Son Challenge in the U.S. and 28 years removed from his Open Championship victory at the Home of Golf, the CBS commentator and knight of the realm took time to reminisce.
Unlike some, Faldo fell in love with golf's most famous venue "from the word go." Armed with detailed written instructions provided by the grand old man of British amateur golf, the late Gerald Micklem, the now 61-year-old knew immediately what he was trying to do.
"Gerald gave me all the lines," said Faldo, who played in eight St. Andrews Opens. "When people think hit it left, he was saying hit it right to give a better angle. He had all the bunker names. So the very first time I played here, I knew where to aim. He gave me all the angles. So I loved it. That was right up my street. There was a way to play the golf course, a route and a plan to it."
So beloved is St. Andrews—the scene of his only comfortable Open victory in 1990—in Faldo's mind, he is planning to build a replica of the short 11th hole in his back garden.
"I love the Strath Bunker because it is right in play," he explained. "A lot of the bunkers here are left-to-right, but that one is right in your face. Plus, it fits in the corner and the shape of my garden. When I hit a couple of great shots there at the Open—I've made one or two 2s, there—I thought it would be a nice look."
Looking back wasn't the only thing on Faldo's mind, however. The six-time major champion is also keen to play the Old Course backwards. While it has been eight or nine years since that has been possible, word has it that the St. Andrews Links Management committee is considering a return, maybe in November next year, to what proved to be a very popular feature.
"We were walking down the 12th fairway and turned round to look back," Faldo said. "There is a bunker [the Admiral's Bunker] that isn't normally in play, but if you were hitting from the 13th tee to the 11th green, it's fantastic. You have that bunker in the middle of the fairway and you have the biggest [Strath] bunker in front of the green. I've got to come and play backwards."
But that is (maybe) for the future. In the meantime, Faldo is one of an army of leading seniors lured to the Senior Open by the opportunity to play the Old Course competitively for perhaps a final time. He isn't going to win, but he remains hopeful of putting on a jolly good show after what he described as a "couple of decent sessions" with swing coach Nick Bradley. What he was loathe to confirm was whether or not this week might be his farewell to competitive golf in the U.K.
"I've got some constructive thoughts going, which is great," he said. "I'm looking forward to hopefully being half-decent on the course. And I never say never. The great thing about this game is it doesn't let go. It tortures you. It keeps saying, 'come on, you can go and practice.' I still think I can play. I always want to go play. So I'd like to think I can tee it up and actually enjoy myself. That's the bottom line."