The Loop
Is Mark O'Meara's caddie next in line for Tiger Woods?
JOHNS CREEK, Ga. -- In the vitriolic wake of the despicable and now seemingly delusional Steve Williams' anti-Tiger/pro-Stevie outburst ("I'm a great front-runner!") after Adam Scott's brilliantly-played victory in the Bridgestone Invitational last Sunday evening, there are now two burning caddie questions in the world of golf:
The latest favorite is Shane Joel, who currently works for Tiger-pal Mark O'Meara. Two weeks ago, in fact, O'Meara texted Woods to say that he would not stand in his friend's way if Joel is in fact the man he wants. Woods' reply was non-committal: "thanks, will keep you posted."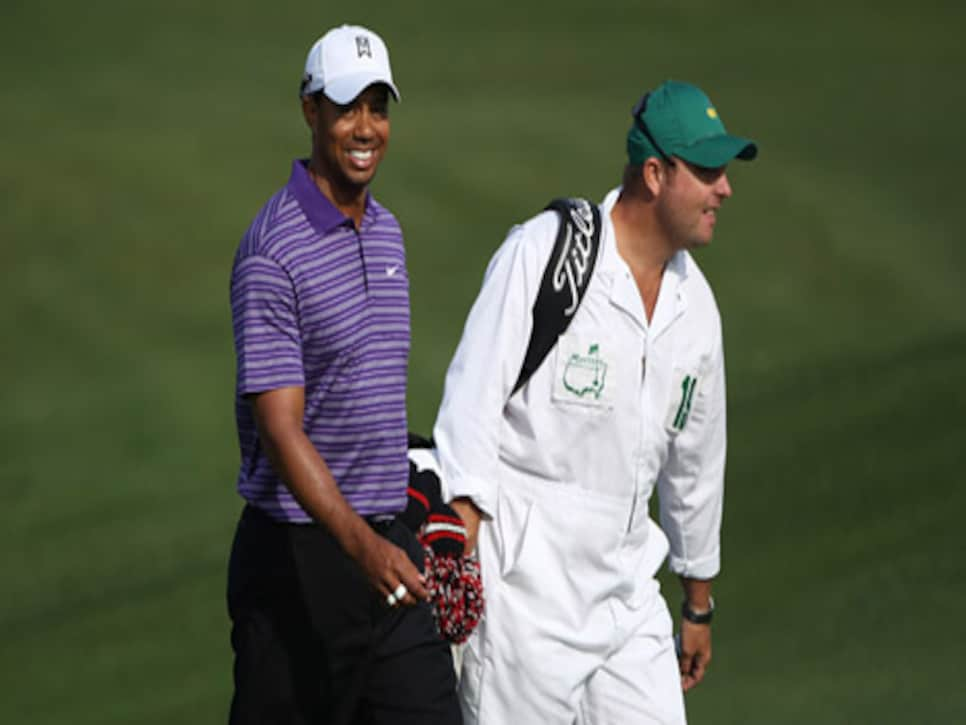 Woods and Shane Joel have already become acquainted thanks to Woods' pal Mark O'Meara. Photo by Getty Images
Since then, the situation has apparently remained unchanged. "I haven't heard from either Tiger or Shane," O'Meara said. "I think they talked last week at Firestone, but as far as I know I still have a caddie."
2) Just how much does the performance of a caddie matter to one or any of golf's leading practitioners?
A lot? A little? Not at all? It depends who you ask, of course.
World No. 1 Luke Donald is one who definitely thinks a good caddie is worth spending good money on.
"If I thought my guy was just carrying luggage, I wouldn't pay him nearly as much as I am," says the Chicago-based Englishman. "A good caddie is always helpful and John McLaren is a very good caddie for me. He brings a lot of energy to the job. He speaks up when he knows I'm making a mistake. He's been one of the keys to my success this year."
Donald also shared the tale of Terry Mundy, Ian Poulter's faithful bagman.
"Terry used to carry on the women's tour," said Donald. "And he was on the bag for one of the best Asian players. But he got bored with her because she was so good. He wanted to challenge himself to prove that he could make a difference. So he chose a player who was way down on the rankings and brought her up to number ten on the money-list. After he left her, she fell back to number 100."
Then there is the case of Billy Foster, who has worked for the likes of Seve Ballesteros, Darren Clarke and now, Lee Westwood over the course of a distinguished and popular career on the bags of golf's greats.
"Billy's great," says Westwood. "Because we get on so well. We're friends and we can chat out there and he can draw my attention away from the round when my mind doesn't need to be on it. He can also count, which is a big advantage (smiles). "Between us, it works pretty well. We don't get surprised very often."
The only prerequisites to good caddying Westwood missed were a strong back and strong legs. Other than those, being a good caddie has to be a breeze, right?
Certainly, it is easy to argue that case. Look at the example of the then 19-year old, non-English speaking Ballesteros in the 1976 Open Championship at Royal Birkdale. On Seve's bag that week was an off-duty policeman who was neither a golfer nor conversant in the Spanish language.
Just how much did that no-doubt friendly copper contribute to "their" eventual runner-up finish? Not much, it says here. How could he?
And while Williams has undoubtedly been a good caddie over the years -- it is hard to imagine hard taskmasters like Ray Floyd, Greg Norman and Tiger Woods putting up with a lightweight -- his memory is perhaps a little on the selective side.
Almost three decades ago, the despicable New Zealander was working for journeyman European Tour professional Chris "Drop Kick" Moody, a man good enough to win but one
tournament in a career noted for the poor quality of his ball-striking. Anyway, one day Moody had had enough of his young caddie's lip.
"Listen Stevie," he said to his outspoken employee. "Remember one thing: While I can easily do your job, you can't do mine."
Couldn't have put it better myself.