The Loop
Is it us, or is Davis Love III strangely obsessed with Bill Belichick?
CHASKA, Minn. -- In the middle of Davis Love III's press conference this afternoon, I began to notice a strange, recurring theme: Bill Belichick. Odd as it sounds, Love had obviously become enamored of the grumpy, media-hating, rule-bending, gridiron genius who has won four Super Bowls as head coach of the New England Patriots.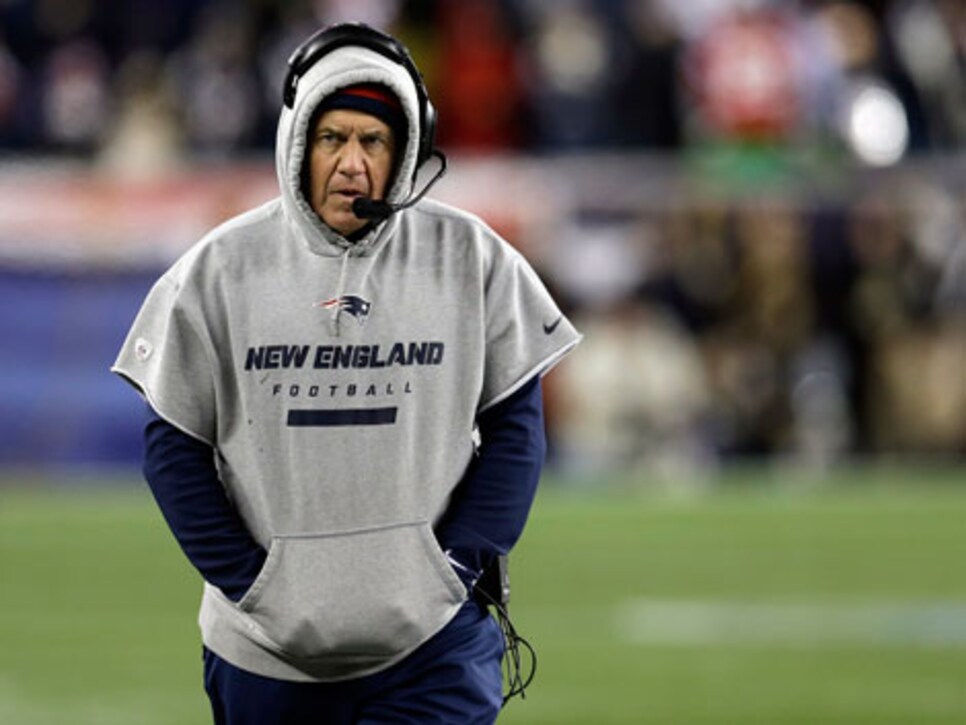 The captain's fascination appears to have started when he and Tom Lehman met Belichick at a charity gala the week of the Deutsche Bank earlier this month, followed by a team trip to the Patriots' training facility the next day. Both outings gave Love an opportunity to "exchange ideas" with Belichick, and it obviously made a huge impact—cursory research shows that Love has now mentioned Belichick in four straight press conferences.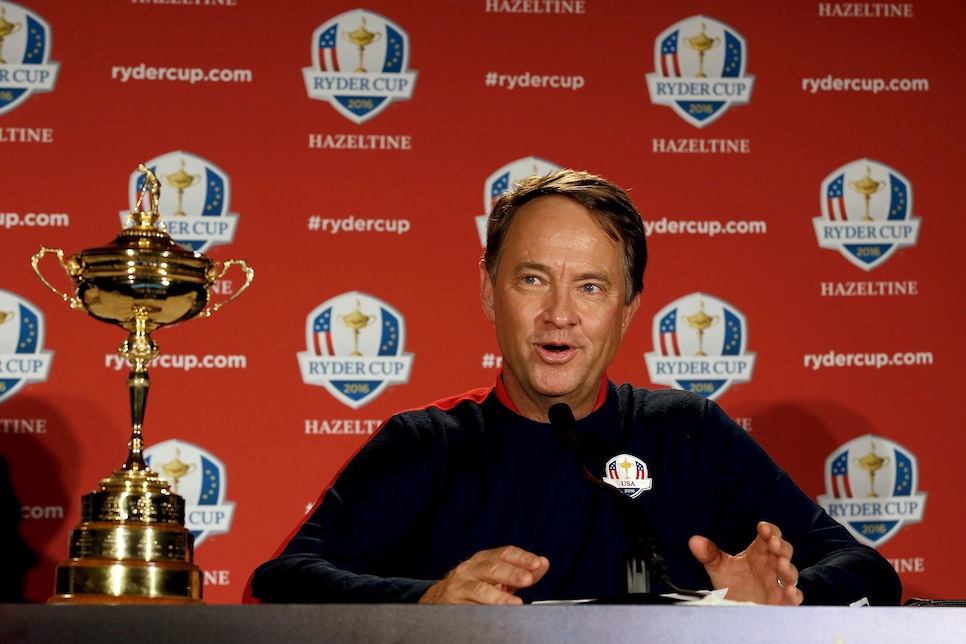 Let's examine the transcripts.
1. Sept. 12: The First Captain's Picks
Here, Love dropped the first hint that he had been in the great man's presence:
DAVIS LOVE III: I'm not going to elaborate a whole lot on our game plan strategy. I was just with Bill Belichick last week (laughter) so we're going to grind it out (laughter). That's all I can tell you. (Laughter).
Later, after nobody asked a follow-up question, he brought up the Hooded Einstein again in a mock chastisement of Kuchar, who had just suggested that Tiger might be the final captain's pick:
DAVIS LOVE III: I just said, don't give away our secrets. You're going to get a call from Coach Belichick here in a minute.
2. Sept. 12: Two Hours Later
To be fair to Love, the media finally caught on and asked him specifically about his time with the Spygate Magnate, and he was very happy to regale his listeners with the unabridged version, like a child breathlessly recounting the first time he met Santa Claus at a mall. Note: This is kinda long, even though I'm making generous use of ellipses:
Q. Was curious where you met up with Belichick, what kind of time you got with him and what did you want to pull out of that conversation?
DAVIS LOVE III: I wanted to see him in a hoodie and I didn't get to see it.
We had dinner for the top eight during the Boston week on Wednesday night. But Tuesday night, Tom Lehman and I got to go to their big opening night charity fund-raiser that the Krafts do. So we got to see Coach and I got to sit with Tom Brady at dinner, got to meet a bunch of the players...
And then the next night, when we took the eight players back to the stadium. Let them goof around on the field and go through their locker room. They just opened the doors to us, really. Gave us team gear, team jerseys. Everybody's jersey had a 1 on it, except for Furyk's had a 58. They let us use Coach Belichick's team room. They made videos for us to watch. Got to talk to the players, just me and the players, in Coach Belichick's film room, which they said has never happened before. So the Ryder Cup players got an experience, really, that nobody has ever gotten before....
And Tom and I got to talk to Coach a couple times and get some input from him...when Belichick says, you've just got to get everybody to just do their job, don't listen to the noise, it really resonates with everything I've been hearing; that our players are really, really good. If we just do our job and don't listen to the outside comments and noise and grind it out, we can get a win.
3. Sept. 27: Ryder Cup Tuesday
Davis can't resist digging deep for more advice from the Great Deflator:
DAVIS LOVE III: You know, same plan. We want these guys to know what they are doing when they go out there to practice. We want them to have a purpose. And like Coach Belichick says, Do your job, stay in your lane and the other guy next to you can be more aggressive. That's pretty simple, if you take care of your partner and take care of your teammates, the results will take care of themselves.
4. Sept. 28: Ryder Cup Wednesday
An English guy wrote some mean things about America, and Davis wasted no time before turning the topic back to his new hero, for whom I have now run out of nicknames:
Q. This is kind of in relation to what difference a home crowd can make. And you may or may not have seen it, but Danny Willett's brother wrote, penned some article for a website over in Europe that excoriated and ridiculed the American fans, which I can't imagine Darren might be too happy about, just in terms of maybe inciting them here. Did you see that, for starters; and how much can the home crowd be and might you expect them to be a little more lit up given this development?
DAVIS LOVE III: I heard about it on the golf course from a friend of mine from NBC, and I took Coach Belichick's advice: Ignore the noise.
So, if you're keeping track at home, here are the lessons he took from Belichick:
A. Get everyone to do their job