The Loop
'Is it time to look beyond Tiger and Phil?'
SAN ANTONIO -- Google "Phil Mickelson" and "tinkering" and more than 69,000 results turn up. Mickelson tinkers with his swing, his putting stroke, his equipment, attempting to find the square peg that fits a round hole.
This time, at the Valero Texas Open, he was tinkering with a driver swing to take to the Masters, working on a custom fit for Augusta National's generous fairway widths. He was swinging hard and hitting it high and hurt himself doing so.
Mickelson pulled an oblique muscle hitting driver on the first tee (his 10th hole) on Saturday and withdrew from the tournament. His status for the Shell Houston Open this week and even the Masters the following week is not yet known.
Couple Mickelson's injury with Tiger Woods' bulging disc and his own uncertainty about Augusta, and a question posed by Dottie Pepper recently gives one pause.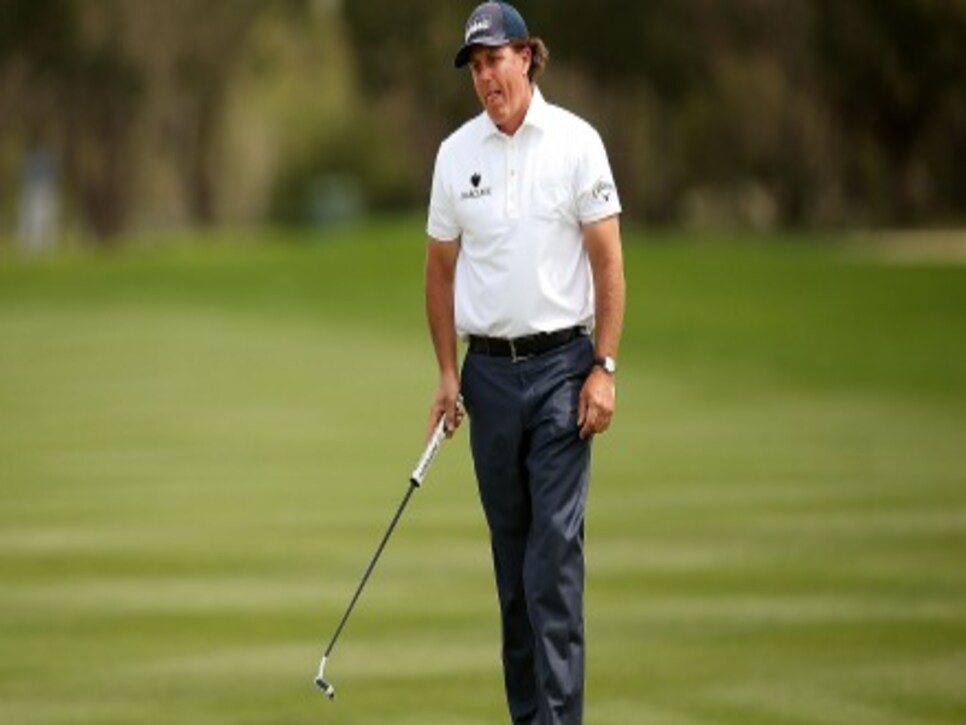 "We've been pretty spoiled with easy story lines and high expectations for a very long time. Is it time to look beyond @TigerWoods and Phil?" she wrote on Twitter.
It's not time yet -- Woods won five tournaments last year, Mickelson three, including the British Open. But sooner clearly is gaining on later, and when the day comes, the hangover golf might experience could be colossal.
Woods and Mickelson have anchored golf's marquee for nearly two decades. A television promo for the Valero Texas Open began this way: "Tiger Woods, Phil Mickelson, Adam Scott, Rory McIlroy. Every week champions will rise. Every week history will be made."
The first two names have 19 major championships and 121 PGA Tour victories between them. The second duo have three majors and 16 PGA Tour wins between them. McIlroy is equipped to help fill the eventual void, but it remains an open question as to whether he will.
Woods' dominion over the game has resulted in tournaments being categorized: Tiger tournaments, those in which he played, and the others, those in which he did not play. The buzz in the former is palpable, but its falloff in the latter is usually dramatic.
Mickelson in the Tiger era, meanwhile, has always been an entertaining second fiddle, one capable of playing lead violin from time to time, and he might have been on the cusp of doing so again at Augusta.
The Texas Open was the first of what was to be a three-week run of tournament golf, culminating with the Masters. Each of the three times Mickelson won at Augusta, it was his third straight tournament. Ditto the British Open he won last year and the Players Championship he won in 2007. On the 10 occasions that he played the two weeks prior to the Masters, he finished out of the top 10 only once.
Friday, Mickelson was borderline euphoric about the state of his game and health. "I actually really like the way I'm driving the ball," he said. "My speed is back, my back feels great, my body feels great and I'm able to hit the ball hard again."
A day later, he joined Woods on the disabled list. They'll still dominate story lines in the run-up to the Masters, but by Thursday's start, we might already be looking beyond Tiger and Phil, for one week, at least.