The Loop
Is it possible Tim Tebow has a 141-mph swing speed?
I suggested this morning that Tim Tebow might be lying. Or at least misinformed. Or confused.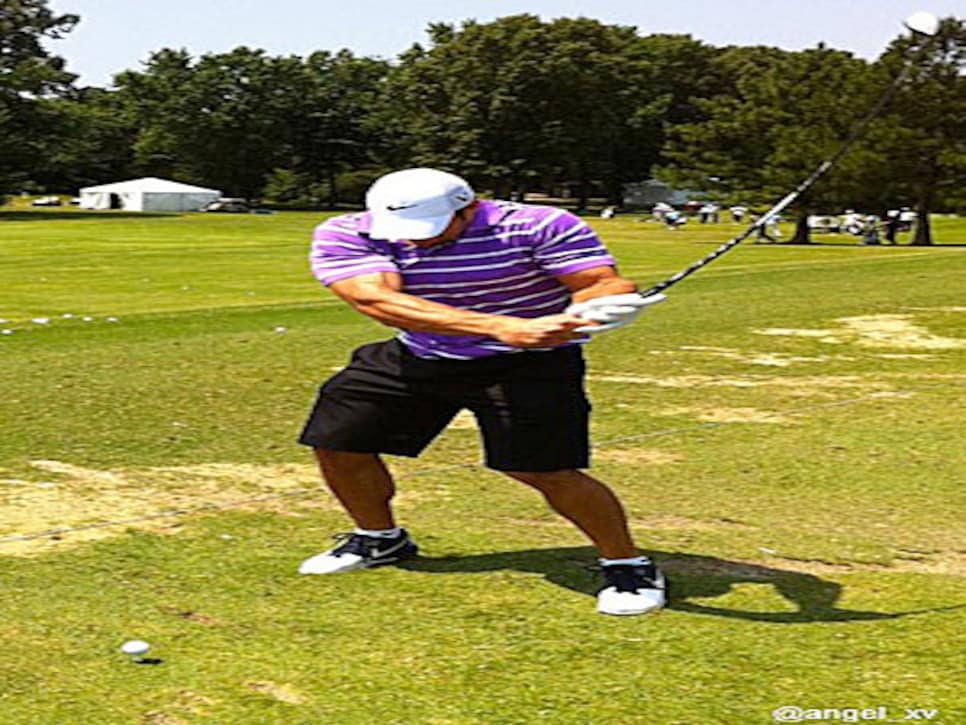 Now before Gator Nation starts burning me in effigy, or maybe literally setting me on fire, let me explain. A report this morning on a USA Today blog suggested that Tebow's golf swing "has been clocked at 141 mph." The story focused on an arresting photograph of Tebow mid-downswing, biceps flexing, triceps flaring and driver shaft bowing as if it were being wielded by Thor, God of Thunder.
Certainly, anything is possible with exceptional athletes, and golf, despite the emergence of more athleticism in recent years is not so physically demanding an activity that a finely tuned physical specimen such as the 6-foot-3, 245-pound Tebow might not experience some level of excellence that goes beyond what we see from mere mortals. But I decided to poll my own little equipment universe, including many fitters in our list of America's 100 Best Clubfitters.
First, some perspective. A swing speed of 141 mph would be more than 28 miles per hour faster than the current PGA Tour swing speed average (112.64), as measured by the TrackMan launch monitor at PGA Tour events. It would be 16 mph faster than the leader in swing speed average, J.B. Holmes (125.12). It would be 14 mph faster than the fastest speed recorded by Bubba Watson this year (127.02). It also would be the equivalent of the average swing speed recorded by the eight finalists in the 2009 RE/MAX World Long Drive Championships (141), but two miles per hour slower than the speed of the finalists recorded at the 2010 RE/MAX WLDC (143).
So, at least statistically, Tebow's reported speed would be in a territory reserved for the sorts of swings that drive the ball 400 yards. As best I can gather, the Denver Broncos quarterback does not currently drive the ball 400 yards. One insider who has seen the 2007 Heisman Trophy winner swing recently and also has seen dozens of elite golfers swing believes the number assigned to Tebow's swing is, umm, ambitious.
"Having been to and recorded data during the last two RE/MAX WLDC, I would be extremely surprised if Tebow's club speed can reach 141 mph," said Justin Padjen of TrackMan. "That would put him just below the best in the world. From briefly watching his swing on the range in Memphis, it didn't look like his swing had the correct sequencing to be able to produce those kinds of numbers."
Another person who has experienced Tebow's game up close is Phil Mickelson, who took a break from his preparations for the 2009 Players Championship to play a round of golf with Tebow.
"He's got a lot of club head speed, hits the ball petty good," said Mickelson, who averages nearly 123 mph on the PGA Tour. "Not a bad player at all."
But let us return to the belief in the powers of exceptional athletes. Many of the fitters I checked in with said that higher-than-tour-level speeds from non-professional golfers, while unusual, are possible.
Matt Trenton, Golfdom, McLean, Va.: "There are a bunch of guys with that type of speed on the LD circuit, but not too many outside of that arena. The highest we've seen here is 131 mph by a gentleman who competes in area long-drive events. Mr. Tebow may well have that kind of speed, after all, he is a professional athlete with tremendous eye-hand coordination and he has great flexibility as well."
Mike Dickerson, GolfMD, Lenexa, Kansas: "In the last five years, I have had maybe three above 140, and one at 150 mph, but both long drive guys."
Josiah Solberg, Cool Clubs, Scottsdale: "I have been working with Trackman for 50 hours a week over the past three years and never had anyone close to that. I would like to know what device was used to measure, as most will err on the high side. I have worked with a number of current and past professional athletes (MLB, NBA, NFL) and 129 is the highest I have seen."
Bronson Wright, The Golf Fix, Irvine, Calif.: "Yes this is possible. We have a client Mike Dobbyn who is a long-drive champion, and he has this kind of club head speed. There's about one in every million golfers, though, that has this kind of speed. So I guess the simple answer is, yes, it is possible. But no, we do not see it often."
Mike Helfrich, Hot Stix Golf, Scottsdale: "While this is a very high club head speed, it is possible and isn't terribly shocking to me. I have seen several professional athletes that have crazy numbers (more often baseball players), but it is usually not very consistent. I would like to see if that was a one-time spike, or if he was consistently swinging that hard. And when he does swing that hard, does he have any command over where the ball is going? I would say in the last 10 years we have only seen a small handful of guys that have been around that speed, so this is rare, but just look at him, he is huge and if he has ever been taught how to swing (baseball or golf) with that kind of athleticism he will figure out how to hit it very hard."
Matt Ferguson, Churchville Golf, Churchville, Md.: "I have worked with dozens of people that can generate close to, or even more than, that club head speed, but they still can not hit as far as some guys with much lower club head speeds."
Jim McCleery, McGolf Custom Clubs, Waverly, Ohio: "That is certainly possible particularly with a professional athlete. At a Professional Clubmakers Society Expo, we did a fitting on a tight end for the Indianapolis Colts. His swing speed was in the low 130s. I have had three people in the shop with 130-plus swing speeds with a top end of 138. He was a baseball player from a minor league team. If that is his swing speed and he keeps it in the fairway then his bag selection is pretty easy. Driver, 5w for the short par 4s and a bunch of wedges."
But perhaps the scariest news (well, scary if you're worried about the future of distance when real athleticism comes to golf) came from veteran fitter Dana Upshaw of Dana Golf in Warner Robins, Ga. Upshaw says certain Olympic caliber athletes can do things that golf hasn't seen before. He points to the recent numbers seen at the RE/MAX WLDC Texas Shootout Super Qualifier, where Kevin Shook defeated the aforementioned Mike Dobbyn with a 435-yard drive. But it was the performance of Maurice Allen, a 28-year-old former college sprinter, that might be the most interesting. Allen qualified for the WLDC finals and was clocked with a swing speed of 161 mph, or 20 miles per hour faster than Tebow's reported number. Here's video evidence of his ridiculous swing speed:
"He never hit a golf ball until last June and fell in love with hitting the long ball," Upshaw said. "He was in here a few weeks ago and wearing a brace on his left wrist due to an injury took a few swings and hit one 145 mph wearing street shoes."
Allen's size? He's 5-8, 210 pounds. So then, is Tim Tebow, who's got more than half-a-foot on Allen, capable of the reported 141 number? Certainly. Is that what he's actually doing? You tell me. A picture says one thing, but I want to see numbers.
__UPDATE, 5:30 EDT:__Officials at Nike Golf confirm that Tebow recently went through a clubfitting with the company's tour rep Rob Burbick. His swing speed was "about 120 to 121 mph." Tebow was fit for the new Nike VR Pro driver, 9.5 degrees, open two degrees, with a Mitsubishi Rayon Diamana 'ahina shaft, X flex. His ballspeed got as high as 174 mph. Average measured ballspeed on the PGA Tour so far this year is 166.54.