The Loop
__*How about a little noise? How do you expect a man to putt? Babe Ruth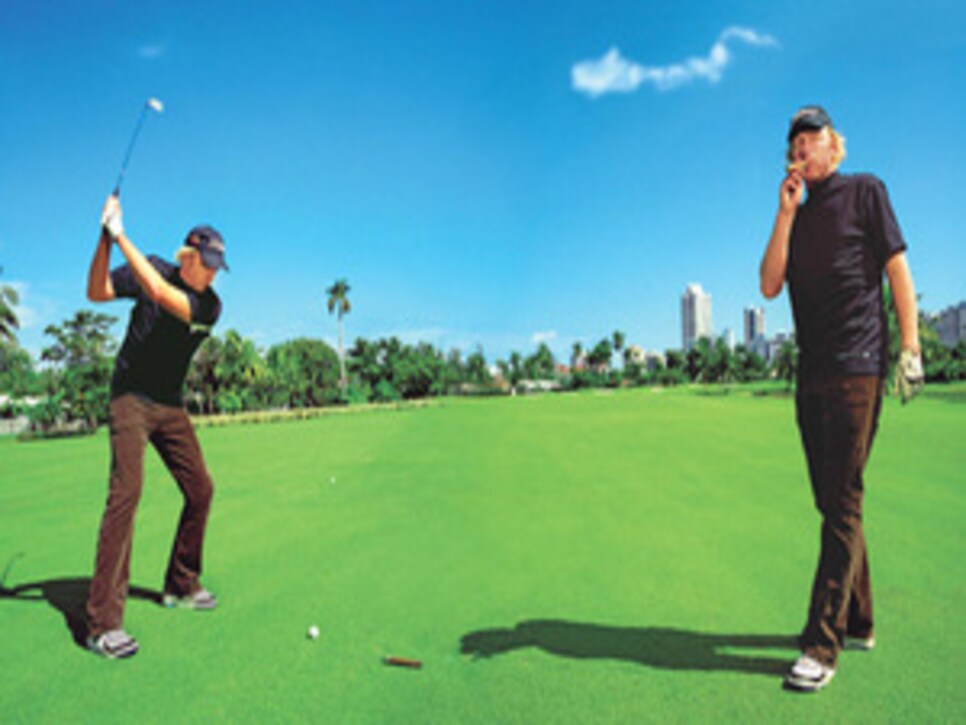 Man, are still asking that question? Apparently. Prompted by skater Dan Jansen's can't-be-a-sport-if-you-can-smoke-a-cigarette-doing it quote in Peter McCleery's story with our Athlete's Ranking in the June issue, David Sperry of Las Vegas mounts a spirited case on golf's behalf, fiiguring, I suppose, that Michelle Wie's almost-88 this week wasn't proof enough.
Questioning golf's right to be considered a sport simply because one "...can smoke a cigarette while doing it.", is quite ludicrous. Looking at other sports with this statement, you'd have to call into question just about any activity now considered a sport. Granted, one would be crazy for smoking during any sport, but it doesn't mean they can't or that it makes the activity a non-sport.
I would pose to Mr. Jansen please list what he considers to be "real" sports. I would be very interested in knowing what would be on it and why. Keep in mind sir, that if, while participating, one must sweat from physical activity before it is a sport, you rule out hunting, archery, sky diving, curling, chess, bowling, etc., etc., and etc. and risk offending many other "sport" participants. Care to take me up on it?
Hey, I sweat while playing chess, David, but I'll score your argument a 9.2 for both technical acumen and style. By the way, Dan Jansen's wife, golf professional Karen Palacios-Jansen, has a slightly different take on the quesiton in her blog:
__ I wish I had a dollar for every student of mine who told me at the beginning of their golf lesson that they were great baseball players, tennis players or athletes in general and wondered why they weren't better at golf. A good golf swing requires an athletic move, but you don't have to be athletic to do it. I have seen plenty of over-weight, out of shape people play really good golf and I have seen plenty of great athletes in top shape play really bad golf.
Here's our take. It says here the case for golf being a sport will be made in two weeks at Oakmont. Those jocks who think they can sweat themselves to trophies ought to try H.C. Fownes track.
They've removed the trees to make it easier.
(Boris Becker photo: James Rexroad)