The Loop
Is Furyk's Hall of Fame quest unraveling?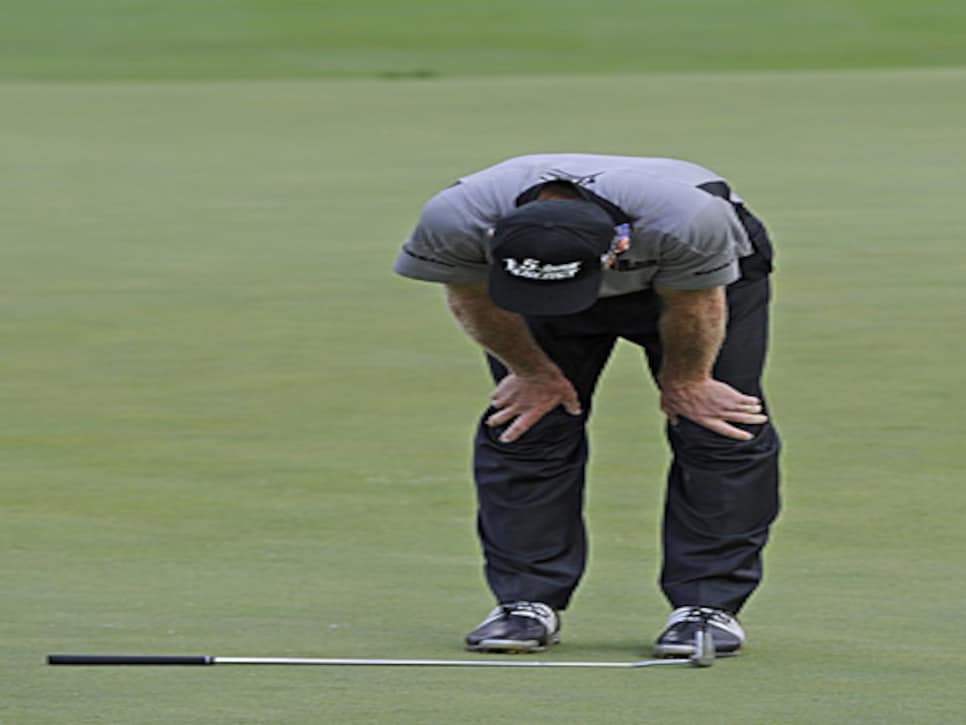 Jim Furyk's Hall of Fame bid may or may not be hanging by a thread, but it does seem to be unraveling, noticeably and inexplicably on Sunday afternoons.
For those who appreciate underdogs carried along to greatness by their competitiveness and grit, this was painful to watch, Furyk frittering away a one-stroke lead at the 72nd hole of the WGC-Bridgestone Invitational at Firestone Country Club in Akron, Ohio, with a double-bogey that handed victory to Keegan Bradley.
"I have no one to blame but myself," Furyk said. "There's no way I should have made worse than five on the last hole and ... I should have at worst been in a playoff."
Furyk, 43, was attempting to close out a wire-to-wire victory and needed only a par to do so at the par-4 18th. But his calamity began off the tee when the demon hook that helped derail his U.S. Open bid on the 16th hole on Sunday seven weeks ago returned with a vengeance.
He received a fortuitous bounce off a tree, but then hit his second deep and behind a bunker, leaving him a precarious downhill pitch that he muffed. His fourth, from green-side rough, was another miscue, leaving him a five-footer for bogey. He missed wide right, "the worst putt of the week," he said.
Furyk is coming up on two years since he last won, at the Tour Championship in 2010, and is stuck on 16 victories and one major. There are no official thresholds required to guarantee Hall of Fame induction, but unofficially 20 victories and a major would suffice. So would a couple fewer victories and two majors.
Furyk might have had a foot in the Hall door were it not for his having suddenly lost his grip on Sundays, the day of reckoning in professional golf. Once among the last from whom one would want to attempt to wrest a lead in the final round, Furyk's aura has diminished, if not disappeared.
This was the third time this year that he carried a lead into the final round and came up empty. At the Transitions Championship he lost in a playoff to Luke Donald. At the U.S. Open, he bogeyed three of the last six holes and tied for fourth, two strokes behind winner Webb Simpson .
Furyk handled his latest disappointment with equanimity. He spoke about encountering his crying son. "It reminds you as an adult and a parent that you have to act the proper way," he said. "You have to do and say the right things. You have to show them the right lessons."
It might prove to have been easier to console his son than himself. The game, meanwhile, can take consolation from the fact that Bradley was the beneficiary of Furyk's inadvertent benevolence. At only 26, he seems to be a star in its embryonic stage and a fun one to watch, too -- animated, determined and in perpetual motion.
Bradley has now won three times, one a major (the PGA Championship in 2010) and one a World Golf Championship event, each featuring the best players in the world.
This should be Furyk's consolation, too. Twice this year, he has entered Sunday leading the best players in the world. His skill level obviously hasn't diminished, only its ability to flourish on Sunday afternoons.
If he is going to make it to the finish line in this Hall of Fame bid, he is going to have to resurrect the closer in him. It is a tall order in a game that begins to turn on those in their 40s, but does allow for exceptions. See Ernie Els.
But it is a younger man's game, two of the last four majors won by those in their 20s (Bradley and Simpson) and one in his early 30s (Bubba Watson). Still, they don't expect to be gifted their successes.
"I still can't believe it," Bradley said moments after Furyk's collapse.
Neither can anyone else who heretofore has identified Furyk with an indomitable will
(Chris Condon/Getty Images)