News
Is Creamer ready for back-to-back majors?
SOUTHPORT, England - The first time Paula Creamer played the Women's British Open was at Royal Birkdale in 2005 when she tied for 15th place after already winning twice in her rookie LPGA season. Much was expected of her then, and much has been delivered since. This time Creamer comes into Birkdale as the reining U.S. Women's Open champion and, for the first time in several years, doesn't have to field questions about when she is going to win her first major. "That's kind of nice," she said Wednesday at Birkdale about having the major monkey off her back. Then she reflected on the joy of winning at Oakmont. "Arnold Palmer wrote me a really nice letter, and I thought that was just very classy," Creamer said. "My house smells fantastic right now with all these beautiful flowers that I got from all of my sponsors and my friends. But I think the day the trophy came was very special. I just looked at it and saw it there and stared for a while. I didn't event want to touch it. I was like, 'I can't believe this has happened.'"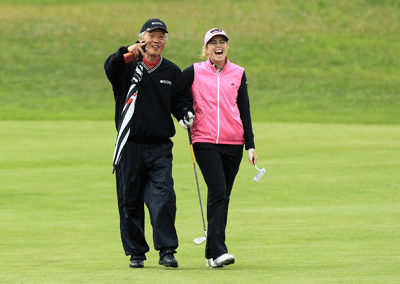 *Creamer, who turns 24 on Aug. 5, already had eight LPGA victories but there was still the feeling something was missing without a major trophy on the mantel, especially since she let a couple slip away, including last year when she double bogeyed the final hole at Royal Lytham and finished T-3, four strokes behind winner Catriona Matthew. "I think everything happens for a reason," Creamer said, "and all of those past majors where I've come so close, the British last year and I doubled the last hole, I still remember these things." All of those experiences translated into success at Oakmont. After she bogeyed the 12th hole, she played the last six holes two under par and stormed to victory. "I wasn't going to let that one get away from me," she said. "I told myself I'm not going to let it slide." Now she comes to Birkdale not as an 18-year-old rookie but as a 23-year-old winner of the last major played.  "This is my sixth year," she said with an astonished tone of voice. "Gosh, time is flying by." This time she has a chance to leave Birkdale as the first player to win back-to-back LPGA majors since Lorena Ochoa won the 2007 British Open and 2008 Kraft Nabisco Championship, and the first American to do it since Juli Inkster won the LPGA Championship and U.S. Women's Open in 1999.