Equipment
Is Bryson DeChambeau's win with single-length irons "the day the game changed?"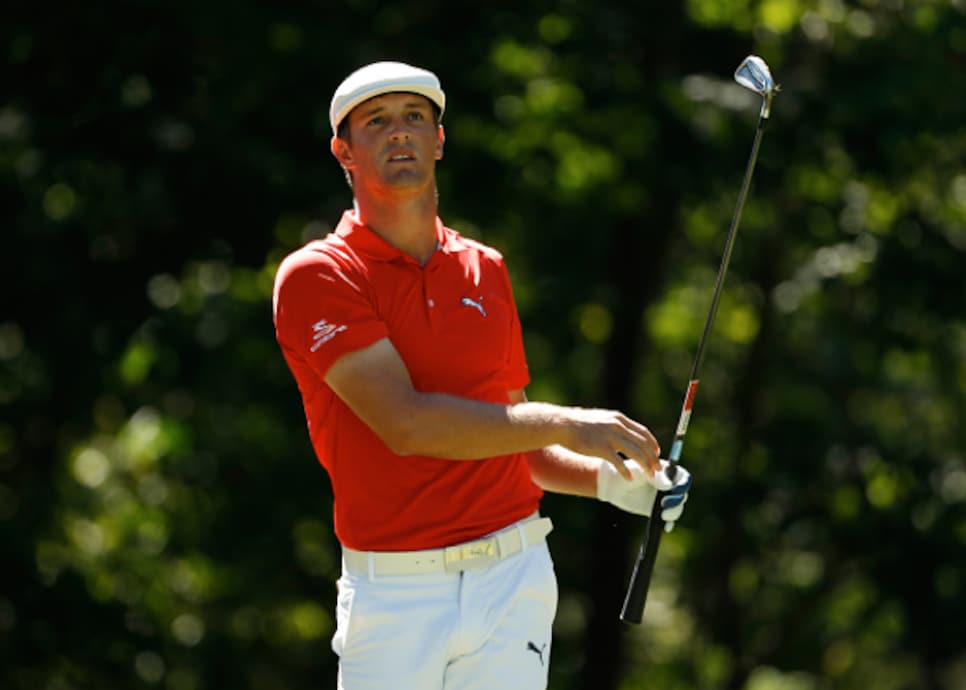 As personally significant as Bryson DeChambeau's win in Sunday's DAP Championship in the Web.com Tour Finals was for his status as a card-carrying member of the PGA Tour for the 2016-17 season, it might also have greater implications for his theories on equipment and how they might change the game: The 22-year-old's win is believed to be the first time any player in PGA Tour history has won a tournament using a set of irons all the same length.
DeChambeau's been the lone wolf in what he believes is the game's new way forward. "I knew I was carrying the torch of one-length clubs, but I knew it was going to prove itself out in the end," he told Golf Digest via phone on Monday afternoon. "The game is due for a change. Irons haven't really changed in 20 years, probably more."
DeChambeau's win reinvigorates the discussion of the single-length iron concept, which was all the rage as he prepared to play the Masters this spring and turn pro. In the 10-second, 140-character Snapchat, Twitter, Instagram universe, it was a discussion that fell away almost as quickly as DeChambeau started missing cuts and posting less-than-stellar finishes in April and May and through much of the summer, except for an impressive T15 at the U.S. Open.
DeChambeau had won his amateur titles and began his pro career with a custom-designed single-length set produced by Edel Golf founder David Edel, but since signing with Cobra Puma Golf this spring, DeChambeau has been working with the R&D team at Cobra on a single-length set of its own. (And when we say working, we mean showing up at Cobra's office and working in the R&D department for a week this summer.) The result is the set of Cobra King Forged ONE irons he's using now, a prototype for what appears to be at least one set that will be introduced to the marketplace in the now-increasingly-imminent future.
As DeChambeau is finding out, wins on the PGA Tour, even the Web.com Tour, can legitimize anything instantly. (Who knows, for instance, how many budding tour stars are out perfecting trick shot routines in the hopes it might somehow lead to a victory the way it did for Wesley Bryan, the golfing trickster who won three times on the Web.com Tour this year to earn an immediate promotion to the big tour.)
Andres Gonzales, one of those who fell to DeChambeau in Sunday's playoff, immediately referenced DeChambeau's iron set after the tournament.
"Bryson is very unorthodox but he believes in what he's doing," Gonzales said. "You have to believe in your ability and style or you are toast out here. He has the confidence."
But DeChambeau's almost religious prophet approach to his iron-length concept is more than some quirky personal trait or party trick. It's a potential paradigm shift for golf equipment. Is DeChambeau's win like Billy Burke's win with steel shafts in the 1931 U.S. Open, or Jim Simons victory at the Bing Crosby Pro-Am at Pebble Beach in 1982, the first televised win for a metal wood? DeChambeau, not surprisingly, thinks it has that potential.
"I think you will see a change take place among junior golfers over this next year. I know it's not just better for me but for all kinds of players," he said. "I think this was an important day. Maybe we look back and say this is the day the game changed."
Already this year Wishon Golf introduced its single-length Sterling irons with varying technologies within the set, and company founder and designer Tom Wishon says it's been the most sought-after product his company has ever launched, leading to its own website just to take orders. Wishon makes his irons all a shorter, 8-iron length, which he believes makes them even more playable for average golfers.
"I always felt strongly, that a 6-iron length was not right for this," he said in an email today. "It makes the 9-iron, pitching wedge and gap wedge too long for 98 percent of all the golfers. This is why so many average players who have tried one of the other sets struggle with accuracy and control and distance control with those high-numbered clubs. We could do it at 8-iron length because of my high-COR face technology that I have been messing with since 2000."
DeChambeau thinks the single-length idea isn't so much about a technological breakthrough like metal drivers or steel shafts or solid-core golf balls, as it is a way to make the game easier to learn and easier for average golfers to stick with. He believes the game is desperate for that kind of idea.
"I always wanted to do something to help the game. Who would have thought that a guy from Clovis, California, could do that?" he said. "I just found a little idea that I thought could help me, but I really believe it could help everyone."