The Loop
Is Bob Dylan onto something with his militant no-phones policy?
Bob Dylan did a weird thing at his concert Monday night at the IU Auditorium in Bloomington, Ind. Well, he did a ton of weird things. He did nothing but weird things. He played a mostly spoken-word version of "Tangled Up in Blue," then warmly growled half-dozen old-timey Sinatra standards from the back of the stage while wearing a white dinner jacket. It was a curious evening, is what I'm saying. We never had this problem at Jimmy Buffett.
But the most weirdest of weird things was that Dylan issued a comprehensive cell phone ban and dispatched a surprisingly remorseless staff of IU sophomore volunteers to enforce it with the militant fire you usually only associate with students smuggling flasks of Mad Dog into football games (which actually doesn't happen at IU, they're just happy to have people there). These security people were ON IT. I tried to take a picture of the stage — just the stage, with nobody on it, with the house lights on — and two red-shirted valkyries descended on me like I'd just tried to jack Dylan's trunk of bolo ties. In short, the ban worked — there was nary a telltale blue light in sight. It was impossibly odd to scan the crowd and see actual blackness, a bracingly strange moment of nostalgia, like being in a restaurant where people are smoking.
Which led us to wonder: Is Bob Dylan onto something? Should other bands who play their songs in recognizable formats ban cell phones too? We say HELL NO, you just shove your phone ban in your John Wesley Harding, Mr. Frizzle, because we have several good reasons for needing our phones:
1. Concert photography has never been better.
Advances in cameraphone megapixel technology have made it so that your picture of a blurry splotch of potential Beck standing four pixels high from 400 yards away is now slightly less pixelated. Plus, Instagram photos of concerts convey to your audience that you have, indeed, attended a concert. Also cameraphones all shoot very well in the dark.
2. In cavernous arenas that contain thousands of people, connectivity is very reliable.
Standing in the same square block as 50,000 other people all trying to post Instagram stories actually increases connection speeds, kind of a rising-tide-lifts-all-boats things. Thanks to improvements in wireless technology, it is now possible to upload full-song videos to Facebook in just under 45 minutes, instead of the former 19 hours. If you'd rather wait until the show is over, it's easier than ever to futz with your phone while stuck in traffic in the parking lot.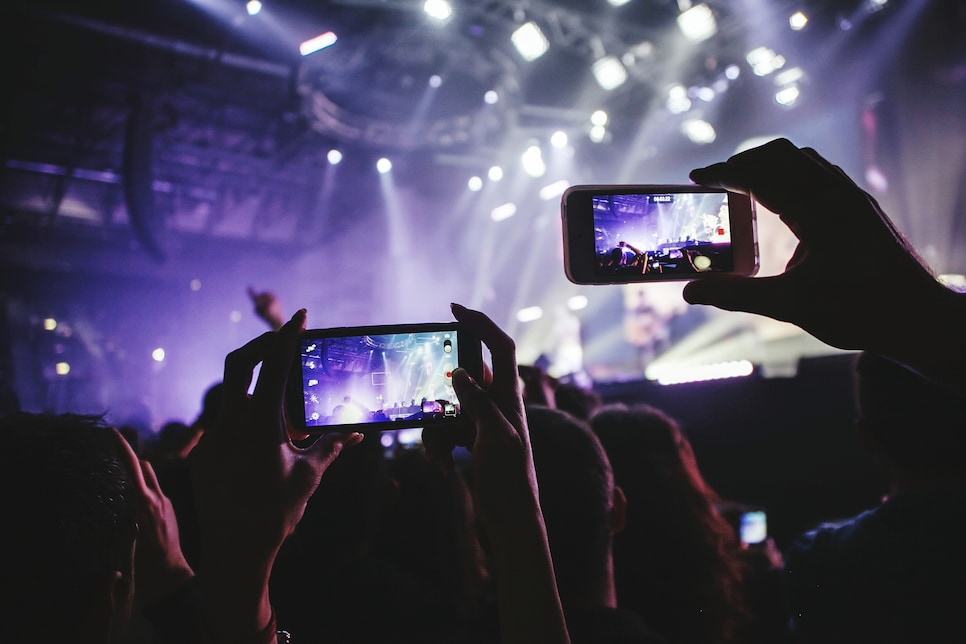 3. Bob Dylan should dictate most rules of concerts.
Frankly, he's been to a lot of them. And honestly, the entire experience would be a lot simpler if we let Bob Dylan dictate all of it. No phones. No talking to band members. No interacting with the audience. No songs anyone recognizes. All lighting must come in the form of oversized Edison bulbs. And everyone has to wear a dinner jacket, frankly the entire experience has gotten far too schlubby.
4. NFL players might shatter a tibia in some ghastly, exotic manner while you're inside.
You don't want to wait 90 minutes to see that GIF, right? Ugh nightmare. OH MAN LOOK AT THAT DUDE'S ANKLE DAMN
5. The other 40 YouTube clips of the exact same song might be shaky.
While it's helpful to have several dozen versions of the same expertly shot song online, sometimes other users will start recording too late, finish too early, or shout something distracting mid-song, like "WHOOOO!" or "F**K YEAH JOHN MAYER!" or "Yeah I need another wait didn't I give you cash last time yeah a Coors is fine OK cool thanks." You can avoid this problem by literally recording the entire concert yourself.
6. The republic may collapse while you're rocking out to Blues Traveler.
This is a legitimate worry and not remotely a joke.
7. Most warranties cover your phone being showered by a $18 plastic tankard of Coors Light and/or human pee.
8. Bands sometimes play garbage songs.
Look, we've all heard the argument to "be in the moment" and "enjoy the communal experience" and blah blah hippie blah, but the fact is, nearly every band you'll ever see will play a bad song or more, except Sugar Ray, that setlist is front-to-back fire. That adds up to five to 30 minutes of time you're expected to, what, sit there and listen to material from the Counting Crows' fourth record? Nightmare.
9. Playing with your phone at a concert is a much more appropriate way of killing time.
Your parents had to snort coke with strangers and make out in a muddy, cigarette-covered lawn. Frankly phones are way more sanitary.