News
Is Augusta in Rory's head?
The Masters is all that stands between Rory McIlroy and a career Grand Slam. But that's where things get complicated
The gently blooming azaleas, soft sounds of nature, sweet tea and pimento-cheese sandwiches, and the polite applause of "patrons." It's all very genteel, serene.
I asked the 27-year-old four-time major champion the first thought that comes to mind when he hears the words "The Masters."
"Stressful," he replied. "I am, ask anyone who knows me, a complete prick in the week leading up to Augusta. But they understand and know that. It's a stressful situation."
The Masters, the only major McIlroy has yet to win, has always felt that way to the Northern Irishman, who for the third time is attempting to cap off the career Grand Slam with a victory at Augusta.
During McIlroy's first appearance at Augusta National, in 2009, he said he was afraid to take a divot from the course's perfectly manicured carpet.
In his third start, in 2011, trying to win his first major, McIlroy had a four-stroke lead going into the final day only to shoot 80 while playing alongside the older, imposing and lightning-quick Angel Cabrera. Fans still remember McIlroy's wayard tee shot on 10 that day, and the long awkward trip from tee to green, and so does he.
He owns up to choking the tournament away, but came away with valuable experience when it comes to interacting with his playing partner when under pressure.
"I feel like I'm a quick player, and he was ridiculously quick," McIlroy says of the Argentinian and the experience of it all. "I sort of learned this, and it's hard to at times, but don't let other players dictate the pace that you play. Because that can have a detrimental effect as well. So there's a lot of learning stuff in there. But of course it hurt, and it still hurts."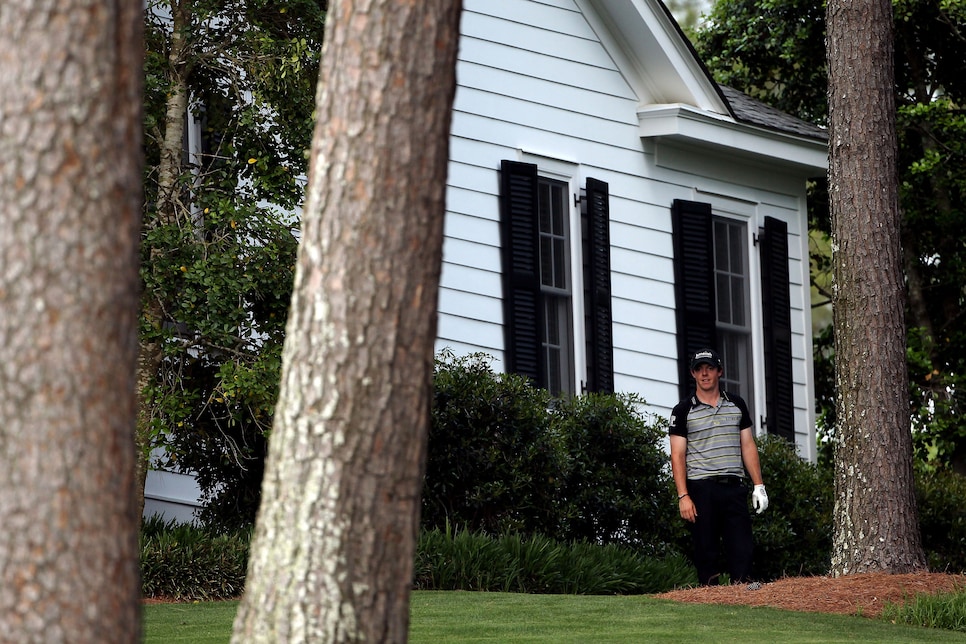 Yet it wasn't the only episode of Masters misery in McIlroy's life.
In the second round in 2014, he wandered off on a private tour of all parts of the property on his way to a 77. He recovered some on the weekend and tied for eighth, but finished eight strokes back. Who knows how Bubba Watson would've handled McIlroy breathing down his neck?
In 2015, McIlroy opened with a respectable one-under 71. The only problem was, Jordan Spieth shot 64. McIlroy went into the last round tied for fifth, but 10 strokes back, eventually finishing solo fourth while Spieth slipped on the green jacket.
Then there was last year, when McIlroy entered Saturday just a stroke back of leader Spieth. On a difficult afternoon of scoring, Spieth grinded out a 73, and McIlroy fumbled to a 77.
McIlroy has often said he feels he needs to play "pretty golf" in order to perform well. But Masters Saturday a year ago was particularly messy for him. The trouble started when he blew a birdie putt six feet past the hole on No. 7 and missed the comebacker. Then he hit into a bunker on the par-5 eighth and managed just a par before adding a bogey at 10 and a double at 11.
McIlroy eventually tied for 10th. More tellingly, before another disappointing drive down Magnolia Lane, he admitted that the course had done the one thing no golfer wants it to do: get into his head.
"I've been in position before, and I haven't got the job done when I needed to, and I don't think that's anything to do with my game," McIlroy said at the time. "I think that's more me mentally, and I'm trying to deal with the pressure of it and the thrill of the achievement if it were to happen. I think that's the thing that's really holding me back."
Truth is, there are physical aspects of McIlroy's game that have, too.
Blessed as arguably the current game's purest and most stunning ball-striker—and, when locked in with the big stick, the perfect picture of power and grace with the driver—the closer the ball gets to the hole the more the holes in his game get bigger.
In the small sample of eight rounds on the PGA Tour this season, McIlroy ranks near the top of the PGA Tour in strokes gained/off the tee. Around the green? He's 180th. Last season, he again led the former but was a woeful 135th in strokes gained/putting.
Last year, McIlroy was terrific on approach shots from 200-225 yards and 225-250 yards, ranking third in both with averages of 33 feet, 9 inches and 39 feet, 10 inches, respectively. From 100-125 yards, he was a pedestrian 99th, hitting those shots to an average of just 20 feet, 1 inch. And from 125-150 yards, he ranked 63rd at 22 feet, 4 inches.
"I've been in position before, and I haven't got the job done when I needed to, and I don't think that's anything to do with my game. I think that's more me mentally."
These are not the kind of numbers that win a golfer the Masters, and if they sound reminiscent of another world-class talent, they should. Adam Scott's game is just as aesthetically pleasing as McIlroy's but when it comes to the precision and deft touch needed into and around the firm and fiery greens of Augusta National, he has often been exposed.
The good news for McIlroy, of course, is that even though it took Scott a dozen tries, the experience of a caddie who'd been on winning bags there before and two extra holes, he finally claimed the most coveted jacket in sports.
Given the unique stakes for McIlroy in winning the Masters, its magnitude is greater for no other player in the game. It's partially why he values a couple of yearly trips down Magnolia Lane outside the first full week of April.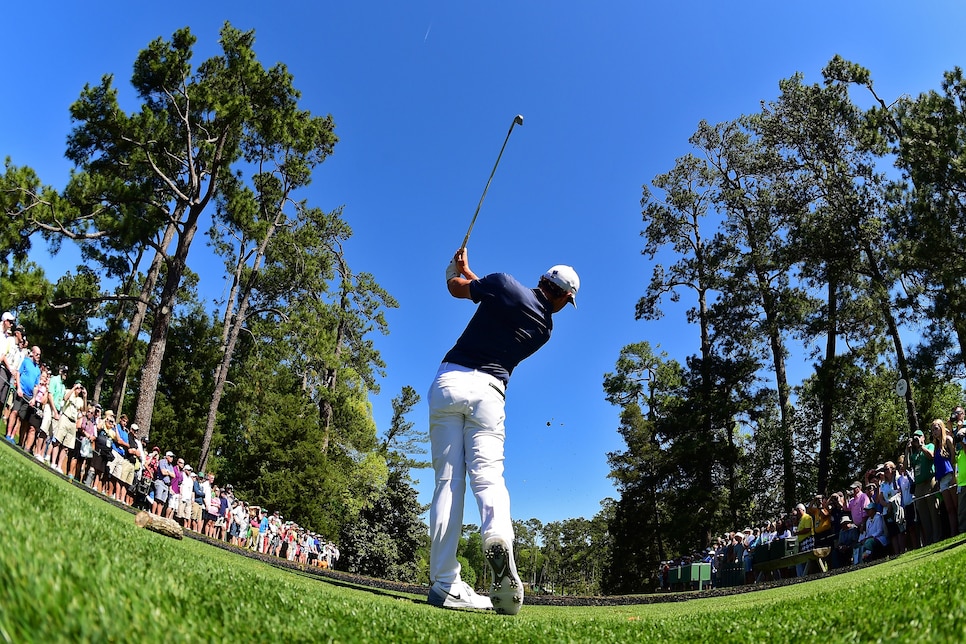 One of those came just a few weeks ago, with his dad, Gerry; investment banking big wig and Seminole Golf Club president Jimmy Dunne; and another member of Seminole.
"The more comfortable you can feel around Augusta the better," says McIlroy says. "For me, that's what it's all about. Going up for trips with my dad and friends and just messing around up there, that makes it feel way easier for me because I always associate Augusta with stressful situations and shots.
"If you can get up there and make it feel as if you're just playing another round of golf at another golf course … like I was up there and I'm just messing around playing different shots and thinking why couldn't I do this during the tournament?"
Admittedly, McIlroy is tired of talking about what it will take to finally win the Masters. But he knows with each missed opportunity, it makes it that much harder to end the conversations. Until he wins, he knows the questions will keep coming.