The Loop
Iraq war veteran Chad Pfeifer looks forward to teeing it up at the Humana
LA QUINTA, Calif. -- Chad Pfeifer calmly rolled in one five-foot putt after another as he talked about the day he almost died.
Around him on the PGA West Palmer course's putting green, multiple-time tour winners such as Bill Haas and Ben Crane were hitting putts one day before the Humana Challenge kicks off.
By all appearances, Pfeifer fits right in. He practices his game six times a week at a club he used to teach at in Goodyear, Ariz. His swing, a quick, powerful move, is grooved while he hits range balls next to PGA Tour veterans. Crisp divots fly into the air as wedge shots launch at a perfect trajectory, leading veteran caddie Kip Henley to remark: "That looks like Lee Trevino. But better. I'm serious."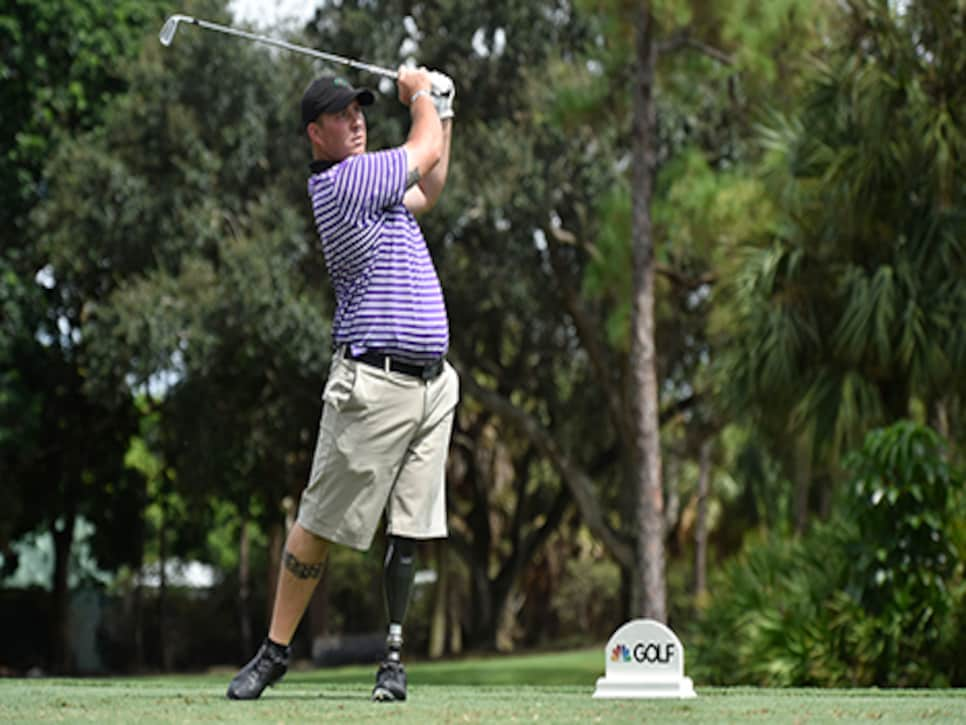 What's amazing is Pfeifer just picked up golf seven years ago, at an Army therapy hospital in San Antonio, after he was flown home from Germany after the fateful date he rattles off -- April 12th, 2007 -- the day he lost his leg.
Until you hear more about Pfeifer's story, you consider how amazing the Iraqi war veteran and amputee's story is. He had his left leg below the knee amputated after an IED blew up his vehicle while serving the D Company of the 3rd Airborne Battalion in the 509th Infantry Regiment.
And now he's using golf, which he had never played once he returned from service, to raise awareness for wounded veterans. He's a three-time winner of George W. Bush's Warrior Open for wounded vets, and he'll be teeing it up this week in one of the amateur spots at the Humana Challenge, in a group with Baltimore Orioles pitcher Bud Norris and PGA Tour players Scott Langley and Brendon de Jonge, in the event's pro-am format. Pfeifer will also appear in a new season of the Golf Channel's Big Break show, Big Break The Palm Beaches, Fla. -- which will debut on Feb. 2.
"It's pretty sweet to think about," says Pfeifer, 33, and originally from Idaho. "For me thinking back, I'm in the Army just a few years ago, to think I'm there one day, and now I'm here and I'm using the many opportunities golf's provided me . . .
"I wouldn't change a thing."
Once Pfeifer started to see significant improvement in his game, shooting in the 60s, and having finished fifth at last year's American Century Championship in Lake Tahoe, playing on the PGA Tour became his goal. But for a totally unselfish reason: For the exposure and awareness making it onto the PGA Tour would do for wounded vets -- a cause he knows a lot about.
Pfeifer, in his soft, understated voice, describes the moments he can remember from April 12th, 2007. The voices around him after his vehicle was blown up. The numb feeling in his legs immediately after the explosion. Grabbing for his right leg to unwedge it from the truck. And the cold feeling he felt in his left leg once he realized it had gone off.
He describes all this, as he continues hitting putts on the Palmer course practice green just like everybody.
"I can look back and say I should be dead right now," he says. "Life's good. Golf helps me keep it in perspective. If I miss a shot, I think to myself, 'I could be dead right now, just keep going.'
Alongside Pfeifer at the Humana Challenge will be fellow Big Breaker Kip Henley, who carries for Brian Gay and helped Gay to victory at PGA West in 2013.
The two are telling stories about their own Big Break experiences. The drama. The friendships and opportunities. The pressure. Unlike other golfers, both on the show and while practicing at PGA West, Pfeifer has experiences to build off of. This week in Palm Springs he'll add the experience of tour golf, which he hopes to get more familiar with over time.
"The mental aspect [of golf] is so different. The perfection side of me comes out, I try to hit everything pure and make everything But I remind myself: This is still just a game and I'm still having fun."
A video posted by Steve Hennessey (@s_hennesseygd) on Jan 21, 2015 at 12:40pm PST
Photo: Mark Ashman/Golf Channel