Blonde Ambition: Paige Spiranac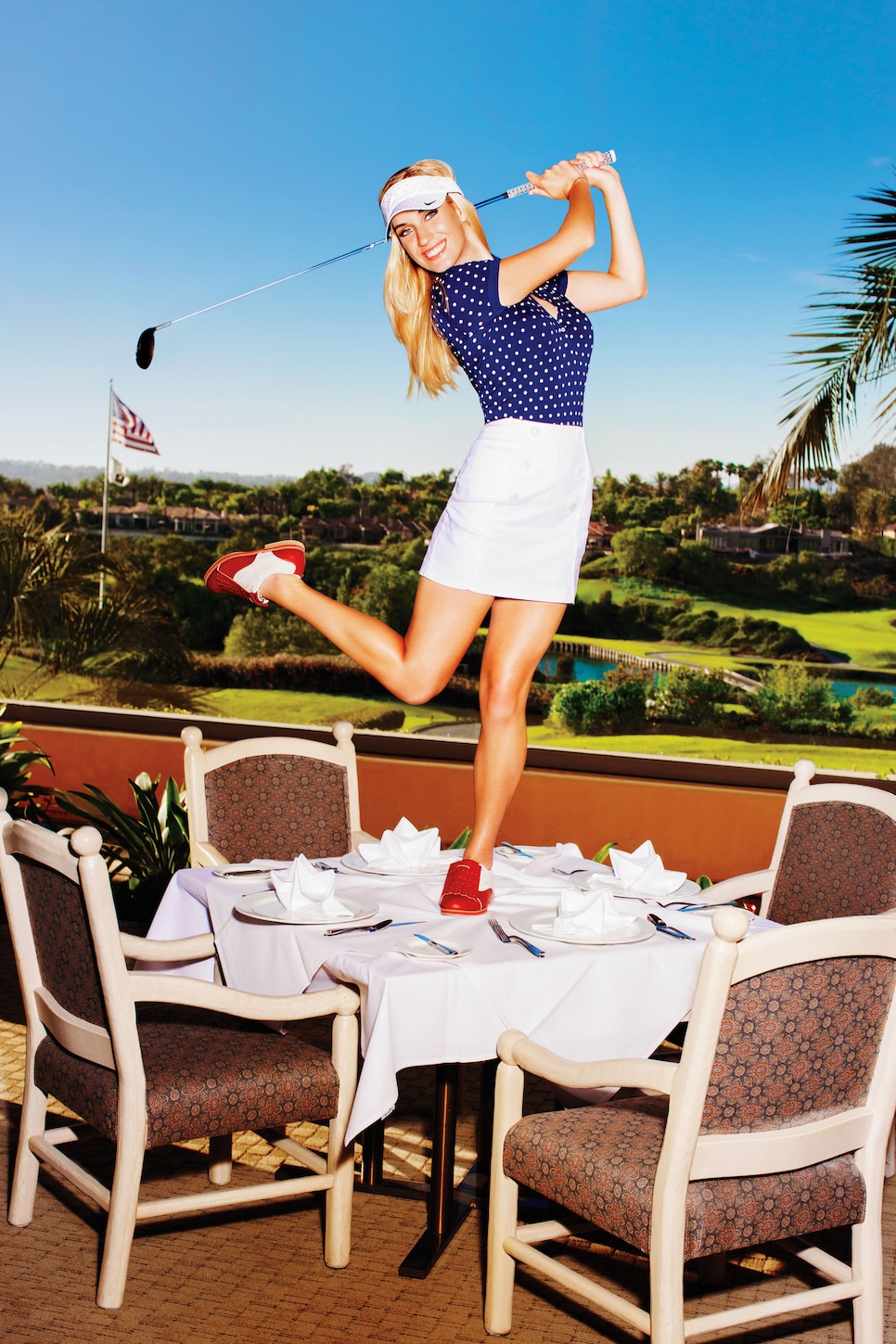 I NEVER USED INSTAGRAM BEFORE THIS SPRING. I started it as a way to document playing at San Diego State. It was innocent. Next thing I know, this guy saw my pics and wrote about me on Totalfratmove.com. He professed his love for me. That started a snowball of media attention, and now I have 260,000 followers.
I'M NOT A MODEL. It has never even crossed my mind. I was a tomboy. I played football and wasn't afraid to get dirty. Shopping? Not for me.
I'VE BEEN FLAGGED once or twice for wearing something a little too revealing to play golf. Tank tops, mostly. If you look at what people typically wear when they play, OK, my clothes could be considered provocative. But I'm not wearing them for a reaction. I'm just comfortable in fitness clothing. Golf is a sport, so dress like an athlete. Name another sport where people wear khakis and cotton polos?
I WANT TO PLAY ON THE LPGA TOUR, and I'm ready to do whatever it takes to get there.
I WAS A GYMNAST from age 6 to 11. I dreamed of the Olympics. But I fractured my kneecap twice, and that's when my dad suggested I play golf instead. I started playing around 12.
GYMNASTICS PREPARES YOU really well for something like golf. I was doing it for seven hours a day, and I really learned body awareness and mental toughness. I just transferred those lessons and habits to golf.
GOLF IS HARDER than gymnastics. You know how I know that? I could do a double backflip like it was nothing. But I can easily miss a three-footer.
MY STRENGTH IS SHORT GAME. I love the creative side to it. You can hit a wedge a million different ways. The flop is my fave.
WHEN I POST A VIDEO HITTING A GOLF SHOT, you can imagine the comments people leave. A lot are very nice. Some are cheesy golf puns about shafts and balls. And, of course, there are the marriage proposals. Funny thing is, they don't even know that I can cook.
I LOVE COMIC BOOKS. For DC, it's Batman. For Marvel, it's Iron Man and Captain America.
MY DEGREE WILL BE IN COMMUNICATIONS, but I'm not comfortable in front of the camera. I'm introverted, and all my friends make fun of me because all I do is work out and play golf. I'm a grandma: stay in most nights and asleep by 9:30.
ONE MORE THING ABOUT HOW I DRESS: Most guys have no idea how freaking comfortable yoga pants are.
--Interviewed by Ron Kaspriske
RESIDES: San Diego from Lakewood, Colo.
NOTED: Instagram: @_Paige.Renee. Started college golf at the University of Arizona but transferred to San Diego State. Helped the Aztecs win the Mountain West Conference title in April as a senior. Shot a career-best 62 at Sycuan Golf Resort in El Cajon, Calif. Has a pair of 65s in competitive rounds and three aces. Playing the Cactus Tour this fall in an effort to qualify for the Symetra and LPGA Tours in 2016.