The Loop
Internationals catch a super break with the weather
DUBLIN, Ohio -- The suspension of play must now qualify as a tried and true momentum killer in sports, which in the interest of sustaining, well, interest in the Presidents Cup was not altogether a disappointing turn on Thursday.
The mismatch on paper began unfolding on the golf course, too, the U.S. leading five matches and square in the sixth in four-ball when the horn sounded, suspending play with a thunderstorm closing in on Muirfield Village Golf Club here.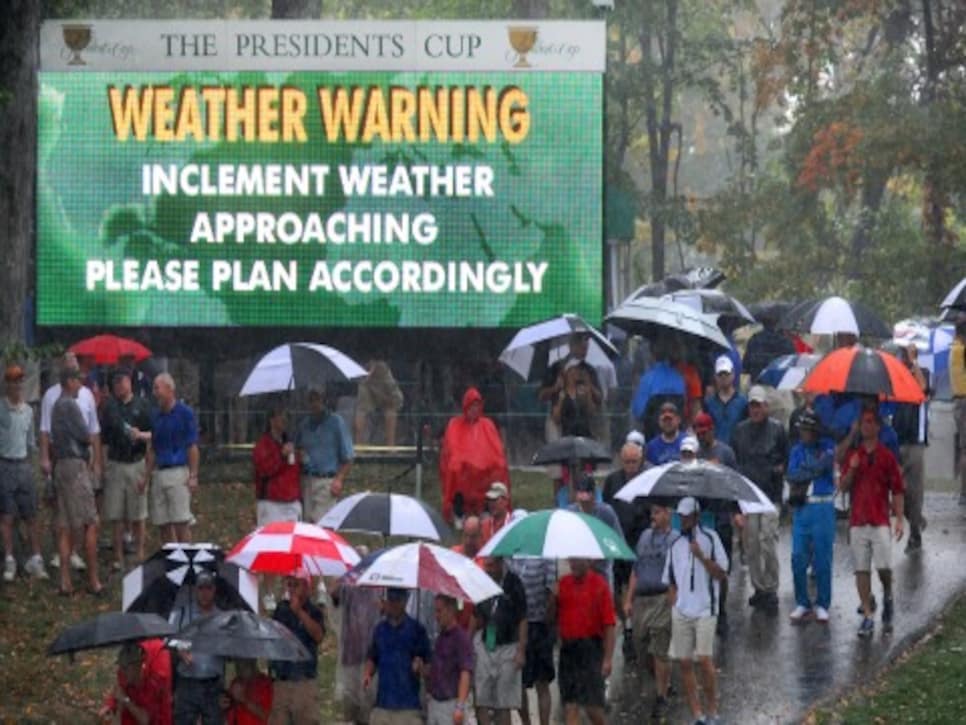 When play resumed one hour, 22 minutes later, the International team rallied and by the end of the day the Americans held only a one-point lead (3 1/2 to 2 1/2), runaway averted.
It followed the script written for the Super Bowl, with the Baltimore Ravens leading the San Francisco 49ers, 28-6, when the lights went out. When they came back on, the 49ers rallied and had a chance to win on the last play of the game.
The best outcome on day for this Presidents Cup is that it mirrored the Super Bowl. The worst outcome for the event overall would be that it mirrors the last 13 years. The International team has not won the Presidents Cup since 1998 and the best it has done in the biennial event since was a tie in 2003. The smallest margin of victory in the Americans' four straight victories since was three points.
It is a disturbing trend for an international team event that requires at least a measure of competitive balance to inject it with the drama required to keep it entertaining enough to attract an audience.
Yet the manner in which it began suggested the outcome had been preordained. At one point, the U.S. led in all six matches. Of the first 46 holes played in them, the Internationals held the lead only on one hole -- the first hole of the first match when Graham DeLaet made a birdie.
It set an ugly tone that was washed away by the downpour that came during the delay.
"We weren't going to gain momentum," Adam Scott said, "but it might have stopped theirs a little bit. It was a timely break. What we showed today is that there is plenty of heart on this team. I don't think spirits were low in the team room, but we have plenty of heart."