The Loop
Inspired by Sir Alex Ferguson's pep talk, Rory McIlroy is ready for the Ryder Cup
GLENEAGLES, Scotland -- A vice-captain in 2010 at Celtic Manor, Sergio Garcia watched as the then 21-year old Rory McIlroy struggled with the magnitude of his first Ryder Cup appearance in Europe's colors.
Today though, things are different. The Belfast boy, statistically and by popular acclaim, is now the best golfer in the world. And less than two years ago, his intervention on behalf of fellow Irishman Paul McGinley had much to do with the Dubliner's appointment as Ryder Cup captain. At the age of 25, McIlroy is someone who clearly knows his place and his power.
"Rory has grown up a lot, I think both as a player and a person," said Garcia. "He's become a really nice team player and has become the sort of guy you always want on your team."
All true, no doubt. But within the man lurks the wee boy who first fell in love with golf and sport in general. That much was apparent when McGinley invited Sir Alex Ferguson, the legendary former manager of Manchester United, to talk to the European squad assembled here at Gleneagles.
"Being a Manchester United fan, that is the highlight of the week for me so far," said McIlroy Wednesday morning. "I was just sitting there and looking up at him. I didn't take my eyes off him. I was sort of in this trance just listening to everything he was saying. I was thinking, 'this is all the stuff he said to United teams over the years. It was a really cool thing to be part of."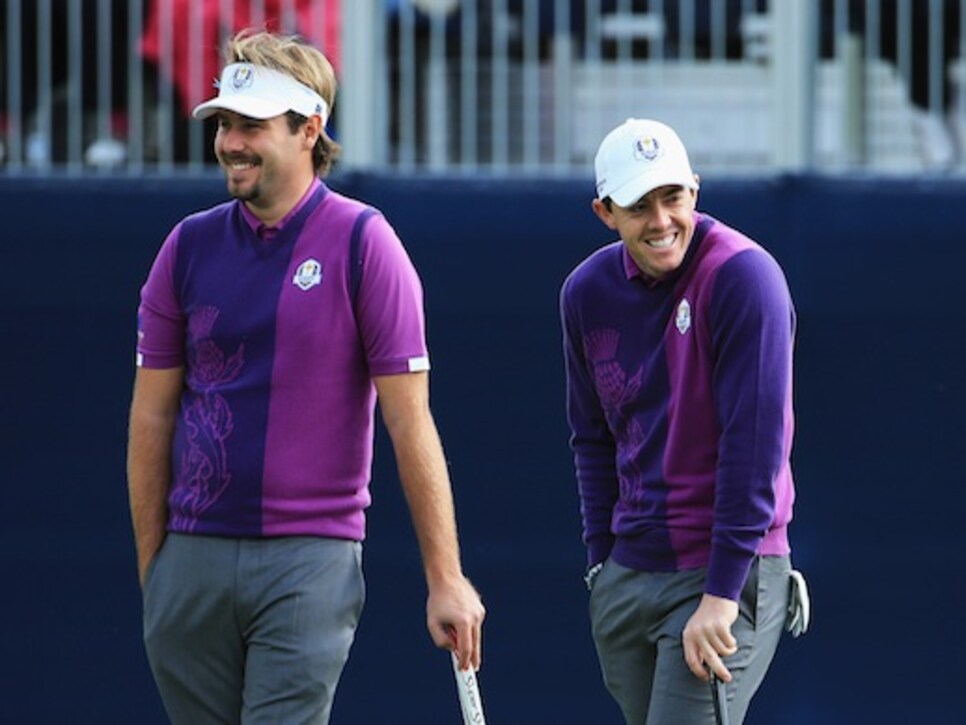 Perhaps the only difference from the norm was a slight wariness in one or two answers. As he was at pains to point out more than once, McIlroy is "one twelfth" of a team this week rather than an individual. So a little more care was clearly required, lest controversy impact on both himself and his teammates.
For one thing, he wasn't going to divulge much in the way of detail from Ferguson's stirring oration the previous evening. Nor was he too forthcoming on the European team's much-vaunted "template for success." And he clearly had no clue who he will be paired with come Friday morning, or where in the order he will play.
What we do know is that a shiny new Nike driver will be in the McIlroy bag this week. He also told -- not for the first time -- of Phil Mickelson's drive off the first tee at Oakland Hills in the 2004 Ryder Cup; the one that came close to hitting him on the head. But what really got him going was the memory of another pre-match speech, at Celtic Manor four years ago.
"The one thing I remember from that week is the conference call we had with Seve," he said.
"That was incredible; all of us huddled round a little speakerphone as Seve rallied his troops. It galvanized us and brought us together. Last night was the same. Everyone has to respect what Alex Ferguson has done and his successful he has been. These things really help. They may be little details in the bigger picture but it could be the half a percent or one percent that helps us to get back that little trophy."
So there we have McGinley's first pairing of the week: Seve and Fergie. A potent combination indeed.