The Loop
Inside the numbers: Five lessons from 2012
An exciting 2012 PGA Tour season is in the books, but that doesn't mean it still can't teach us things. A look through the final statistics reveals plenty about what happened -- and some things we can expect going forward. Here are five observations that stood out:
Strokes gained-putting has become the go-to putting stat: Let's hear it for math! First, Nate Silver showed up traditional polling methods by correctly predicting all 50 states in the recent presidential election and now the PGA Tour's newest metric has reached a similar point of infallibility: Brandt Snedeker -- this year's FedEx Cup champion, who is widely regarded as the game's best on the greens -- was ranked No. 1. It goes beyond that, though, with Luke Donald (last year's top-ranked putter) checking in at No. 3 and guys like Aaron Baddely and Zach Johnson being tied for eighth. In other words, this stat developed in part by MIT researchers and introduced last year isn't just a bunch of mumbo-jumbo. Keep that in mind as we tackle the next two topics.
Camilo Villegas should call Dave Stockton: Remember Camilo Villegas? You know, that guy who does the "Spider-Man" routine on the greens? Well, apparently, it's not working anymore. The Colombian had perhaps the most disastrous season of any tour player, finishing 144th on the money list to lose his tour card and make him an unlikely competitor at this year's Q School. For a guy who still ranked fourth in greens in regulation, putting is obviously the main culprit. Going back and forth between traditional and belly putters, he ranked 164th in strokes gained-putting. Oddly enough, Villegas also shot 65 or better in four opening rounds this year, but wound up finishing no better than T-19 in any of those events. While he's got his phone out, maybe he should give Bob Rotella a ring as well. . .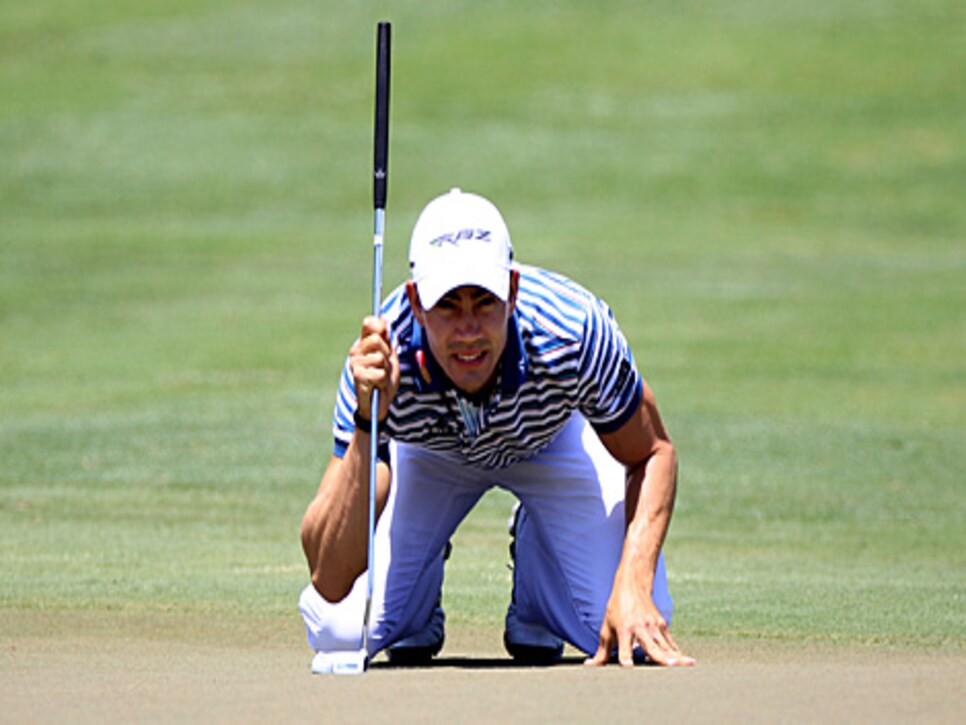 Villegas' 2012 struggles stemmed from bad putting. (Photo: Getty Images)
Imagine if Lee Westwood could chip and putt? Westy was his usual consistent self in 2012 racking up seven top 10s in just 15 PGA Tour events, while missing the cut only once. However, the Englishman finished dead last (191 out of 191) in scrambling percentage and 175th in strokes gained-putting. So how did he still produce such great results? Well, it helps being third on tour in greens in regulation. Still, if Westwood wants to finally stop coming up short in majors, he should start by giving a long look at his short game.
Bo Van Pelt and Robert Garrigus are due for a win: Van Pelt had 10 top 10s, tied for first on tour with Rory McIlroy, and Garrigus racked up the most runner-ups on tour with four -- and that doesn't count a recent T-2 at the tour-sanctioned CIMB Classic in Malaysia. But if you think they didn't take home any trophies because they didn't play well under pressure, you'd be wrong. BVP had the 19th-best final-round scoring average and got out-dueled by a certain 14-time major winner wearing a red shirt in his closest call at the AT&T National. Meanwhile, Garrigus closed even better by breaking par in all five of the final rounds in which he finished just off the pace, including 68s at his first (Humana Challenge) and last (Disney) events of the year and a 64 at the Transitions Championship, where he lost to a birdie by Luke Donald in a playoff. If these guys continue to play this way in 2013, there's a good chance both could graduate from being one-time PGA Tour winners.
"B____adds is" still bad at ball-striking: He may have won at "Hogan's Alley," Riviera CC, in 2011, but that's as close as Aaron Baddeley will ever come to being compared to "The Hawk." No matter what swing (At one time, he was the poster boy for the "Stack & Tilt" method) the Aussie uses, he just can't seem to improve his game from tee to green. This year, he ranked 179th on tour in ball-striking, but in the past decade, he has never finished higher than 120th, with most of those years being just as bad, if not worse than this past season (196th in the 2005 campaign being the low point). Considering he's been a pro since 2000, we find little reason to believe this trend will change in the near future. Then again, Baddeley has more than 15 million reasons in just PGA Tour earnings to not be too concerned.