News
Inkster: I will play in the Solheim Cup
After finishing her 2009 Solheim Cup singles match against Gwladys Nocera in Sugar Grove, Ill., Juli Inkster announced that it had been her last such match as a player. "It's been a great ride," said the eight-time Solheim Cup participant, a captain's pick in '09, "but this is it. I'm not doing a Brett Favre. I want to come out and watch from now on."
Cut to today, and Inkster, 51, has changed her tune. Next week's Safeway Classic in North Plains, Ore., is the last event at which American-born players can gather U.S. Solheim Cup Team points for the 2011 Cup at Killeen Castle in Ireland next month, and Inkster is currently in ninth position in the points standings. Mathematically, there is no way she can drop below 10th, which means she's already assured a spot on the team. After some soul searching and encouragement from her team captain, Rosie Jones, Inkster has decided to accept that spot, even though she's also going to be one of Jones' assistant captains in Ireland.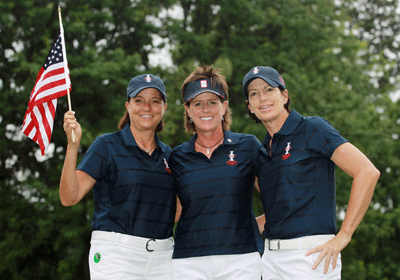 *Assistant U.S. team captains Steinhauer (left) and **Inkster (right) **flank captain Jones (middle). (Photo by Scott Halleran, Getty Images.)
"I'm not sure how being a playing assistant captain is going to work out, but as a mom you're always kind of wearing four or five different hats anyway," Inkster says to Golf Digest Woman. "And Rosie has been right there with me, and Sherri [Steinhauer, the other assistant captain for the U.S. team] too. If I'm out there playing it puts a lot of responsibility on Sherri, but they're up for it and they want me to play, so we'll just see how it goes."