The Loop
Injury, surgery keep Beau Hossler from turning pro ... for now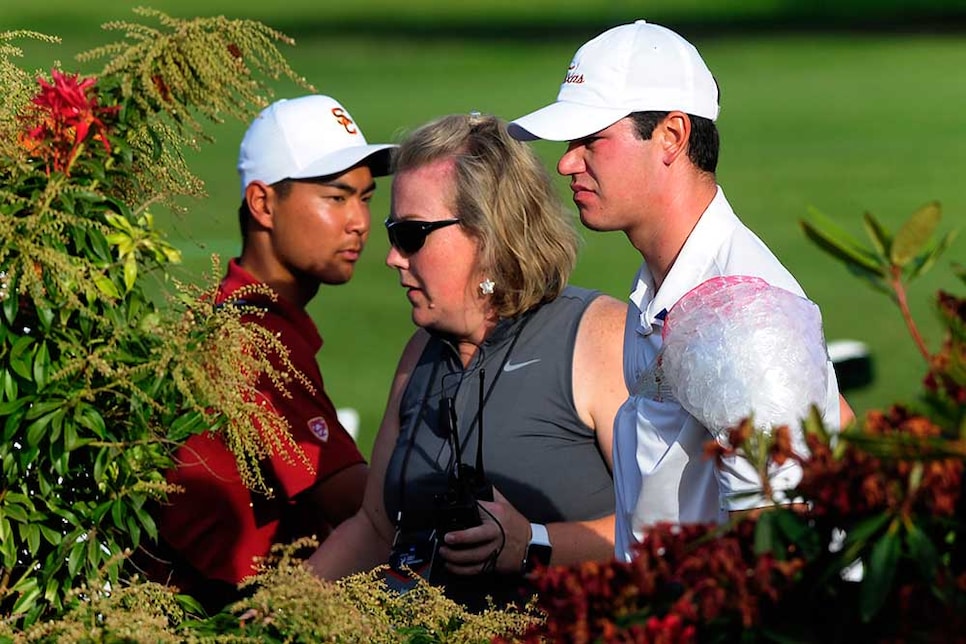 If not for the dramatic injury that he suffered last week at the NCAA Championship, University of Texas All-American Beau Hossler would be making his professional debut on Thursday at the PGA Tour's FedEx St. Jude Classic. Instead, he'll be getting set for arthroscopic surgery on Friday in Dallas to repair what doctors have diagnosed as a torn labrum in Hossler's left shoulder.
Hossler, who won the Fred Haskins Award as college golf's top player on Tuesday, told GolfDigest.com that he planned to turn pro and play in a series of PGA Tour events this summer in hopes of winning enough money to earn a tour card for the 2016-'17 season. For now, those pro plans are on hold as the 21-year-old from Rancho Santa Margarita, Calif., anticipates a four-month rehab period before he'll be able to take full swings, with physical therapy beginning within a week of the surgery.
While excited for the summer he had in store, Hossler says he is still enthusiastic about his future, going so far as to describe the injury as a potential "blessing in disguise."
"I wanted to make sure whatever road we go down I can make aggressive, confident swings and not worry about this happening [on a recurring basis]," Hossler said. "I didn't want to get out there on the course under pressure and be worried about it.
"The good news is my shoulder is going to be even better than it was before. I'm very optimistic about what's to come. It's just kind of unfortunate timing. It was going to be a really eventful summer. I'm going to try to have a good attitude about it and make the most of it."
Having done nothing to compromise his amateur status, Hossler could return to school in the fall and play for the Longhorns using his final year of college eligibility. However, Hossler said that he is also exploring the option of turning pro after finishing his injury rehab and trying to get exemptions into PGA Tour events in the fall portion of the 2016-'17 season, with the same goal of earning a tour card by winning enough money in his starts.
"I need to weigh my options in the next couple of weeks, look at some opportunities off the golf course, and make sure they make sense if I were to turn pro," Hossler said.
Hossler said he had not felt any shoulder pain prior to suffering the injury on May 31 late in his NCAA Championship semifinal match against USC's Andrew Levitt. He first felt pain after hitting a 4-iron approach shot on the 15th hole at Eugene (Ore.) Country Club. Despite playing in pain over his final two holes, Hossler won the match to help propel Texas to the finals against Oregon.
However, the pain was too much for him to compete the next day in the championship match. With the Ducks earning a point for Hossler's conceded match, they went on to claim the title with a 3-2 victory over the Longhorns.
Initially Hossler thought he had perhaps dislocated the shoulder. It wasn't until returning to Texas and having an MRI done that doctors determined he had torn the labrum. (The need for surgery was first reported by GolfChannel.com.)
"It's good that it comes now, and we take care of it and make the right decision here for a 30-year career," Hossler said.