The Loop
Inbee Park impresses some of the best
Mike Pascucci was walking away from the 17th tee on Sunday at Sebonack GC, after a dream finish for him in the 68th U.S. Women's Open. "The USGA got it right," said the club's founder. "They wanted to identify the best golfer."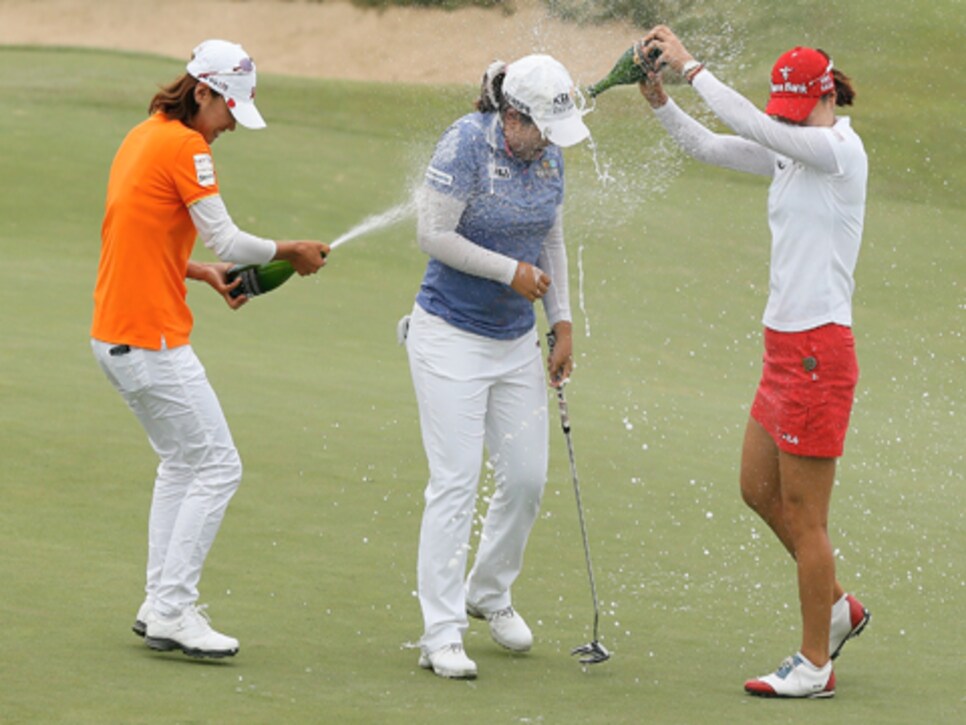 Na Yeon Choi [left] and So Yeon Ryu douse Inbee Park with champagne in celebration of Park's victory at the U.S. Women's Open -- her third straight major. [Photo: Scott Halleran/Getty Images]
And in Inbee Park, the USGA certainly did that with a setup that led to the third leg of a possible Park Slam. By winning her third straight major championship, and her fourth since the Women's Open in 2008, Inbee parked herself next to Babe Zaharias, Mickey Wright and Pat Bradley in women's golf history.
Bradley was the last to win three straight, but it was over the 1985-1986 LPGA seasons. Unlike Park, the ultimate flatliner, she smoked and grinded and fought her nerves. "I don't see anything stopping her," Bradley said. "She's an incredible ballstriker and an even more incredible putter, but her confident calmness is what amazes me."
It amazes Wright too. From her home in Florida, the woman credited with the greatest swing in history marveled at the woman who has "the most gorgeous putting stroke out there now." And it's not just the stroke that separates Park. "It's her unique ability to read greens," said Wright, who won four straight majors in 1961-62. "Sort of like Tiger [Woods]."
As a 19-year-old amateur, Wright played against Zaharias, the only player besides Park to take the first three majors in a season. Wright remembers being "scared to death" of Zaharias because of the Babe's physical stature and persona. "She was bigger than life," Wright said.
Park's demeanor doesn't scare anybody. Unlike Tiger or the Babe, she is not bigger than life. When she makes a crucial putt -- like the long birdie on the 14th green Saturday after three straight bogeys -- her reaction is barely discernable. Like Barry Sanders handing the ball to a referee after a touchdown, Park raises her right arm at the elbow to acknowledge the applause.
"Very low key," is Brittany Lincincome's description. "She goes with the flow, and that's what you need out here."
Especially in a major, the next of which is at the Old Course at St. Andrews -- a historic venue for a historic moment. Right now it seems like they could put a course on the moon and Park would figure out a way to out-putt everybody and flow right into the Evian Masters for the fifth major of the year.
At 19, Park was the youngest player in history to win the U.S. Women's Open. She said that day in 2008 at Interlachen, "I really can't believe I just did this, with all these big names on the trophy." At 24, after her sixth win of the season, and her eighth over the last 12 months, she asserted, "It's scary to think of what else I can do."
Park's victory was comforting to Pascucci, who said before heading off for the trophy presentation, "Tiger took a putting lesson from [Steve] Stricker. He should take one from Inbee Park."